Answering the all-too important question, "where do Dubai's most fashionable shop?"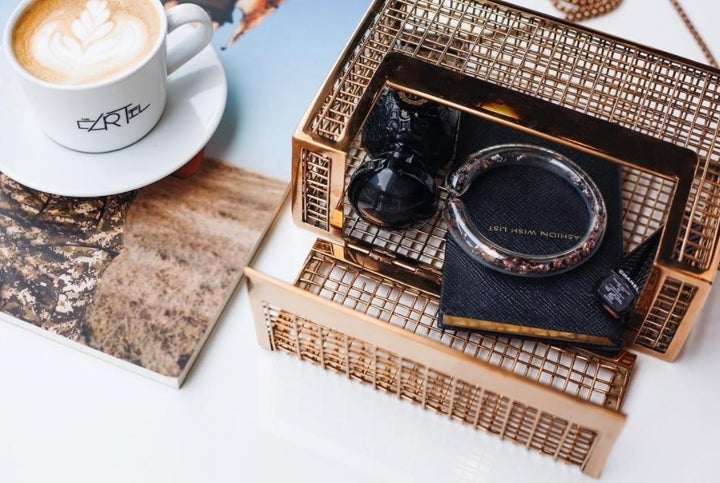 In 2016 Dubai welcomed an estimated 14.9 million visitors, which for a city of only 2.84 million makes for 5 visitors per resident. While Dubai is known for the rich history, lavish experiences, and record-breaking buildings, it's also home to one of the biggest retail markets in the world. Within a short span of time Dubai has established itself as a must-visit location that provides a beautiful mix of luxury and modest fashion. For both tourists and residents, options to shop are aplenty but knowing the places that offer something extra are far and few in between. If you're looking to spruce up your wardrobe with eye-catching finds or to see how the locals shop, here are the places around Dubai you'll want to check out.
Sauce
Founded in 2004, the Dubai based sauce has become a go-to for local style stars who love classic design with modern flare. A multi-brand store that carries Middle Eastern designers such as Zayan The Label and Mira Mikati, they offer a sublime feminine variety that represents both international and regional talents. From its clean, high-end aesthetic to the friendly vibe within their stores, sauce is only getting bigger with more specialty locations opening throughout the city. By establishing differing stores like sauce Rocks for jewelry, sauce on Sea for resort, and saucette for kids, the apparel and lifestyle brand has become a Dubai fashion scene staple for local bloggers to grab a snap-worthy look.
Robinsons
Some might recognize Robinsons as a the largest department store in Dubai, while others see it as a fashion playground. They offer their customers an elevated yet intimate shopping experience without the overwhelming department store feeling. Across its impressive multiple story venue, there's a plethora of styles to choose from as well as one of Dubai's hottest organic cafes, Wild & the Moon to relax at. After you grab one of the cafes popular pressed juices, you can enjoy the personal shoppers and astounding artwork on display (they've previously showcased a breathtaking floral exhibit by Patrick Blanc). Here you can find designers like Alexander Wang and Fyodor Golan but the real sight to see is The Collector Emirati Designers platform. In partnership with the Dubai Design & Fashion Council, Robinsons displays the work of various local designers on a 35-meter space. Designers like YNM, Mimi Designs, Twisted Roots, Alia bin Omair, and HannaH have the opportunity to get public attention inside one of the biggest stores in Dubai. Along with a grandiose locale, Robinsons also offers an online boutique that changes its limited piece collections weekly, a feature tailored to the fashion forward fashionista.
The Collective by Ripe
Hidden in a little courtyard in Al Quoz, The Collective by Ripe is a curated selection of 8 boutiques, specialty stores and cafes for those looking to explore the artsy area. Surround yourself in the millennial pink walls of the local insta-gold cafe Boston Lane, or check out the greenery within The Habitat. But before you leave, don't forget to swing by Georges of Dubai. Describing themselves as a lifestyle store, they offer high quality interior decor, baby gifts and beautiful trinkets that can be custom wrapped if you'd like. Other shops to enjoy are the bespoke home interior must-see Tribe, cozy cyclery The Movement, and floral haven, Bliss Flower Boutique. Spend your morning here and lose yourself within the Moroccan-esque venue full of rich color and Moorish touches unlike anywhere else in Dubai.
The Fashion Vault
The Fashion Vault mixes quirky style with that local flavor you can only find in this boutique. Offering apparel, beauty and fun accessories (anybody want a karak tea inspired phone charger or a welcome mat with Arabic writing?) TFV proves that fashion can be really fun. With brands like Nuna Atelier, Hash, FMM, and their personal T F V Label on display, there are many options for those looking for a new embroidered abaya, or a statement tee, or both. Located in the Sunset Mall on Al Wasl, this boutique puts a delightfully modern, photo-worthy spin on your daily staples that need to be seen to be believed.
Dubai Design District
When visiting Dubai, set aside a day (or two) to explore the downtown located Dubai Design District, or D3 as it is also known. Shops, cafes, showrooms, art installations, and food trucks spread out over the rightfully named district make for an unforgettable experience with breathtaking skyline views. Though there are many stores to choose from, make sure to stop by the cARTel and F7.
The cARTel will feed your minimalist loving soul with designs from Dion Lee, Craig Green and Lamat within its modern, wooden aesthetic. F7 will give your closet the quirky, experimental touch with finds from designers like Ganor Dominic, A.W.A.K.E., and Dept of Culture.
Other spots within D3 that are worth a see include concept store and kitchen The Lighthouse, modern men's concept store Closet Case and Arabic inspired jewelry store Bil Arabi. If you have time, relax at the Harper's Bazaar Cafe and enjoy the Raspberry Collins or check out the Sinyar Gallery full of Middle Eastern artwork. What D3 offers is a fabulous full day excursion that's bound to inspire. Since being founded in 2013, D3 has positioned itself as the fashion and creative center of Dubai. Fostering burgeoning talent in every way, their schedule is full of unique events like Fashion Forward, Downtown Design, and the Global Grad Show so no matter when you go, it's always a good time.