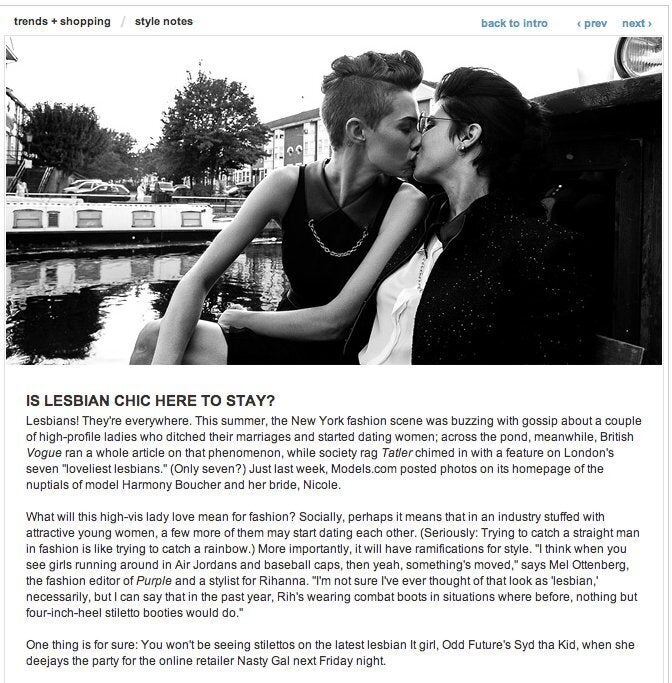 Last we checked, being gay wasn't a "trend." But Style.com has decided to throw logic to the wind, naming "lesbian chic" one of its hot topics for fall.
Lesbians! They're everywhere. This summer, the New York fashion scene was buzzing with gossip about a couple of high-profile ladies who ditched their marriages and started dating women; across the pond, meanwhile, British Vogue ran a whole article on that phenomenon, while society rag Tatler chimed in with a feature on London's seven "loveliest lesbians." (Only seven?) Just last week, Models.com posted photos on its homepage of the nuptials of model Harmony Boucher and her bride, Nicole.
Like leopard print, denim-on-denim and leather leggings, lesbians have come seemingly out of nowhere and quickly become a favorite trend among the fashionable set.
Except, well, lesbians weren't just "invented." The women featured in Tatler were probably gay last year, and the year before that.
In any case, Singer declares that this lesbian fashion boom will impact the industry in myriad ways. "Socially, perhaps it means that in an industry stuffed with attractive young women, a few more of them may start dating each other," she writes. By that logic, we wonder if the same tendency is found in the field of nursing, where about 90 percent of registered nurses are female, or public schools, where approximately 75 percent of teachers are women.
Outside the industry, Singer writes that the growing lesbian fad will impact fashion itself, as in: in with the combat boots, out with the heels! Rihanna's recent penchant for flats is cited as evidence of the changing tides. The logic seems to be that if you wear combat boots, you're probably a lesbian.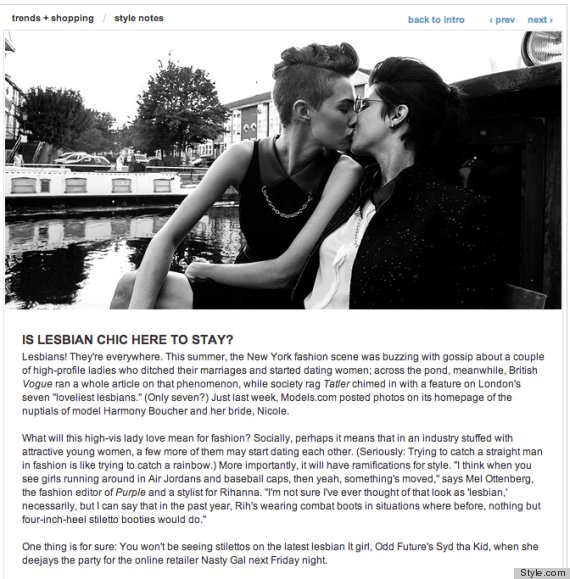 Related