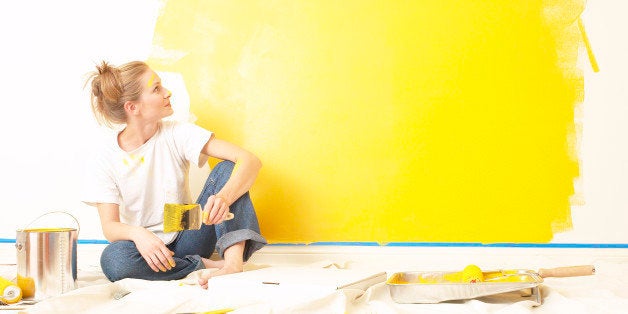 Daylight savings time is just around the corner, and you know what that means: Spring is on the way! While it might be weeks before the spring weather hits most areas of the country, it's hard not to already be thinking spring.
It's the time of year where many of us are itching for change. It can mean redecorating living spaces of all shapes, types and sizes. If that's the story in your world, now is the time to start thinking and planning for it.
This one is a no-brainer -- of course, you've got to start with what you want to do or change. Apartment dwellers and other renters might be limited in terms of what they can do to walls, trim and other fixtures, but that doesn't mean you can't spruce up your spot in a variety of fun and exciting ways. Regardless of what your abode might be, always begin with what you envision. If you are not sure what you want the space to look like, take note of what you don't like about it and work from there.
Determine The Size/Scale Of The Effort
What's great about interiors of all kinds is that even tiny changes can make a huge impact. You don't have to go to full painting or wallpapering alone -- simple and small touches such as decorative pieces, pillows, throw blankets, trays and other items can do the trick. Get a good assessment at this stage of what you think the project might entail. If it's going to be a big, full out redecorating of epic proportions, such as painting or more, you may also need to source help in addition to sorting out what you want to do, need to buy, etc.
If you need to seek out inspiration, you may know that sites like Houzz and Pinterest are great for just that. Creating a Pinterest page of your own and pinning is an option, or you can simply take notes in a notebook of what speaks to your ideas. But also go beyond these sources -- check out runway shows, look at fashion collections, even favorite food dishes, nature scenes and views can all have great ideas and inspiration for everything from color palettes, mixing elements, etc.
Measure spaces and areas you'll be working in before you start scouting or buying items. This includes the dimensions of windows, doorways, rooms, closets, etc. but also the areas you'd like to put furniture or other items in -- as well as how tall you might envision such things being. It can sound like a lot of work but it can save a lot of time and effort. The last thing you want is for something to be too large, too small or just not a fit for what you need after you've purchased it and moved it into the space. The same goes for hanging items -- light fixtures, photos, etc. Jot the measurements down in a notebook, and don't forget to take photos of everything in the space including the rooms itself, colors of the walls or furniture items, etc. on your smart phone to take along as you scout and shop the things you need.
From here you can get right into shopping for all the items that you need. When it comes to selecting items and styling the space, a few key things:
Matching colors, prints, patterns and other elements can create a chic and cohesive look. Just the same you can work within a single color's range, etc. But, don't be afraid to contrast, either. Mix and matched prints, colors, concepts and textures can make a space really exciting and interesting, too!
One bright detail in an otherwise neutral color environment can be as stylized as a room full of items and details. Think about what your personal taste is and experiment. Even just an oversized pillow in a jolt of color within the room can create chic look.
There are so many interesting ways you can decorate. Different frame sizes, interesting photo groupings on walls, books, and other decorative pieces don't have to be used in ordinary, everyday ways. Oversized rocks in different shapes and sizes can make for book ends, blankets and pillows do not need to be tossed across a couch or placed on an arm chair -- stack them in a basket, etc.
To see more home decorating ideas, tips and cool brands, visit this month's edition of Condiment magazine at www.getcondiment.com