The second entrepreneur into the Shark Tank this week was presenting her business Little Nomad and she was seeking $80k in exchange for a 15% stake in the business. She has developed stylish foam flooring to use as a play mat for small children. She also went onto say that it could be useful for putting under a standing desk, near the sink in your kitchen, or as an exercise mat.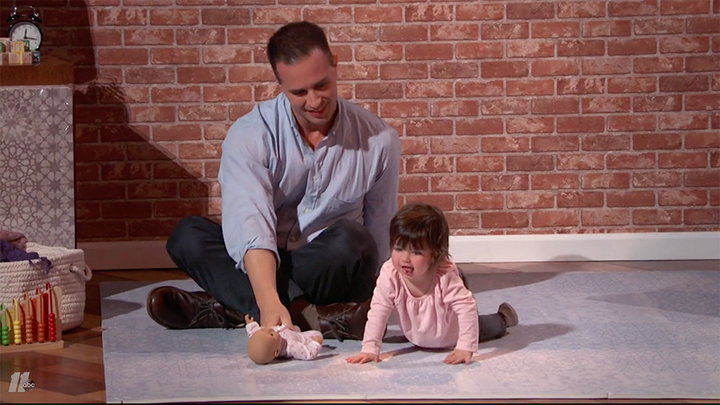 As for her numbers, she saw $114k in pre-sales in only three and a half months. She sells them in a set of six panels that are each two feet by two feet along with twelve edge pieces to make seamless connections wherever you put them. Her cost on a package is $16.39 and she plans to sell them for $139.
In my opinion, there were definitely some things to be impressed with in this entrepreneur's presentation and product! First of all, I want to touch on the marketing. She focused on going through mom groups on Facebook and directed them to a landing page where she was able to capture 4,555 email addresses. I'm obviously a bit biased on this matter considering what I do for a living, but that made me so excited to hear! Far too few entrepreneurs understand the kind of power a solid strategic Facebook marketing strategy can be. You can't argue with results! That tactic lead directly to $114k in sales before she even had a product to sell and it was all in three and half months!
Next, I want to cover her plan for the future. The Sharks were not too keen on the idea of running straight to retail, but she emphasized the importance of being on the registries of the locations where stylish moms shop. Honestly, I can see the merits in both sides of the argument. She definitely needs to be on those registries, but there are hurdles to getting into those retail locations that her extremely young business might not be ready for just yet. So in my mind, there is no doubt that she should end up in retail. Her instincts are on exactly the right path there. What it really comes down to is whether she should first double-down on her online marketing to sell direct to her consumers, get her product into their hands, continue to build brand recognition for a time, and then start going after the retail locations. That might be the right path for her, but I am honestly torn because I obviously don't have all the information necessary to make a more definitive statement on the matter.
Now, let's get into the one major negative issue that came up in the presentation. I can definitely identify with Daymond's concerns about the price point. Even though I have a stylish wife who would absolutely want these for our house when we have a baby, I'm not sure I would be okay with the idea of paying $139 for foam mats. This is especially in light of that fact that we would have just had a baby and have taken on the responsibility and expenses for a brand new life! That is not the time for spending money on aesthetics. It's the time for being safe and buckling down on making sure we have the money to take care of the baby and ourselves. I do understand this all depends on where a person is at in life. If you have a decent flow of expendable income above the normal expenses of having a new baby, then you might be fine with this price point. I just can't get there based on where I know my mind would be if I found out my wife was pregnant tomorrow.
Anyway, I will say that I think it's a beautiful product! I also think that this entrepreneur has a solid plan for how to grow the brand and market to her demographic. My only concern is that it will end up being an extremely niche product that won't be able to reach a wider market. There is really nothing wrong with that though! People have made a decent living selling their product to a small niche. That just wouldn't be the kind of business that an investor would want to jump into knowing that it would take way too long to see their money come back to them.
At the end of the day, all the Sharks dropped out and she left without any offers. I really do hope we are all wrong about this product though. It looks amazing and she is so passionate and driven. So good luck to Little Nomad! I hope you sell millions of stylish foam mats!
Popular in the Community