With the 2012 Summer Olympic Games in full swing in London, the world's eyes are trained on this stately British capital. Sure, the elite athletes competing in the Games are the focus, but on the sidelines sits a worldly city ripe for exploration. If you're traveling to London this summer, don't forget to pull your eyes away from the athletic events long enough to amble about the city's most stylish neighborhoods.
We begin today with a tour of Notting Hill.
Notting Hill
We're guessing you've seen "Notting Hill" the movie, but in case you haven't, here's the scoop: endearingly quirky Brit (Hugh Grant) unassumingly manages to snag the heart of a beautiful movie star tourist (Julia Roberts) through unwitting charm. The film is a fitting parable for visitors to the neighborhood. No, you probably won't be romanced by Hugh Grant, but you should still be prepared to be swept off your feet by Notting Hill's upscale bohemian allure.
Since it first took off in the 19th century, Notting Hill has been known for its alternative flair, brought first by an 1800s artsy set and then by a multicultural blend of immigrants in the 20th century. These days, with gentrification in full swing and cute boutiques and cafés dominating the storefronts, the vibe is more trendy posh than "alternative," but to be honest, that doesn't make us love its offbeat charms any less.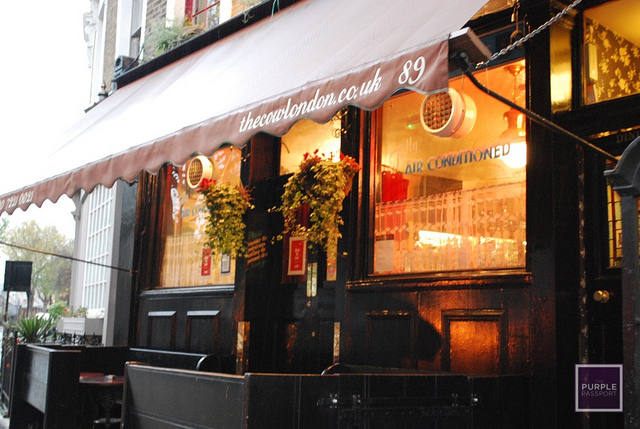 In fact, while traditionalists may decry Notting Hill's "loss of character," we think the 19th-century absinthe set would still approve of its funky range of nightlife hotspots-this is definitely our top pick in town for a chic, offbeat cocktail crawl. Tour the universe by hopping from Mexico (kitsch Mexican joint Crazy Homies) to vintage Las Vegas (Rat Pack-inspired cocktail bar Montgomery Place) to outer space (Space Age lounge Lonsdale). Or, soak up local color (and crafty brews) at fun pubs like cozy Portobello Star, seafood-and-pint purveyor The Cow or gastropub The Westbourne.
Of course, as every good bohemian knows, you'll probably need to recoup from your wild adventure the morning after. Don't have a drafty garret to retreat to? No matter. Go for a hangover-cure "fry up" at retro deli/diner Tom's Deli. Or, if health conscious is more your style, do an organic detox at teeny deli-café Ottolenghi or ritzy-rustic Daylesford Organic. Still feeling a bit rough around the edges? Purify and pamper at Beauty Works West.
If you really want to connect with that legendary bohemian past, though, you'll need to block out some time for the famous Portobello Road Market, a historic open-air market filled with everything from antiques to fashions. Weekends still bring vanloads of eccentric characters and eclectic loot, so you're bound to leave with a crazy curio or two. (Try to get there early on a Saturday morning: You'll catch the best vendors and the best bargains and beat the tourist throngs too.) Alternatively, get festive at the Notting Hill Carnival in late August, a riotous two-day festival that showcases the heritage of the neighborhood's Afro-Caribbean immigrants. (It's the second largest carnival in the world, outranked only by Rio de Janeiro, so be prepared for crowds and over-the-top revelry.)
However you spend your time in Notting Hill, be it boozing or cappuccino-ing, curio hunting or boutique hopping, catering to a hangover or carnival-ing it up, consider yourself forewarned-you will fall in love, and your heart will break when you have to leave. We don't care how poshed up it is -- you can't expect any less from a free-loving bohemian like Notting Hill.
Related