Mention exercise and its accountrements and you'll see my eyes glaze over within a matter of seconds. I am an occasional runner, but outside of weekly runs around the park, my interest in footwear is limited to the kind with tall, spiky stilettos. I admire celebrities like Solange Knowles who will head out in cute sneaks -- even Kim Kardashian has been spotted in Air Yeezys -- but my tired, old kicks have always been relegated to the dusty corner of my closet, only to be brought out when sweating is the desired goal.
That was until recently, when the knee pain and shin splints from running had me reconsidering my stance on sneakers. When I complained to fellow runners, they looked at me in astonishment. According to them, I had made a few classic mistakes in my efforts to exercise more frequently, like not buying new sneakers in a few years. Were my stylish running shoes to blame? I took my woes to the experts at Jack Rabbit, a New York-based store for runners, where they had me walk on a treadmill that is hooked up to a video/computer system that captures your stride and analyzes it to diagnose running form.
There I met store manager Todd Colby, a marathoner-slash-poet-slash-style-enthusiast (we were discussing Alexander McQueen and Isabel Marant within moments of our meeting). He told me the key to staying healthy as a runner is to switch out your shoes every 400 miles (donate your used kicks at soles4souls), and to make sure you're wearing the right pair for you (all depends on the anatomy of your foot, your stride and your training frequency). Within moments, he had me running on a treadmill (not what I had planned, especially in my silk dress).
Analysis complete, he chose the appropriate sneakers for me. All the expertise that he'd imparted went right out the window: They were the prettiest sneaks I'd ever seen. They could have had concrete soles for all I cared; I just knew that those purple, sparkly beauties had to be mine. The Mizuno Wave Runner was deceptively lightweight, it has a waveplate that runs directly through the sole to provide cushion. Colby also noted that it is important to have enough space between your longest toe and the front of your shoe so your foot can expand. While I'm willing to go down a few sizes for a special pair of Louboutins, I'll be sure to size up in running shoes.
Ready to make a splash at the gym? Then head to your nearest running store to find the right shoes for you. And don't hesitate to go for the most beautiful ones you see -- no one said working out couldn't be an excuse to flex your style chops.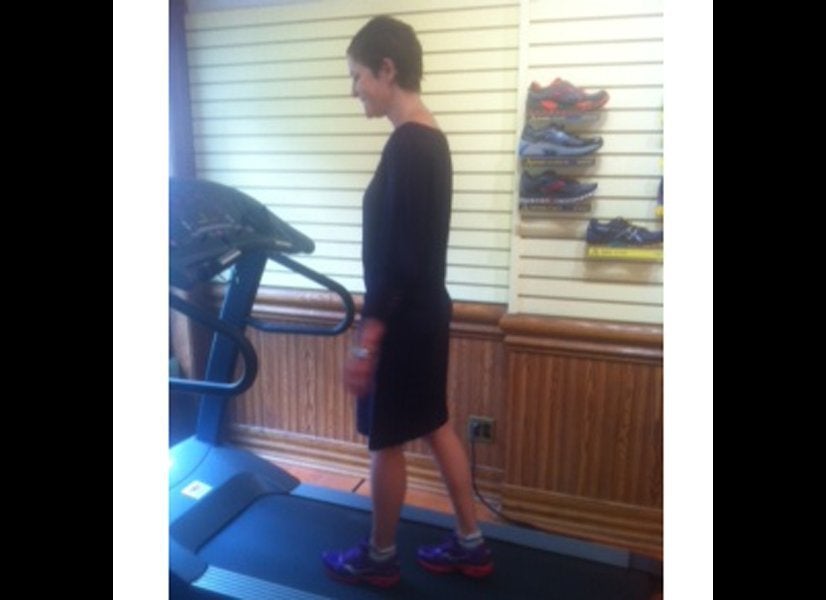 Every Girl Should Own: Running Shoes