There is no way around the fact that sometimes the weather on your wedding day does not go your way. We all know that you can fight with your mother about every last detail surrounding the wedding but there is no fighting Mother Nature and winning. When dealing with wedding day weather, the best thing any bride can do is get creative find a stylish way to stay cozy. From impromptu rain showers to sudden snow flurries, adding a chic coverup can help you stay warm and happy. Since you have probably plunked down a sizable chunk of cash for your wedding gown, you won't want to wear anything that takes away from your wedding day look -- but there are some great options for staying warm and looking stylish.
1. Sweater - Sweaters are the perfect option for staying warm on your wedding day and we are not just talking about one of your normal, everyday sweaters. Today bridal companies are turning out stunning bridal sweaters which are both fun and funciational and can really enhance your wedding day look.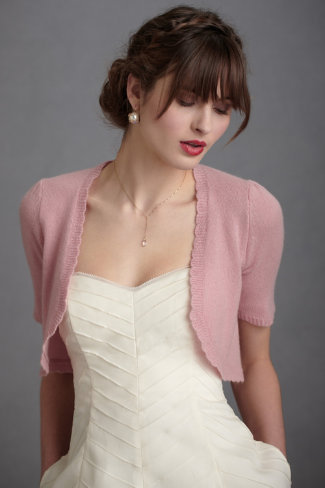 As seen on Rustic Wedding Chic from BHLDN
2. Cropped Jacket - If Keira Knightley wanted to wear one on her wedding day, then we should all take note. The always-stylish Knightley decided on a short dress with a tailored Chanel jacket and looked amazing. Looking for a way to copy Knightley's wedding day style? Check out our shopping list here.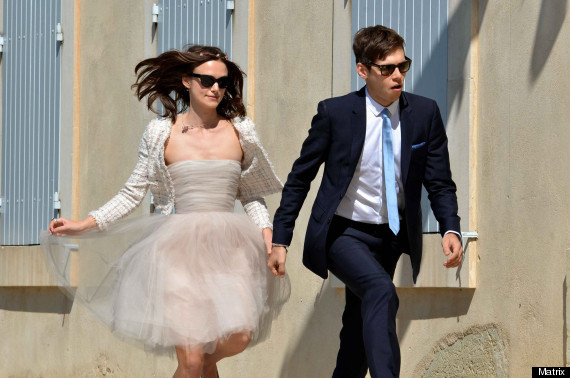 3. A Shawl - The knit shawl is not just for the grandmothers out there anymore, and when paired up with a wedding gown, a shawl can look pretty amazing. Brides are deciding to add a little vintage chic feel to their wedding look by adding a simple handmade style coverup.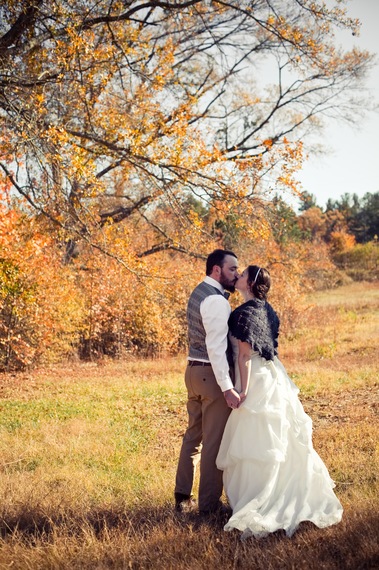 As seen on Rustic Wedding Chic from Angela Cox Photography
4. Denim Jacket - A little more on the country wedding side of things but completely charming nonetheless. The key to wearing a denim jacket over your wedding dress is to pick one that is a little more fitted and slightly washed out in color so that there will not be such a contrast in color with the wedding dress.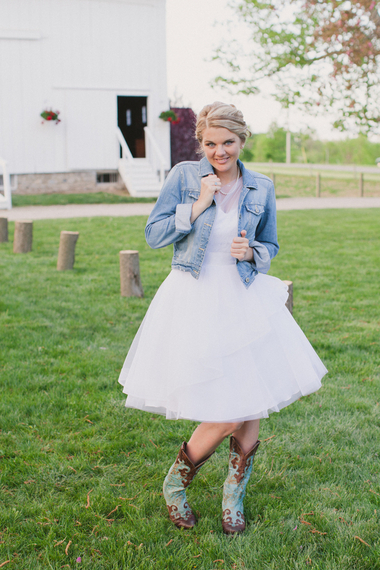 As seen on Rustic Wedding Chic from Stephanie Karen Photography
5. Lace Coverup - Lace is such a classic look for a wedding day and since a short lace sweater or jacket can often times match the lace on a wedding gown it can be the perfect solution. Thinking of looking around for a lace sweater look no further than my favorite, BHLDN.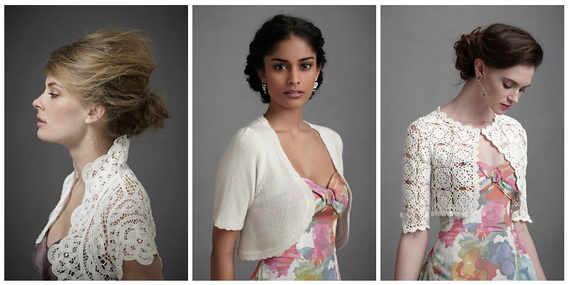 Styles from BHLDN
6. Flannel Shirt - This might be a little extreme for the more traditional bride but if you are planning a rustic wedding, then you might want to think about pulling out your favorite flannel shirt and sporting it on your wedding day. Believe it or not I have seen more and more brides wear something like this at the reception especially as the evening hours roll on and the temperature falls.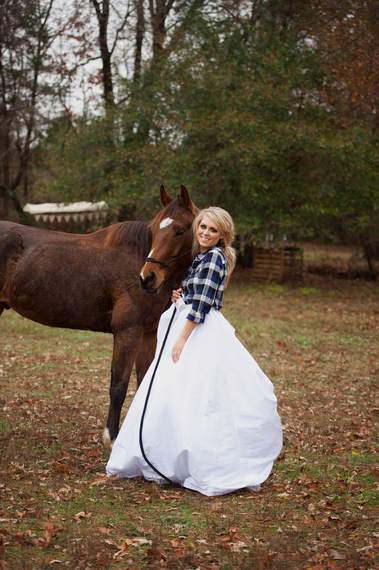 As seen on Rustic Wedding Chic from Melissa McCrotty Photography
Related