Environmentalists have long opposed the use of Styrofoam in the food service sector, going as far as banning it in cities like New York. But the virtually-indestructible material may be cropping up in a much bigger way in the coming years. And, as contradictory as it sounds, Styrofoam's resurgence may actually be a good thing for the environment.
According to Leigh Overland Architects, a design concept called insulated concrete form (ICF) employs a Styrofoam-like material (similar to the one used to make coolers) as a building block for homes. The blocks are stacked on top of one another and then held together with concrete to create houses that, according to Overland, seal out the elements and cut utility bills in half.
"Wood frame construction's been around for hundreds of years. The time has come to build with a product that's not going to only last for decades, but will last for centuries," Overland told Connecticut's New 12 earlier this month.
In an email to The Huffington Post, Overland explained that ICF-based homes cost nearly the same as wood framing. Though you may not save money up front, you likely will save on energy conservation as ICF prevents air from seeping through the corners and studs you'd find on a wood home. Custom home builder Andy Ellis agrees. "The building materials are about the same. The real savings comes to the consumer. It doesn't take any more time to build or cost any more material wise to build this custom home than any other traditional stick built home," Ellis told Time Warner Cable News. A 2010 study from MIT found that ICF could make homes more energy efficient, but not everyone is in agreement just yet about its long-term benefits.
Style wise, however, the possibilities are endless, Overland says. His case in point? A recreation of an eighteenth-century Scottish castle in New Canaan, Connecticut. Take a look at the property below and check out more on how ICF is used in the video above.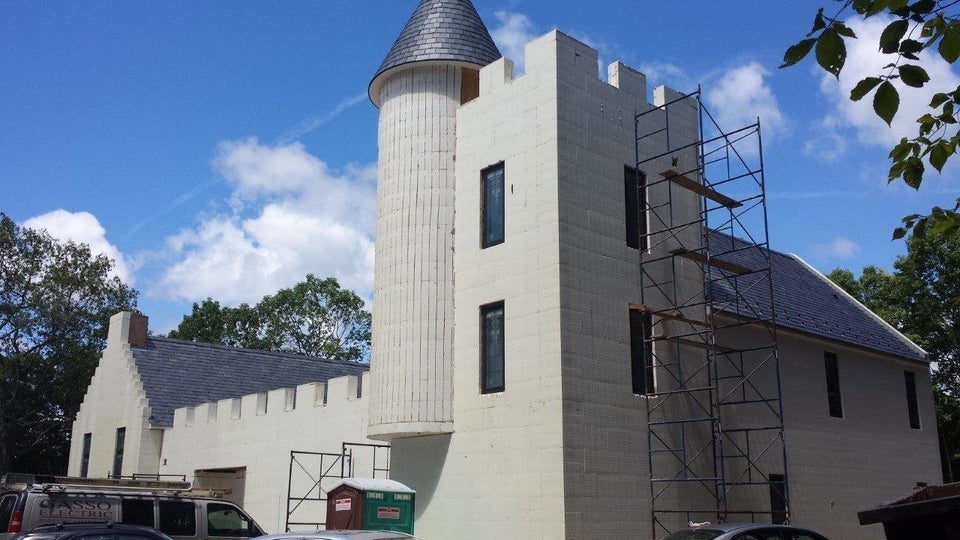 The Making Of A Styrofoam House
Are you an architect, designer or blogger and would like to get your work seen on HuffPost Home? Reach out to us at homesubmissions@huffingtonpost.com with the subject line "Project submission." (All PR pitches sent to this address will be ignored.)