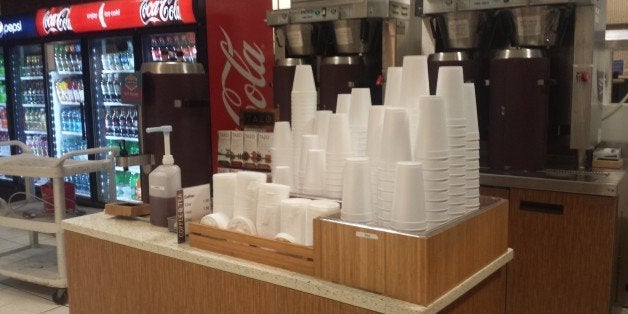 WASHINGTON -- On Monday, the House of Representatives was back in session for the first time since its August recess. Its Longworth cafeteria offered hungry representatives and aides a wide variety of fare for its return to business -- Indian food in the global section, pizza, salad and the special for the week, "world tacos." But, as has been the case for the past three years, there weren't many options when it came to packaging: It was all Styrofoam, Styrofoam, Styrofoam.
Polystyrene -- which many people refer to as Styrofoam, though that's technically the brand name for a specific type of polystyrene produced by Dow Chemical -- is getting the boot in the District of Columbia. In July, District mayor Vincent Gray signed a bill into law that will phase out the use of polystyrene products at restaurants and food trucks by January 2016. But the House of Representatives is still clinging to its foam packaging so far. House cafeterias serve 240,000 meals each month, most of it via polystyrene plates, clamshell carry-out containers, coffee cups and soup bowls.
The Republican leadership of the Committee on House Administration did not respond to a request for comment about whether the House intends to comply with D.C.'s ban when it goes into effect. And no one from the office of the Chief Administrative Officer, the non-partisan, non-legislative office that provides support services for the House, was available to talk on deadline.
It hasn't always been this way. When Nancy Pelosi (D-Calif.) took over as Speaker of the House, she launched the Green the Capital initiative, which directed House cafeterias to use compostable cutlery made with corn-based plastic substitutes and carryout containers made with plant fibers, and instituted a composting program. A 2010 report on the Green the Capital program found that 650 tons of compostable waste had been collected from House facilities and grounds.
But when Republicans took over the House in 2011 and installed Speaker John Boehner (R-Ohio), the compostable cups and forks were quickly replaced with the old Styrofoam standbys. The change back to polystyrene and plastic prompted predictable griping from Democrats and celebrations from Republicans, who argued that they were cheaper and more durable. (The Senate, however, remains foam-free.)
While Erin Sayago, the spokeswoman for the majority on the Committee on House Administration, did not respond to a request for comment from The Huffington Post, she did defend the House's position to Roll Call in August, noting that all non-recyclable waste is now shipped to facilities that produce electricity by burning waste. "From there, the waste is turned into electricity to power hundreds of homes and businesses," she told the paper, noting that 11,000 tons have been shipped out since October 2011.
For D.C.'s council, the measure to ban polystyrene was part of the larger "Sustainable D.C. Omnibus Act of 2014," aimed at making the District "healthier, greener, and more livable for all." Foam containers were singled out because of their persistence in the environment, Councilwoman Mary Cheh, chair of the Committee on Transportation and the Environment, told HuffPost. "It doesn't degrade, and what happens is it becomes little tiny particles, [which] creates pollution in the waterways."
But Cheh said there's not much the council can do if the House chooses to ignore the new D.C. rules. The House, in her understanding, does not have to abide by District rules. "The most we can do is hope that they comply," said Cheh. "We can't force them, but we can ask them and encourage them. So that's what we'll try to do."
There is precedent in the House for ignoring rules others in D.C. must follow. For example, smoking has been prohibited in federal buildings since 1997, and D.C. barred it in all workplaces in 2006. But in the House, each member gets to set the smoking policy for his or her individual office -- meaning if they want to smoke, they still can. Still, one House Democrat has suggested that D.C. should impose a fine on the House if it does not comply with the ban.
This summer, the situation got more complicated not only with D.C.'s new law, but also with the late July release of a report from the National Research Council that upheld the National Toxicology Program's decision to list styrene, the monomer used to create polystyrene packaging, as "reasonably anticipated to be a human carcinogen." The National Toxicology Program had first listed styrene in its report on carcinogens in June 2011, and producers of the chemical fought that listing unsuccessfully.
The health concerns related to styrene aren't really about people who eat out of the containers, explained Richard Denison, the lead senior scientist at the Environmental Defense Fund. The greater concern is for workers in the facilities that manufacture products, and in the potential for those facilities to release chemicals into the environment.
Jennifer Sass, a senior scientist at the Natural Resources Defense Council, said there are only "very minimal" concerns about styrene leaching into food eaten from foam containers, but added that she thinks "there isn't a safe level of a carcinogen." And burning the products in an incinerator is also environmentally hazardous, she said, as it is releases the chemicals into the environment. Landfills aren't much better either, she said, because there products break down very slowly, and when they do, they become hazardous styrene monomers again. The issue, she said, is that there are plenty of alternatives to polystyrene on the market. "I just think we don't need to use these toxic chemicals. It's ridiculous," she said. "We have substitutes. We can do a better job."
House Democrats are using this as an opportunity to agitate for an overhaul on foam waste, treating the issue as an analogy for the majority's view on environmental issues more broadly. "I am amazed and deeply troubled that House cafeterias continue to use polystyrene food and beverage containers, despite overwhelming and virtually unanimous scientific evidence pointing to the damage that they cause to our environment and the potential human health risks," said Rep. Robert Brady (D-Pa.), ranking member of the Committee on House Administration, in a statement.
"While businesses large and small across the country are finding ways to conserve energy, reduce waste and recycle, Speaker Boehner has placed the House of Representatives squarely in the past with his full-throated, toxic embrace of styrofoam," said Pelosi spokesman Drew Hammill.

Aides -- who are most-often forced to eat in the House cafeterias -- have also complained about the current state of affairs. "[It's] like Boehner decided a meaningful act of defiance to the evil tree-hugging Nancy Pelosi would be forcing staff and members to eat and drink out of styrofoam plates, containers and cups," said one Democratic aide. "I think its dumb and I know visitors do. I hear people comment all the time in Longworth and Rayburn."
One hundred and fifteen House Democrats signed a letter demanding alternatives to Sytrofoam in 2011. Reps. Earl Blumenauer (D-Ore.) and Henry Waxman (D-Calif.) are currently leading a new letter campaign that will urge the House to comply with D.C.'s ban. "Congress should be leading on this issue, not transporting visitors back in time with archaic, harmful products," said Blumenauer. "Once the D.C. ban goes into effect, the House's continued use of Styrofoam becomes a willfully aggressive position that flies in the face of the District's efforts to become a cleaner, healthier community."
REAL LIFE. REAL NEWS. REAL VOICES.
Help us tell more of the stories that matter from voices that too often remain unheard.
BEFORE YOU GO
PHOTO GALLERY
What Climate Change Just Might Ruin