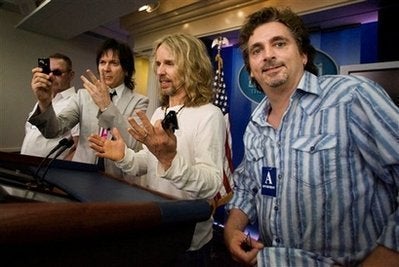 Shortly after Robert Gibbs ended his daily briefing on Monday, the White House press corps was treated to an unexpected guest appearance.
The members of the '80s band, Styx, suddenly took the podium to snap a couple pictures behind the famous lectern. The press, naturally, went crazy, with photographers gathering around the foursome and correspondents chatting like their youth had been restored.
The band happened to be in town for a gig. And as the long-haired musicians took questions and posed for pictures, a few members of the media could be heard chanting the lyrics to "Mr. Roboto" and "Come Sail Away." One member of the Obama communications team, laughing at the spectacle, whispered: "This is why I love working in the White House."
It was keyboardist Lawrence Gowan's first time in the place. "I'm a Canadian," he said. "I voted for [Obama] but my vote was rescinded."
Asked how the thought the president was doing, drummer Todd Sucherman responded with a thumbs up. Did he know if Obama was a fan?
"Someone had mentioned that we are in his iPod," he replied, "but I can't substantiate that claim."