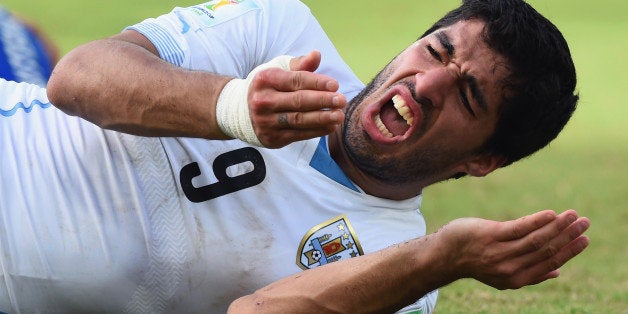 Luis Suarez has a clear hunger for goals -- and seemingly opponents.
The Uruguay striker appeared to sink his teeth into Italy defender Giorgio Chiellini during a cagey winner-take-all Group D match at the World Cup. The incident, which wouldn't be the first time Suarez bit another player, occurred in the 80th minute when both players collided in the Italy penalty area.
After both players got up, Chiellini attempted to show the referee marks on his shoulder. The official took no action against Suarez on the play.
Television replays of the incident seemed to support Chiellini's claims that he had teeth marks on his shoulder.
For his part, Suarez appeared to be grabbing at his teeth while the pair was still on the ground, as if he was in pain as well.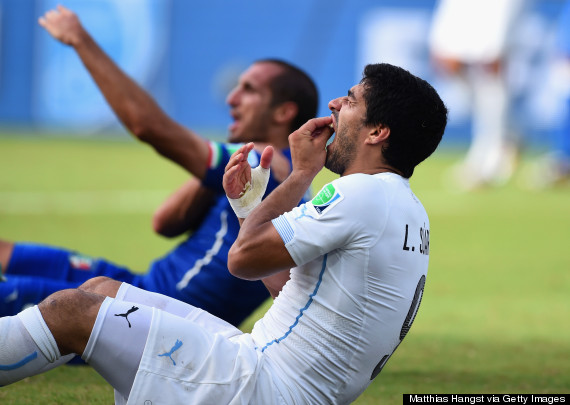 After the match, Chiellini called on FIFA to take action.
"Suarez is a sneak and he gets away with it because FIFA wants their stars to play in the World Cup" Chiellini told Sky Sport Italia, reported ESPN. "I'd love to see if they have the courage to use video evidence against him. The referee saw the bite mark too, but he did nothing about it."
Given Suarez' bizarre history of biting, the moment overshadowed the decisive Uruguay goal that came just a minute later. He was suspended 10 games for biting an opponent while playing for Liverpool in April 2013. In 2010, the prodigious goalscorer was banned for seven games for another biting incident while playing for Ajax in the Dutch league.
Related
Popular in the Community