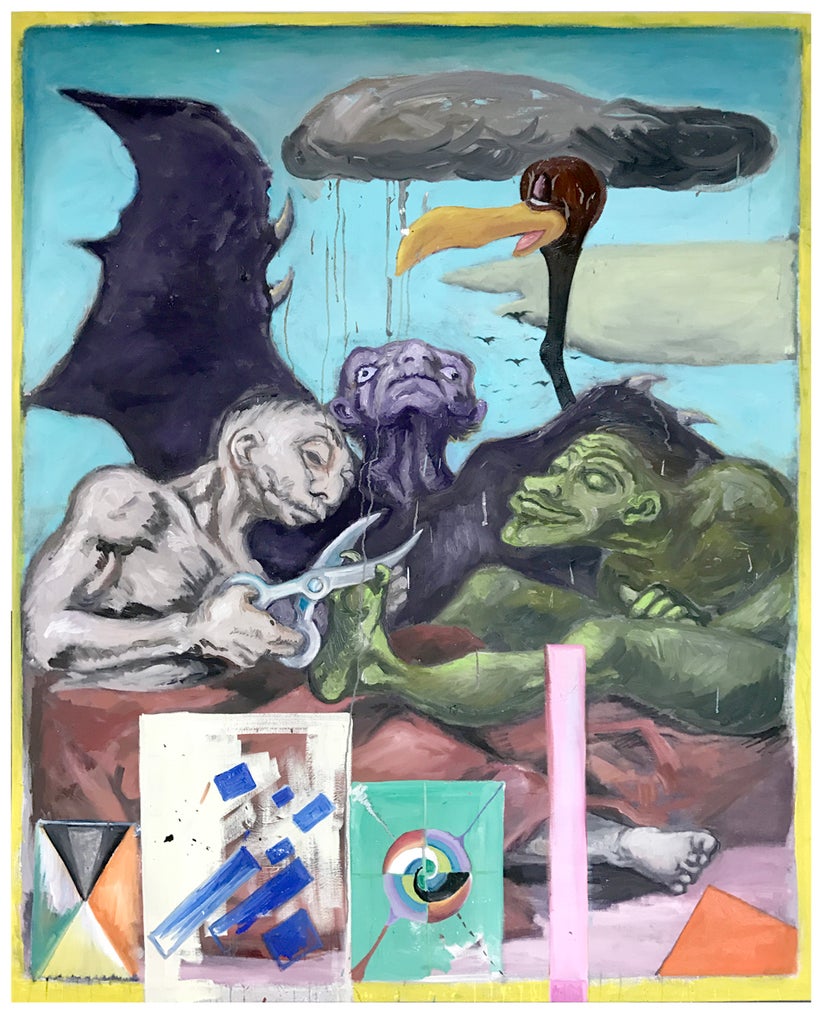 On the walls of Chinatown's Coagula Curatorial, a garlanded devil-goat, disfigured crones and toe-nail-clipping demons mingle with a cartoon buzzard, a John McCracken sculpture and Kazimir Malevich geometrics. These reinterpretations of Francisco Goya's disquieting 18th-century allegories features in Manuel Ocampo and Irene Iré's joint exhibition "Monument to the Pathetic Sublime: Resuscitating Goya or an All Out Attempt at Transcendence."
This no-holds-barred bid for aesthetic transcendence is described by the artists:
"For the moment, we try to function as mediums communicating with ghosts, and as mediums, we become formalists…. We create art pieces that are open-ended, adapting our particular view within the legacy of Goya, who, despite 200 years, has allowed his visionary character to be either used or exploited for our own end."
It's hard to draw a bead on Ocampo. He's been on the move, dividing his time between The Philippines, Europe and now back to the U.S.A., where his Mexican-inspired, Spanish Colonial art punk paintings first impacted on the L.A. scene in the early '90s. Then in May he will be heading to Italy to exhibit at the Venice Biennale for a third time.
Ocampo samples. The socio-political kitsch of Milan Kunc, the psychosexual themes of Félicien Rops, and now the quotidian monsters of Francisco Goya. Ocampo also collaborates. His use of historical artworks to focus on contemporary issues and sociological repetitions, is countered by collaborations with painting peers such as David Griggs, Gaston Damag, Damien Deroubaix and now Madrid-based Irene Iré.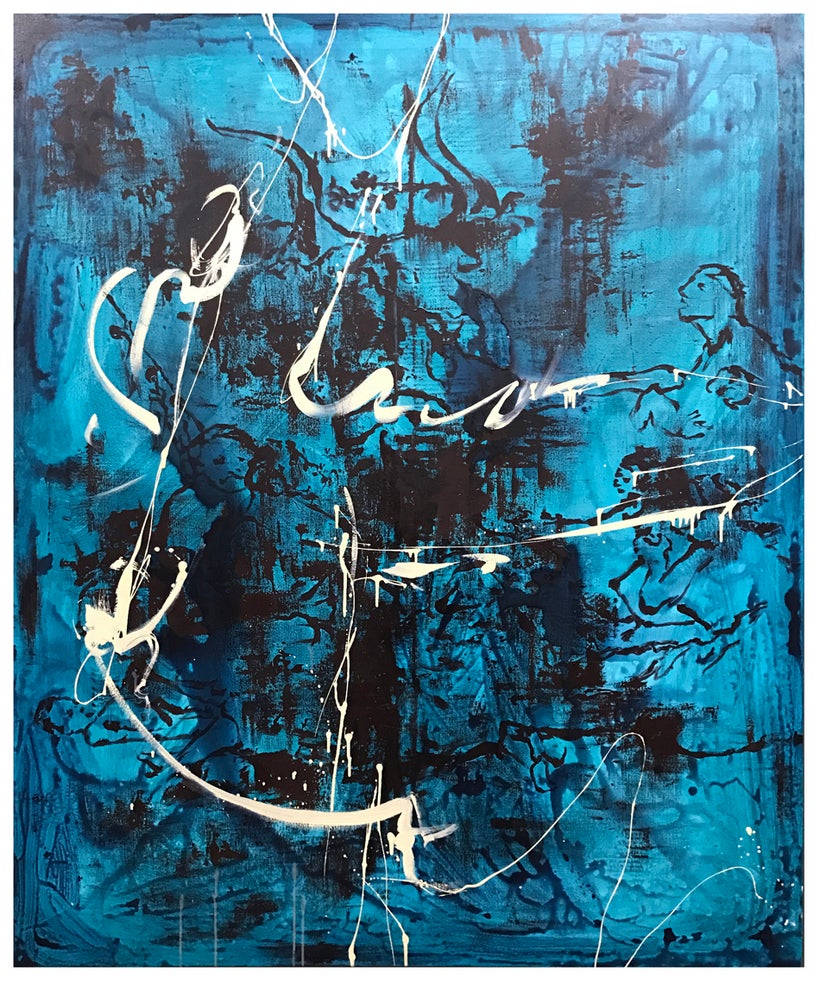 Iré's familiarity with the Castilian region and Goya's work allows her to draw contemporary relevance from his imagery while stamping her own mark on it. Beneath her contemporary saturated colors, Goya's dark subject matter peeks through, only to be lassoed by her Georges Mathieu-like calligraphic imagery, which in her possession becomes unintelligible painting incantations. Her flowing, yet considered picture plane overpainting acts as a calming balance to Goya's grotesqueness and Ocampo's intensity.
In addition to individual works, Ocampo and Iré have collaborated on three pieces. The largest, "A Monument to the Failed Liberation of the World, Part 5", depicts a stooped elderly figure on crutches, referencing Goya's early 19th century drawing "Así suelen acabar los hombres útiles", ("This is how useful men generally end up"). Goya's series highlighted the suffering of victims of the Spanish Revolutionary War but in Ocampo and Iré's hands, the man becomes a contemporary victim of everyday glut and ephemera, the pathetic sublime of reality that we see in very similar figures shambling the streets of downtown L.A.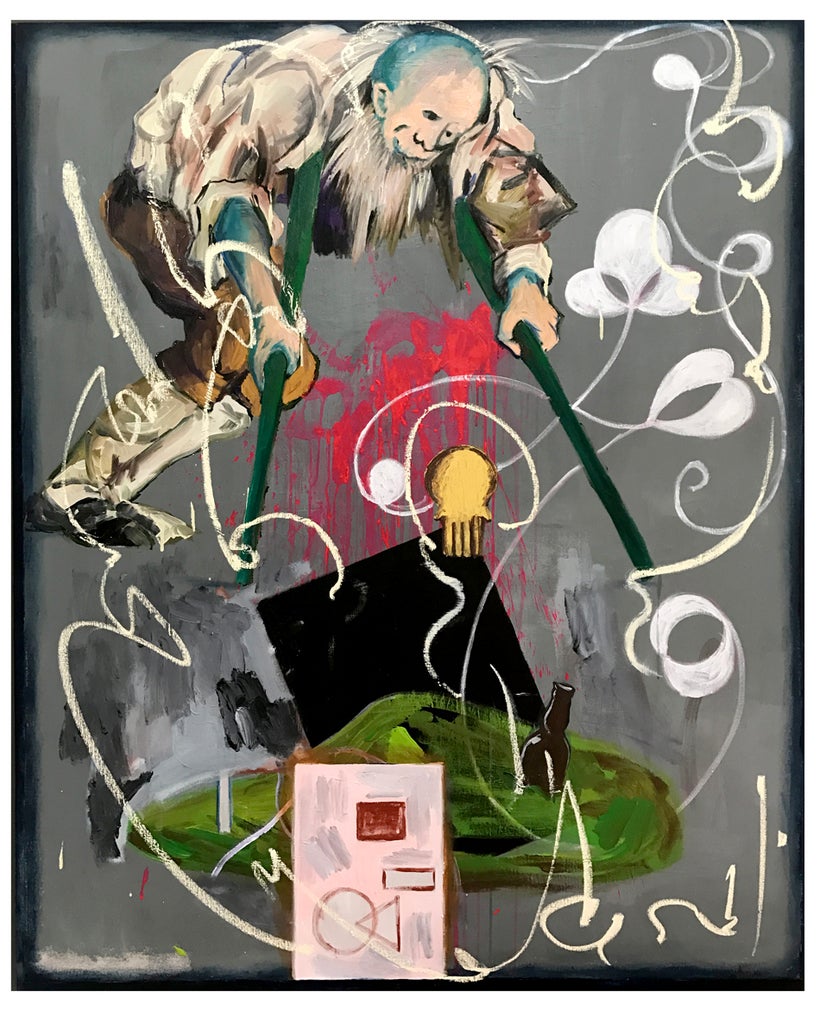 Coagula Curatorial, 974 Chung King Road, L.A. Through May 21; closed Mondays and Tuesdays. (323) 480-7852, www.coagulacuratorial.com

Calling all HuffPost superfans!
Sign up for membership to become a founding member and help shape HuffPost's next chapter
This post was published on the now-closed HuffPost Contributor platform. Contributors control their own work and posted freely to our site. If you need to flag this entry as abusive,
send us an email
.