The event touted a promotional video of a professional skateboarder, zooming by artworks, including Guyton's, as a ploy to play up the "hardcore" and "dangerous" marketability of contemporary art, as Jerry Saltz wrote in New York magazine. Guyton made news at the time for trying to tamp down his own market value, which he thought was ludicrously high; his black, blue, and red work "Untitled" (2005) was estimated to sell for between $2.5 and $3.5 million at the auction.
Taking to Instagram, he posted a picture of his studio littered with exact replicas of the work, which he makes by feeding fabric into inkjet printers. The undercutting didn't work, however; Christie's ultimately posted the artist's Instagram image to their website, declaring Guyton's stunt as "fun." Ultimately, the work sold for an astounding $3.525 million, artistic sabotage or not.
That Guyton is a darling of auction houses is no surprise. His paintings are equal measure smart and sexy -- though calling them paintings is a bit of a misnomer, as they're really linen, or sometimes paper, subjected to the fickle whims of computer software and inkjet printers.
He literally feeds linen, or sometimes book pages, directly into Epson printers before putting the imperfect results on display. Errors like paper jams, leaking toner cartridges, and formatting errors -- all things that plague offices and homes everywhere -- become writ large, humorous references to the history of abstract expressionist painting, which always had a precious aura about it due to the human hand of the "artist-as-genius."
A Pollock painting has always had a mythical heroism about it, due to the indelible images of Pollock flinging paint onto the floor with sticks, a kind of enfant terrible making magic happen, all alone in his studio. Guyton's work, rather, references quite the opposite: how human ability is increasingly reliant upon, and handicapped by modern technology. More often than not, technology comes up short when it should enable.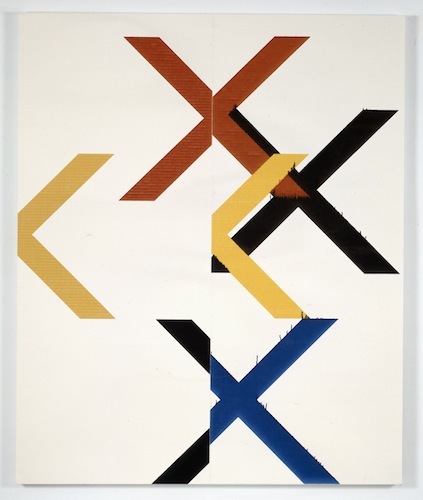 Wade Guyton "Untitled" 2010 Epson UltraChrome inkjet on linen 84 x 69 inches 213.4 x 175.3 cm Photo credit: Lamay Photo.
Thus his large abstract works are both beautiful objects and tongue-in-cheek jokes made at the expense of the supposed advances of the 21st century. With a work like "Untitled" (2008), large expanses of black -- which if they were made of paint would be mostly flat monochromes -- are here tonally different, such that there are nearly stripes of gray running across the work's left side, while the right is pitch black.
Blemishes are prevalent, as if toner got caught on something. Down the middle of the work there's a seam; this is because the printer can only print 44 inches wide. To achieve the desired width, he folds his linen in half and runs it through the printer twice, such that the printer's size limitations are made obvious in almost every work. In another untitled "painting" from 2008 (both of these works were on display during his Whitney Museum retrospective, the printer didn't quite stop when it was supposed to. The two sides of the work, right and left, are just a little bit off, such that the black, red, and blue color planes don't match up at the seam -- color fields, stymied!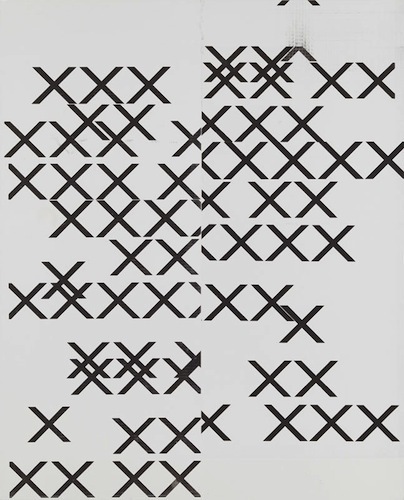 Wade Guyton "Untitled" 2006 Epson UltraChrome inkjet on linen 85 1/4 x 69 inches 216.5 x 175.3 cm Photo credit: Ron Amstutz
Other works blow up imagery like the letter "x" or wisps of fire to near abstraction, through inserting them into software like Microsoft Word or Adobe Photoshop. Crawling like spiders over the wide expanse of white linen in "Untitled" (2006) and "Untitled" (2010), Guyton's letters lose all reference points, as if an "x" had floated off a checked form somewhere, landing in negative space, reproducing, overlapping, and congregating like a computer program run amok. The same effect was accomplished with his work "Drawings for a Small Room" (2011), currently on display in the group exhibition "Prima Materia" at Palazzo Grassi in Venice.
This time, though, Guyton overlapped book pages taken from old art, architecture, and lifestyle magazines in a vitrine. He printed over them with stripes and squares. The compositions layered abstract shapes and colors, evoking a generic minimalist aesthetic. Contained in vitrines, the work achieves in small scale what Guyton has already achieved large format: a wholehearted embrace of error, one that calls into question ideas of perfection embodied by painters past.
Wade Guyton is represented by Petzel Gallery, New York. "Prima Materia" is on view through December 31, 2014 at Palazzo Grassi in Venice, Italy.
--David Everitt Howe is a regular ARTPHAIRE contributor. He is a Brooklyn-based writer and curator who hails from the Deep South, but can barely manage a mountain drawl. He writes primarily on contemporary art, culture, and technology for ArtReview, Modern Painters, frieze, Afterall, and Mousse, among other publications.
REAL LIFE. REAL NEWS. REAL VOICES.
Help us tell more of the stories that matter from voices that too often remain unheard.