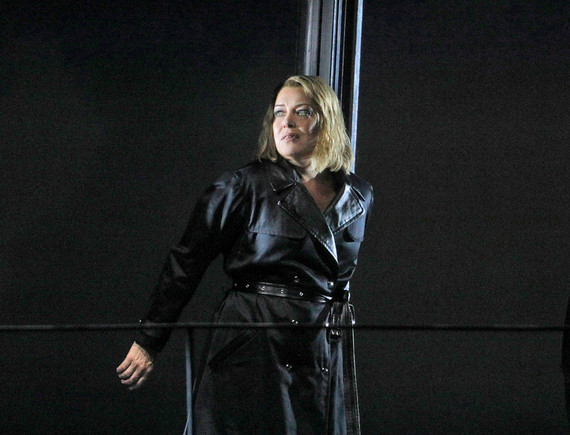 By Mark McLaren, ZEALnyc Editor in Chief, October 6, 2016
This week the Swedish soprano Nina Stemme joined the ranks of Callas, Sutherland, Pavarotti and Domingo as she headlined the opening of the Met's season in a debut that introduced New York to the world's current leading dramatic soprano. Ms. Stemme, at 53, has sung rarely in US houses, but I suspect that now changes.
Despite a solid 2000 Met debut as Senta in Der Fliegende Holländer, Ms. Stemme has been absent from New York. Occasional US appearances (San Francisco, Houston, Washington) have been the exception as she focused on family and a European career. And New York has missed an exciting career indeed, as she moved quickly through Mozart and Puccini to weightier Wagner and Strauss a little over a decade following her 1989 debut. She sang Tannhäuser's Elisabeth in Glyndebourne in 2003, and followed with Covent Garden, Bayreuth, and for EMI Classics with mentor Placido Domingo.
Back in New York, she sang Ariadne at the Met in 2010 and a jaw-dropping Salome with Cleveland at Carnegie Hall in 2012. Then came last season...but more about that in a bit. Let's talk about this week.
Ms. Stemme anchored Mariusz Treliński's new nautical production (a joint venture with three other companies) surrounded by a solid cast. Journey is the subject, and Treliński's conceit enframes Wagner's ruminative libretto on a base that highlights action. Now let's be clear, this is Wanger - there's plenty of time spent discussing feelings. Tresliński's solution, borrowing from Lapage (and others), visually captures any travel between scenes. An audience-left staircase in Act I adds movement and injects energy that would ordinarily have taken place offstage. Once the exposition is complete, scenes live logically and successfully in clever locations. Tristan and Isolde arrive at the hold of the ship at the end of Act I as they further their relationship. A contemporary hospital scene in Act III sparks interesting emotional associations beyond that of the specific love of the scene. The gentle vignette that closes Acts II and III, Isolde's head resting on Tristan's shoulder as they sit side by side, is stunning in its simplicity. Treliński is more than successful in transporting Wagner's mythical story (there is a love potion) into a contemporary and compelling setting.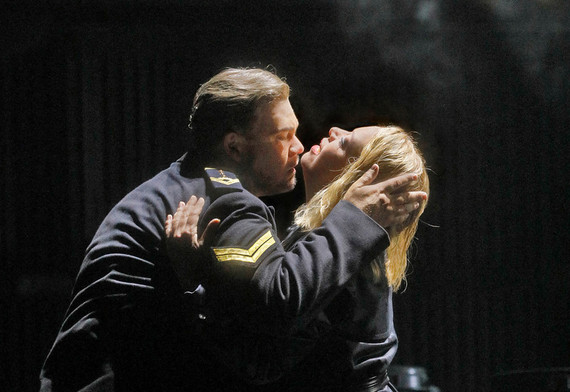 Stuart Skelton and NIna Stemme in Metropolitan Opera's 'Tristan und Isolde' Photo: Metropolitan Opera/Ken Howard
Russian soprano Ekaterina Gubanova is exquisite as Isolde's companion Brangäne, as is René Pape as King Marke. Australian tenor Stuart Skelton makes a more than suitable Tristan, with a solid voice and sound interpretive instincts. Tristan is a tough slog and climatic high notes late in the night lacked a bit of tone. Sir Simon Rattle leads a solid performance, despite a few opening-night brass warbles.
The night's vocal excitement, however, sits squarely with Ms. Stemme, who (finally) returned to New York last season as one of three Turandots (with Christine Goerke and Lise Lindstrom) and in a riveting performance in Patrice Chéreau's Elektra. A great dramatic soprano is a confounding confluence of physiology, time and discipline. And it's probably not always a fun job, what with live performances compared with those recorded by the likes of Nilsson, Behrens and Marton. Well, to this list you can add Ms. Stemme, whose voice has equal measure heft and beauty, and whose acting chops are enviable. Her sound, throughout her range, is deliciously complex with both weight and spin. Her top is robust excitement and the voice enters a room with more confidence than a presidential candidate. Listening to Ms. Stemme is a sit-back experience--not a worry in the world.
This opening night may be emblematic of the current Met, now in its tenth year of Peter Gelb's leadership. An enhanced theatrical experience has been Gelb's priority with a focus on new productions, solid acting, and physically appropriate casting. And though productions have been a nice mix of excitement and controversy (The Nose, Doctor Atomic, Death of Klinghoffer, Two Boys, Ring...), vocal success has been sometimes wanting. Young voices in young bodies were lost in the cavernous house and solid (star) singers inappropriately cast in high profile roles. Last season brought more than usual newsy excitement over the Met's vocal product, in particular the performances of Sondra Radvanovsky, Marlis Petersen, and Javier Camarena among others. And of course, the long overdue return of Ms. Stemme. After ten years, I detect a small but important recalibration of the Met's casting algorithm. And it excites me.
Cover: Soprano Nina Stemme in Mariusz Treliński's 'Tristan und Isolde' at Metropolitan Opera; photo: Metropolitan Opera/Ken Howard
________________________________
Tristan und Isolde at The Metropolitan Opera. Opened on September 26 and runs through October 27, 2016. Conducted by Sir Simon Rattle. Production by Mariusz Treliński; set design by Boris Kudlička; costume design by Marek Adamski; lighting design by Marc Heinz; video production by Bartek Macias; choreography by Tomasz Wygoda. Cast: Stuart Skelton (Tristan), Nina Stemme (Isolde), Ekaterina Gubanova (Brangäne), René Pape (King Marke), with Tony Stevenson, Evgeny Nikitin, Neal Cooper, Alex Richardson, David Crawford, and Jonathan O'Reilly.
Mark McLaren, ZEALnyc's Editor in Chief, writes frequently on classical music and theater.
For all the news on New York City art and culture, visit ZEALnyc's Front Page.
Calling all HuffPost superfans!
Sign up for membership to become a founding member and help shape HuffPost's next chapter