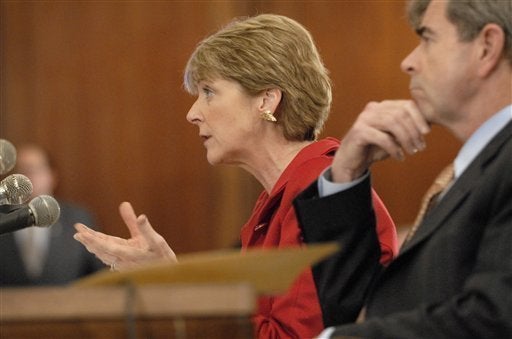 Massachusetts Attorney General Martha Coakley won a victory against the Goldman Sachs Group Monday, forcing the financial firm to cut a $10 million check to the state and pony up $50 million to help around 700 homeowners pay subprime mortgages.
"Goldman Sachs is pleased to have resolved this matter," says Michael DuVally, a Goldman spokesman, declining to comment further.
They were also pleased, no doubt, by the terms in the settlement that allowed Goldman to avoid admitting any wrongdoing. Letting Goldman off excuses what could have been criminal behavior, but it also brings relief to hundreds of homeowners and offers a roadmap to some sort of law-enforcement-driven solution where lawmakers have come up short.
Massachusetts Congressman Barney Frank, chairman of the House Financial Services Committee, said he wouldn't "second guess" Coakley's decision to settle short of criminal convictions. "I don't know what other avenues she had available, but I will say this: Getting significant relief for 700 people is very important, both for them and for the economy. Now, that's a legitimate consideration in getting it done more quickly than waiting for a couple years to go through the criminal procedure," he tells the Huffington Post.
Rep. Bill Delahunt was a Massachusetts District Attorney for 23 years. He said balancing immediate justice for victims with bringing the white-collar criminals to justice can be difficult.
"You almost have to judge those on an ad hoc basis. There's no formula," he says in general, adding that he didn't know enough about Coakley's investigation to comment on her specific course of action.
"Clearly, there's a preference to pursue them criminally because I think that creates deterrence," he says. "You know, it's difficult to deter a kid who's going to rob a 7-11 store for 25 bucks but for people who are purportedly educated, or at least sophisticated, who defraud others, they're more susceptible to being deterred."
But the most sophisticated they are, the more they can drag out a prosecution. By the time they're found guilty, half the victims may be out on the street, their homes foreclosed.
"It's not always a perfect world and you can't always secure the perfect justice," says Delahunt. "It would appear that our attorney general did some good work that resulted in a very significant sum of money for redress by their behavior."
Frank agrees. "I can't tell exactly what the considerations were, but I'm inclined to think the value of getting immediate relief for 700 people and saving their homes, yeah, I'd trade off a little for that," he says.
Goldman Sachs was not accused of originating the subprime loans in question, but rather investigated for facilitating the process by buying them and bundling them into securities without regard to whether the borrowers would be able to pay them back -- or whether the borrowers or originators had followed reasonable lending practices or filed the appropriate paperwork.
"We will continue to investigate the deceptive marketing of unfair loans and the companies that facilitated the sale of those loans to consumers in the Commonwealth," Coakley said in a statement. (Coakley's press office did not return a call.)
The state attorney general's office has previously pulled in more than $75 million from settlements with UBS, Morgan Stanley, Citibank, and Merrill Lynch, all related to the financial crisis.
But the U.S. attorney general would have a hard time making a similar case nationally. Coakely relied on stricter rules on subprime lenders who make "unfair" loans under state law.
Congressional Democrats hope to give the federal government the power some states now have. Last week, the House passed anti-predatory lending legislation that Coakley helped Frank's committee draft.
"What we do in our bill is to go beyond any set of state laws," says Frank, citing a requirement that five percent of the loan portfolio be kept by the company that originates the loan. Having that amount of skin in the game, he hopes, will persuade a lender to take a loan seriously.
The bill is now, like much else, stalled in the Senate.
Banking Committee Chairman Chris Dodd (D-Conn.) says that subprime lending reform is a lesser priority because the credit freeze has inadvertently dried up the business.
"That's true right now but we cannot count on that being true forever," says Frank. "You couldn't count on getting a non-predatory loan a little while ago and it is true that the freeze has helped some. That's true in some other areas as well. There aren't a lot of credit default swaps being written."
But, says Frank, the financial industry won't have forgotten how to write a bad loan once the market thaws.
"It is important to get laws on the books, because this de facto moratorium isn't going to last forever," he says.
Here's a sampling of the kinds of practices Frank is talking about:
Calling all HuffPost superfans!
Sign up for membership to become a founding member and help shape HuffPost's next chapter