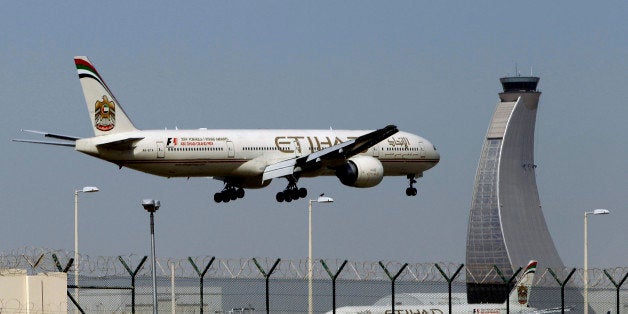 Last month, I spent two weeks teaching grad students about a variety of airline topics in Switzerland, Germany, and Sweden, and after nearly every lecture someone has asked about the impact of the three fast-growing Gulf mega-airlines, Emirates, Etihad Airways and Qatar Airways. A German woman noted that these carriers offer "insanely great service and ridiculously low fares," then asked how this was possible and what effect these airlines would have on European airlines like Lufthansa. My response to these questions and others like them is that 1) this trio of airlines are all state-owned and enormously subsidized, therefore not bound by the commercial imperatives of real airlines like Swiss, Lufthansa, SAS; and 2) nearly all of their labor force is sourced from poor countries, and thus paid far less and treated inequitably compared to standards in Europe and North America. Because of the subsidies and unfair benefits they receive, the Gulf airlines pose an enormous threat to European and U.S. airlines, and the international aviation marketplace. As a result, the U.S. airlines have rightfully urged the Obama administration to intervene in this growing trade dispute.
I teach in European business schools several times per year, and this topic is hardly new. I have heard many students in recent years express concerns over the massive Gulf carriers' expansion into European markets. However, it is only recently that governments have begun to take this unfair competition from the Gulf airlines seriously. Here are just a few indicators:
>> In the Philippines, prior to planned consultations between its government and that of the United Arab Emirates (UAE, home to Emirates and Etihad), the nation's largest airline Philippine Airlines (PAL), noted the dispute in the U.S. and said that the Gulf carriers "create a distortion in the market and could possibly lead to PAL pulling out" of new routes to London and New York. Cebu Pacific Air, the Philippines' fast-growing low-cost carrier, expressed similar concern.
>> At a March meeting of transport ministers from European Union members, the German and French ministers warned of the distorting effects of Gulf subsidies, and the EU transport commissioner promised to seek agreement from EU states to re-open talks with the UAE and Qatar. Evidence of damage to EU airlines is clear: for example, Lufthansa's biggest hub, Frankfurt, has lost nearly a third of its market share on routes between Europe and Asia since the entry of the Gulf carriers, and as a result has had to cut flights to over 20 cities in Africa, Southeast Asia, and the Pacific. Similarly, in a June filing to the U.S. government on the Gulf airline trade dispute, Air France KLM said "European carriers have closed routes and reduced overall capacity. Air France during this period terminated services to Abu Dhabi, Doha, Jeddah, Chennai, Hanoi and Phnom-Penh and lost major growth opportunities to these regions."
>> In May, a deputy Dutch transport minister froze further expansion of Gulf airlines landing rights at Amsterdam, saying "I want, together with my European colleagues, to take a tougher approach to the rise of airlines in the Middle East if there is talk of unfair competition." This was the first concrete action by a European government, and it prompted retaliatory threats by Qatar CEO Akbar Al Baker.
>> Turkish Airlines' president and CEO Temel Kotil recently equated the subsidies that the Gulf carriers receive to "poison," noting the need to maintain "open and fair" skies.
It's time for the Obama administration to act. U.S. airlines are already hurting as a result of Gulf carrier expansion. Despite Emirates' recent claims that its entry into the U.S. market has "massively" increased passenger traffic, which it claims has also benefited U.S. airlines, a recent analysis of passenger traffic found that Emirates was not creating any new demand and in fact are diverting passengers from U.S. airlines. At Dulles International here in Washington, the three U.S. airlines have seen a 14.3% decrease in passengers since Emirates entered the market.
In Washington, experienced voices are now being heard. Charlene Barshefsky, the former U.S. Trade Representative under President Clinton, recently said, "Subsidized Gulf carrier competition is fundamentally distorting the international air transport market, and the impacts are being felt well beyond the United States. This state-driven aviation mercantilism is wholly contrary to U.S. Open Skies policy and the agreements themselves and demands a vigorous response from the U.S. government." Robert Hormats, former Under Secretary of State for Economic Growth, Energy and the Environment under President Obama, said, "It's not a question of the wisdom or the right of other nations to establish state enterprises. But it is very much a U.S. concern if the playing field is not level between them and their American competitors."
These respected economic leaders are joining with the U.S. airlines, their unions, members of Congress, regional and local airports, and dozens of business, trade and economic groups around the country to warn the Obama administration of the economic impact the Gulf carrier subsidization will have on the American aviation industry. Clearly, European and Asian airlines are similarly suffering from the Etihad Airways, Emirates and Qatar Airways expansion. It's time for the Obama administration to recognize the damage to U.S. airlines and to take action to restore fair competition.
Popular in the Community