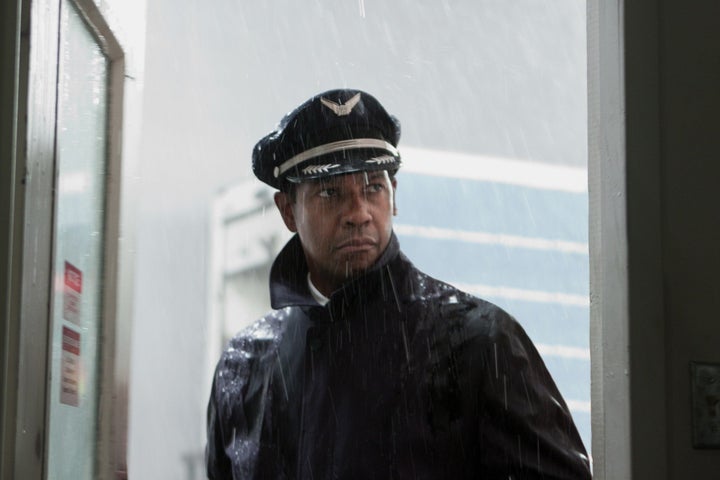 Flight, Robert Zemeckis's new movie, closed the New York Film Festival with a bang, taking you aboard a plane falling apart in heavy winds. Pilot Whip (Denzel Washington), seen drinking heavily before and during this disaster, maintains his demeanor, landing the plane with less damage than you would imagine. He is a hero, but as a husband, father, lover, he's the proverbial eh, plane wreck.
Flight is not what it seems. Audiences may be expecting Airplane! without the laughs, or a claustrophobic bumpy drama aboard a doomed vehicle -- although John Goodman as a dealer who makes house calls is simply hilarious. Flight is the story of a flawed man enabled by the fact that he rarely loses control. That a hotel mini-bar can be scarier than a plane flailing in midair is a measure of this classic cautionary tale, one of the best pictures as award season approaches. Expect too a nod to John Gatins for his original screenplay.
By contrast, in James Ponsoldt's Smashed, another fine movie featuring spectacular alcohol induced bad behavior, a charming young teacher has a secret that leads her to lie to her grade-schoolers, feign morning sickness, and pee in public, her eyes going glassy every time she takes a drink. When asked about her technique for affecting her pathetic trashed look, the actress Mary Elizabeth Winstead said she could trick herself into going physically aglaze and out of control.
Many celebrants -- John Patrick Shanley, Debra Winger, Marisa Tomei among them -- might have enjoyed speaking to Denzel Washington about this Oscar worthy performance. At the festival's screening Sunday night, Zemeckis introduced his stellar cast: Goodman, Melissa Leo, Tamara Tunie, Kelly Reilly, Justin Martin as Whip's son. Don Cheadle took a bow, wearing sneakers, as did Denzel Washington, who left the stage in a flash. Neither showed up at the gala party at Stone Rose Lounge giving extra oomph to the word "flight."
Popular in the Community