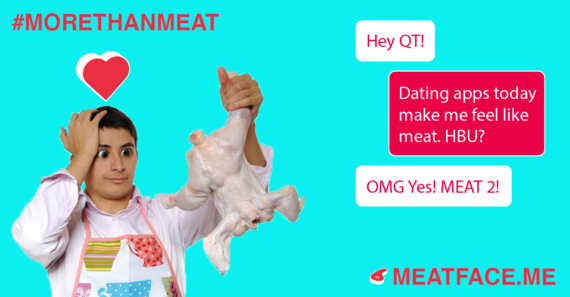 Marketing as a Medium:
An Interview with Experimental Creative Studio Hello Velocity
Our online lives are completely saturated with marketing, even when we're not expecting it. From social media feeds laced with paid advertisements to product placement and "native marketing" masquerading as editorial content, to be online is to be subjected to a constant stream of messaging aimed at making us feel incomplete, so we'll be better consumers.
This saturation presents a challenge to those of us who might be concerned with such quaint notions as trying to leave the world a bit better than we found it. Do we try to ignore marketing culture? Or can we participate in it in a way that challenges its expectations? A crop of conscientious young creatives has opted for the latter path, taking it on themselves to try to reshape marketing culture from the inside, or at least have fun trying.
Hello Velocity is a trio of artists who sculpt in the medium of viral marketing. JS, Kevin and Lukas bonded while they were all studying design in Providence, Rhode Island. Soon they began working together making sculpture, furniture, and eventually absurdist web projects. In 2014 they launched Bitelabs, a farcical biotech company pushing the potential for artisanal, in vitro meat grown in a laboratory using celebrity muscle tissue.
This two-month campaign went viral: the Bitelabs site was viewed almost half a million times, and generated some 22 thousand tweets for tens of millions of total impressions across Twitter and Facebook. Bitelabs was written about in more than 16 languages all around the world--not too shabby for three artists testing the waters of digital marketing! After Bitelabs, the trio were accepted into the New Museum's NEW INC program, the first museum-run incubator program for art, design and technology.
JS reached out to me upon discovering that Siren was also artist-founded, and he was curious about our experiences navigating the business, client, and fundraising world. We clicked immediately and soon Siren was collaborating with Hello Velocity on their next brainchild, MeatFace (these boys love their protein!), a satirical ad campaign going on right now that is taking on the dehumanizing swipe culture of other dating apps and confidently declaring: Tinder, Meat Your Match.
I asked these up-and-coming social artists some questions on the nexus of art and entrepreneurship, marketing, and tech culture.
What do you mean when you say 'marketing is a medium'?
We're interested in marketing, particularly social marketing, because of our interests in the mechanisms at play in social media. Particularly, today, we're fascinated with the cultural implications of media in the social age, where there is a shift from brands having an identity, to individual's identities being created through brands. With a like, a pin, or a follow, consumers have so many more ways to interact with brands-- and marketing so much more potential than making a sale.The landscape for identity construction has matured into a robust network. Brands and personal identities are in constant negotiation, and micro-celebrities are flooding the network. This is the canvas we're working on, using marketing to be cultural players and to disseminate a critical viewpoint.
How did you come up with the idea of Bitelabs? Looking back, why do you think it went viral?
We started working on Bitelabs out a confluence of different interests we held at the time. The project was a critical examination of celebrity culture, an investigation of virality's potential as a critical medium, and oblique publicity for in vitro meat as a technology. One of the things we emphasize when talking about Bitelabs is the form of the project vs. its content. The form we chose (biotech startup) was a deliberate language of legitimacy used to construct a vehicle for our content. It was engineered from the very start as a viral project-- in vitro meat to follow the (at that time recent) Google Burger; a perfect visual imitation of (90% of) 2013/2014 tech startup web design; an absurd Twitter call built into the structure of the campaign.
How do you think you approach marketing differently than most "marketing" agencies?
Brands have the potential to be critical and interesting cultural players, instead of just barfing banners all over the net.
What we sell with brands is the idea that they should be interested in their cultural production as they scale up. We work with brands so that they can be culturally conscious, engaged, and conversant. Companies and brands are powerful forces in creating and shaping culture, but these effects should be viewed as integral brand activities, rather than externalities.
We believe in the spread of ideas: branding and marketing are media that have every ability and obligation to transcend making sales. We investigate the mechanics of selling and constructing identity and the implications of doing so in a social network.
What does your ideal client relationship look like?
We want to work with brands and companies that have a stake in shaping culture.
We want to be your experiment. We want to be your pilot program for new paradigms.

What is your assessment of macho tech culture? As three males, do you think it is possible for you to run counter to this bro-culture?
Male-dominated tech culture is very real, and while it is debatable how far we really fall into the tech archetype, male-dominated art world culture is also very real. As a company started by three art/tech bros(?), we're cognizant of this. As the HV team continues to grow we hope we can continue to broaden the range of viewpoints that join in our design process.
How do issues such as politics, social justice, and empathy play into your campaigns?
Within a media sphere dominated by short form content, is it possible to create short form content that actually creates long term response? We have often described our projects' purpose as starting, facilitating, or furthering conversation around specific topics-- whether that's celebrity obsession, or objectification in dating app interfaces. In this sense we feel these campaigns differ fundamentally from general trends in media: as our attentions shorten, conversations seem to stop. Headlines reign and mediators fall away. At the heart of all our campaigns is our belief that critical (and targeted) provocation is valuable, and that human conversation can lead to change.
I'd call your work subversive, but not snarky -- it questions social tendencies but ultimately asks what it means to be human. What made you think this would be a good collaborative fit with Siren's mission?
We knew it would be fun to work with Siren after we'd all downloaded the app and saw how bonkers (in a good way) some of the questions got. That was when we all said, "yep. We get it, this is a social intervention."
Of course we met Susie through an arts context and so we were already predisposed to think of Siren as a good collaborative venture. But also what's really interesting is that Siren is challenging what has become the ubiquitous dating app interface--swiping--from the standpoint of its effects on culture. This could be couched in some standard disruption lingo, but the decision to avoid that trope makes it a very different kind of endeavor and a goal we felt good about aligning ourselves with.
Related
Popular in the Community