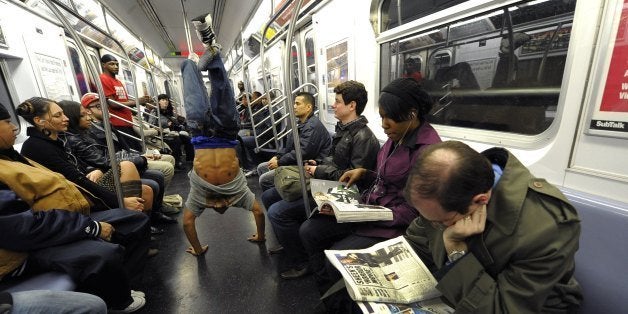 Zenon Laguerre says he was the first breakdancer to start performing in New York City's subway cars some 20 years ago. He characterizes his dancing style as "popping," which includes the acrobatic pole dances so many New York straphangers have grown accustomed to seeing. "What time is it?" one dancer in a crew will call out upon entering a subway car. "Showtime!" goes the response.
Laguerre says "showtime," however, has landed him in jail one too many times.
"I say I've been locked up five or six times, yearly, since I was 15," Laguerre, now 34, told HuffPost on Wednesday outside City Hall in Manhattan during a rally calling on the police to stop arresting so many subway performers.
Although it's illegal to dance in the subway trains, performers such as Laguerre say the punishment is too harsh for the crime. An arrest should result in a civil violation punishable by a $100 fine, the performers say. Over the past few months, however, dancers have been hit repeatedly with criminal reckless endangerment charges, which require an arrest and can lead to up to a year in jail.
Laguerre said that just last week he spent three days locked up in Central Booking for performing on the subway. He was charged with reckless endangerment.
"We dance because we love doing it -- it pays the bills and keeps us out of trouble," he said. "We dance. We sing. We're not criminals," he added, noting that many of his fellow dancers have lost jobs and apartments because of the arrests.
New York City Police Commissioner William Bratton, who came into office earlier this year, has aggressively targeted subway dancers. It's part of his "Broken Windows" strategy of policing, which holds that targeting low-level crimes such as dancing on the subway can deter more serious crime. It's a strategy that's come under intense scrutiny since the death of Eric Garner almost one month ago in Staten Island. Garner was killed after NYPD Officer Daniel Pantaleo put him into a chokehold during an arrest on suspicion of selling untaxed cigarettes.
As of the beginning of July, the NYPD had made 240 arrests this year for subway dancing, a 500 percent increase from the same period in 2013, CBS News reported. According to Matthew Christian of BuskNY, a group that advocates for subway performers, that number has jumped to 350 in the past month and a half, and most of those arrested are people of color.
BuskNY and another group, New Yorkers Against Bratton, organized Tuesday's rally. Both groups called on the NYPD to "respect the Rules of Conduct established by the MTA by ending wrongful arrests, tickets, and ejections, as well as dropping the charge of 'reckless endangerment,'" according to a statement.
Josmar Trujillo of New Yorkers Against Bratton said the subway arrests are yet another example of "Broken Windows" policing gone too far.
"We're the first to point out that in the many years of subway performances, there have not been any documented injuries so a lot of the public safety issues are more perception than reality," Trujillo said, referring to Bratton's claim that subway dancers often risk hurting passengers.
Christian held up a copy of the Metropolitan Transit Authority rulebook during the rally, and turned to rule 1050.6 C, which allows for performances on subway platforms and mezzanines. He said cops regularly ignore this rule, wrongfully arresting performers on extraneous charges of "blocking pedestrian traffic" and "panhandling."
And it's these wrongful arrests, Christian argued, that have driven performers inside the subway cars. "If it were safe to legally perform on the platform, we might well not have people in the trains," he told Capital New York.
Christian also told reporters that he was disappointed that all these arrests were taking place under Mayor Bill de Blasio.
"We were expecting something better from de Blasio, definitely," he said. "I envisioned my volunteer position [with BuskNY] ending when de Blasio came into office."
Before You Go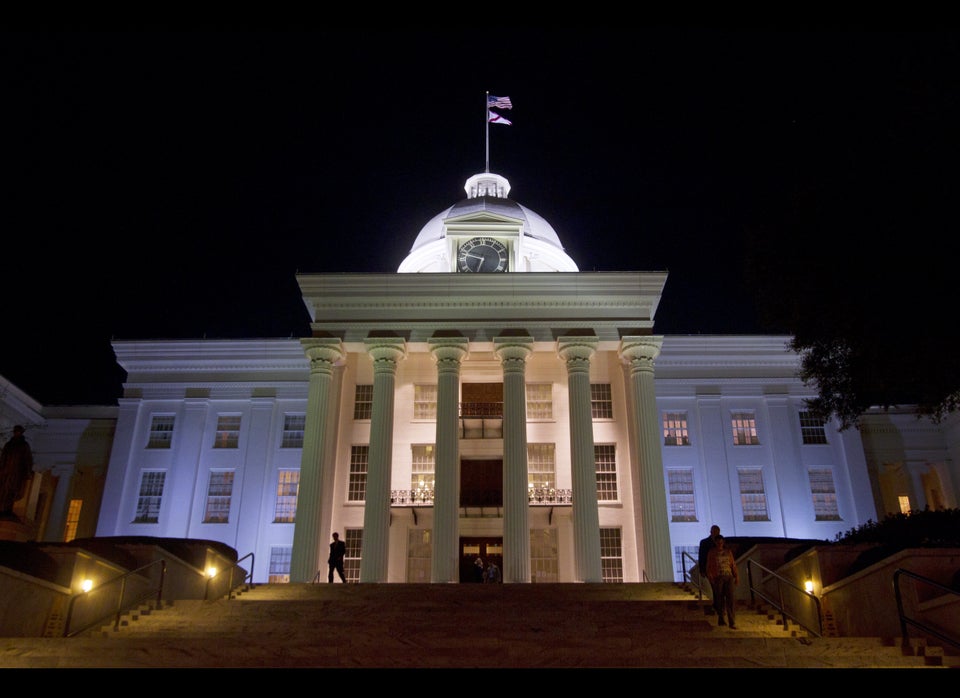 U.S. State Capitol Buildings
Popular in the Community