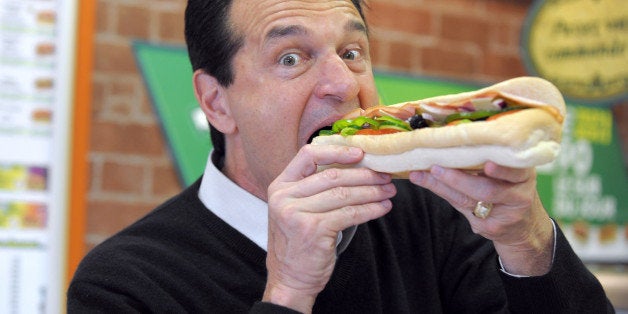 In an interview published Wednesday with CNBC, Subway CEO Fred Deluca said he is "not concerned" by the idea of federal minimum wage increase, since it would affect rivals companies just the same and not put anyone at a "particular disadvantage."
"Over the years, I've seen so many of these wage increases," he told CNBC. "I think it's normal. It won't have a negative impact hopefully, and that's what I tell my workers."
Deluca said that when he started in business, the federal minimum wage was $1.25, the rate at which it sat between 1963 and 1966.
Deluca even said he would support measures that would raise the minimum wage automatically. Unlike Social Security and many tax code provisions, the minimum wage is not adjusted each year to account for rising prices.
"If I were in charge of the government, I would index the minimum wage to inflation so that way everybody knows what they can count on," he said. "The employees know they're going to get increases on a regular basis. The management knows that they're going to have to pay a little bit more."
The comments are a departure from sentiments expressed in early 2013. Back then, Deluca described a minimum wage increase as a "bad idea."
Subway, which with 41,000 restaurants in 106 countries is the world's largest fast-food chain, has had some trouble paying its own employees in recent years. In fact, individual Subway franchisees accounted for more pay and hour rule violations between 2000 and 2013 than any other fast-food company, according to a CNN report published last week.
"We, as a company, realize that some of our owners have not done the right thing," DeLuca admitted in the Q&A with CNBC. "I can't tell you exactly why, but I think we have a lot of first-time business people that enter into business in Subway, and they might not be as sophisticated in what to do."
Related
Popular in the Community