The cameras were rolling and the champagne was flowing a few weeks ago as Manhattan's newest subway line was christened by crowds of Upper East Siders while rubbed elbows with city and state officials. The new(ish) Q train made its debut on the long awaited 2nd Avenue line, which goes up to 96th street (but not Harlem). A few days after the celebrations, cops went back to one the staples of policing in New York: trying to eject subway performers.
For two cops at the 86th street station last week, the sounds of a violin were too much as they confronted one of the leaders of the subway performer advocacy group Busk NY, Matthew Christian. Christian knew his rights so he pulled out the MTA's rules of conduct and explained to the officer that they couldn't eject people for simply performing, or busking, on the platform since there's no law or MTA rule against it. He started to film the interaction while, curiously, one of the cops took out what appeared to be a department-issued smartphone and started filming him back. Christian, whose group is planning a performer-led rally tomorrow at 4:00PM at the 72nd street station mezzanine, stood his ground and the cops eventually left.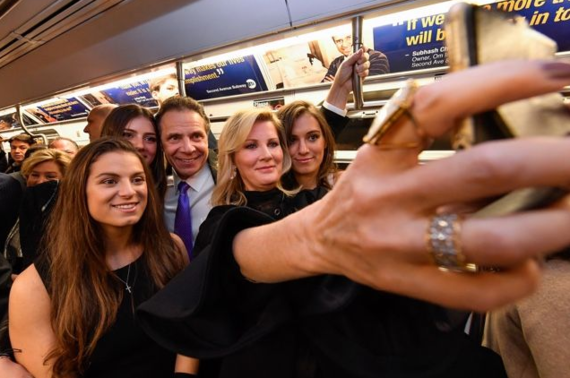 Governor Andrew Cuomo taking a selfie on the 2nd Avenue subway (Photo: E-Radio)
This sort of standoff probably wouldn't be necessary if cops simply followed the law. While performing on a subway car is technically an infraction, the MTA's own rules (section 1050.6, part C) clearly specify that "artistic performances, including the acceptance of donations" are allowed on subway platforms. When Christian, who's been arrested multiple times standing up for his rights, asked the officers what rule he was breaking, they threatened him with arrest. It's precisely that sort of arbitrary, baseless policing which leads to people resisting arrest. If cops suddenly decided Dallas Cowboys hats weren't allowed in the subway, I'd probably resist their orders, too.
Last year, three performers reached an unlawful arrest settlement from the city totaling $54,000 stemming from incidents in 2013 and 2014 with the NYPD. In the more recent episode, a guitar player, Andrew Kalleen, was playing in a near empty subway station in Brooklyn when cops violently arrested him. In the 2013 incident, a pair of hip hop performers were arrested and run for warrants repeatedly by a commander who allegedly couldn't believe "a young black man" didn't have an open warrant. They were detained for 24 hours and released with loitering charges that were eventually dropped. In all of these cases, every charge was ultimately dropped, which suggests that performer busts are little more than expensive bouts of clumsy police-baton-swinging contests, perhaps driven by quotas, that ultimately put the taxpayers on the hook for lawsuits.
2nd Avenue subway celebrators eat caviar and drink champagne, which would otherwise result in an arrest for public drinking (Photo: E-Radio)
If none of this makes any sense, it makes even less sense considering how many people love subway performers and the fact that the MTA actually has a performer program, Music Under New York (MUNY), that embraces underground performance as part of the culture of the city. Christian, however, notes that MUNY has given the false impression that participation with the program, which provides banners and scheduled performance times in choice locations in the subway system, is requirement to perform in the subway system. Cops generally won't try to arrest or eject MUNY performers. MUNY, which says it has 350 performers and groups in the program, makes performers audition for something that has already been deemed legal.
"MUNY to me is the subway performance equivalent of 'you have to act nice and wear nice clothes in order for your rights to be respected'."
Rayquan Perez, 21, is a subway dancer with 2Live Crew, a group of b-boy dancers that's been around for over a decade. Perez started dancing when he was 9 years old. He says dancing on the train, from the 4 line through Harlem and the Bronx to the Q line from Midtown to Brooklyn, helps him pay the bills. He and his partners, all of whom are young men of color, also dance at parties and do shows to help make ends meet. The MUNY program doesn't have enough spots to accommodate the growing number of dancers and performers in the city, Perez says. Either way, he and other dancers would still prefer to dance on cars, where they enjoy a lot of support and make more money, even if the threat of cops makes it inconvenient.
So how can we find a way out of this cat and mouse game the NYPD plays with performers? Christian believes cops need to familiarize themselves with the MTA rulebook. Another approach could be to critically re-examine a strategy that criminalizes music and dance--both on platforms and on subway cars. Riding the subway without a little music and dance would be "boring," says Perez, who has a young son that turns 1 this week. A performer-less subway system certainly wouldn't look like the New York many of us grew up in. Performers who use their talents to make a living should be supported--not arrested or ejected.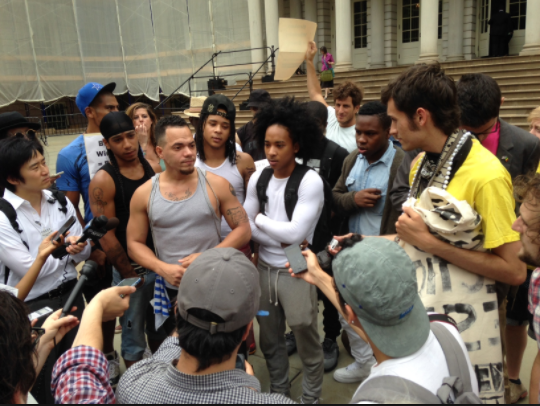 Busk NY and members of 2Live Crew and WAFFLE Crew held a City Hall rally against performer arrests back in 2014
Also, despite complaints about the safety of passengers, there have been few, if any, actual recorded incidents of injuries. Unfortunately, the city has become a hotbed of complaining in the Broken Windows era. Our collective "nuisance" neurosis has led many in the city, particularly our whiter and more affluent neighbors, to demand every inconvenience be swept away by the NYPD. That's part of the Broken Windows legacy and it continues on in 2017, even in our shiny new train stations.
"Just leave us alone," Perez says.
Support HuffPost
The Stakes Have Never Been Higher
Related
Popular in the Community