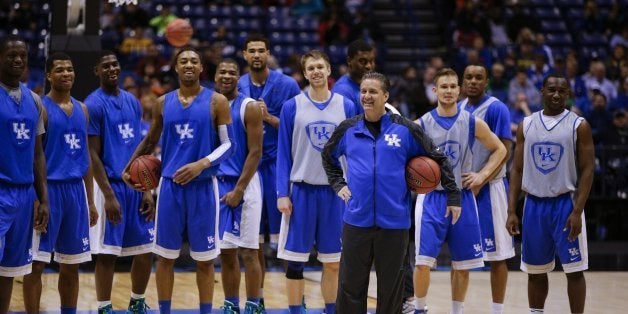 John Calipari doesn't want his players at Kentucky to just be "one and done."
No, this doesn't mean that Kentucky will stop recruiting talented high school players with NBA aspirations. It means that the Wildcats' polarizing coach wants everyone to stop using the pejorative "one and done" phrase to talk about young men with the talent and training to secure a job in the NBA after only a year in college. Holding court with the media at site of the 2014 Final Four, Calipari suggested "succeed and proceed" as a more apt replacement phrase.
"The connotation that's been built around one‑and‑done is so ridiculous to make it a bad thing," Calipari told reporters on Friday, a day before his eighth-seeded team faced off against No. 2 Wisconsin. "It's a negative thing. It's not used in other sports, it's not used in other areas of life where people stay in school a year and leave. So the thing that we have been talking about is succeed and proceed. Succeed and proceed. You cannot proceed until you succeed. Succeed and then proceed. It will be on T shirts."
With five freshman in his starting lineup, Calipari is coaching the youngest team to reach the Final Four since Michigan's "Fab Five" in 1992. He also remains the face of the so-called one-and-done rule. The 55-year-old who won a national championship in 2012 with another Kentucky squad led by freshman stars used his "bully pulpit" at AT&T Stadium to expound on the problems with the NBA's current eligibility requirement as well as the way that the media and fans talk about players who leave for the professional ranks after a single season in school.
"It's not my rule. So then the columns are written. It's fine. If you want to pile it on and say it's me, I'm OK," Calipari said. "All I care about is the players that I'm coaching, that they're prepared to reach their dreams, whether it's after one year, two years, three year, four year. I've had guys stay all those times. I think some of my suggestions would be good to cure some of this, at the very least we just got to do right by these kids."
I've made it work for the teams I coach—and for the players—as best I can. But I don't like it one bit. Some people say I'm renting players or I'm working the system. Let me make this very clear: I want to coach players for four years. Very few of the young players are truly ready for the rigors of the NBA. All but a handful would benefit from more time playing college basketball, more class time and more time on a college campus.

Notice what I didn't say: that if we changed the one-and-done rule it would be better for college basketball. I hear people talk like that and sometimes I want to laugh. It sounds so high-minded, but what is college basketball? Can anybody tell me? Is it something unto itself that exists on its own, with a soul and a heart that beats? Is college basketball just a spawn of the NCAA? Or when we say that we care about "the good of the game," are we talking about its history?

REAL LIFE. REAL NEWS. REAL VOICES.
Help us tell more of the stories that matter from voices that too often remain unheard.
BEFORE YOU GO