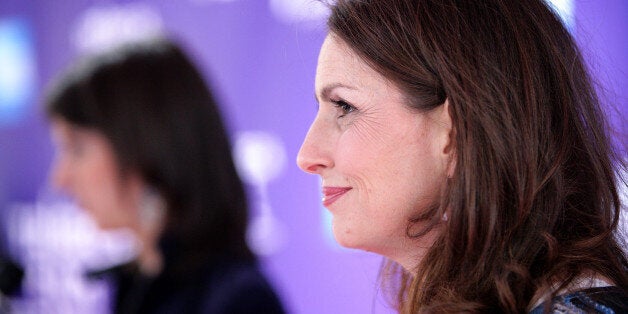 NEW YORK -- Success Academy, the high-profile chain of charter schools famous for its clashes with New York City Mayor Bill de Blasio (D), is taking its fight beyond the nation's largest school system. After a tumultuous year, filings show that Success is being represented by lobbyists in Washington.
The charter school network, the largest in New York City, has been a polarizing force since the city's mayorship changed hands from the charter school-friendly Michael Bloomberg (I) to de Blasio, who stresses the importance of resources for traditional public schools. Since then, De Blasio and Success' increasingly prominent leader, Eva Moskowitz, have faced off in a series of public spats.
Now, reports show that Success is being represented on Capitol Hill. According to lobbying disclosures posted this summer but not previously reported, the schools hired two affiliated Washington-based firms, EdNexus Advisors and Thompson Coburn, LLP. The expenditure for EdNexus is listed as "less than $5,000," and Thompson Coburn's is $10,000. These are relatively small expenditures, suggesting that Success might be trying out the firms. The disclosures specify lobbying around the components of the Elementary and Secondary Education Act that concern charter schools.
The EdNexus lobbyist listed, Christina Culver, was an adviser to Republican presidential candidate Mitt Romney's campaign. Culver did not return a message seeking comment.
"Success Academy is interested in national education policy," said Whit Clay, a spokesperson for the charter chain who works for the public relations firm Sloane & Company. "We have been invited to give congressional testimony and believe that the education crisis is an issue of grave concern, so we have sought appropriate representation in Washington, D.C."
Several sources in Washington said they expect the well-funded school organization to use its newly established presence in Washington to advocate for an increase in federal charter school funding. Sources also suggested that Moskowitz could be looking to get Success accredited as an independent certifier of teachers. (Currently, Success certifies teachers in partnership with Touro College.)
Clay, the Success Academy representative, declined to specify the focus of the network's efforts.
Several charter schools have shelled out large amounts of money on federal lobbying since the charter school movement arose in the 1990s. In general, the schools lobby under the auspices of a larger organization, such as the National Alliance for Public Charter Schools, which has spent at least $3.1 million on lobbying since 2007, records show. Only a few schools, such as the Noble Network and the Ohio-based Breakthrough Charter Schools, have lobbied on an individual basis, focusing their efforts on education policy and appropriations.
"What is a little surprising is that Success would register its own lobbyist rather than throwing itself in with other charter school umbrella organizations," said David Bloomfield, a professor of educational leadership, law and policy at Brooklyn College and CUNY Graduate Center.
"It appears that Success may have some interest apart from the common interest of all charters to improve and increase the sector," Bloomfield added. "There may be grant matters that they're interested in -- there might be matters particular to New York City that are separate from those of national chains."
In addition to its efforts to gain influence with federal lawmakers, Success is also rapidly expanding within New York City, receiving approval Wednesday to open 14 new schools.
De Blasio and Moskowitz have been on opposite sides of education debates for years, dating back to their time serving together on New York's City Council. Prior to becoming mayor, de Blasio criticized Success' space-sharing agreements with traditional public schools, famously declaring, "There is no way in hell that Eva Moskowitz should get free rent." After taking office, he severed Success' arrangements to use space in three school buildings. Following a drawn-out fight with the charter school network, which was supported by New York Gov. Andrew Cuomo (D), the mayor eventually tempered his rhetoric.
Ultimately, the city agreed to either provide free facilities for charter schools or help cover their rent.
Popular in the Community