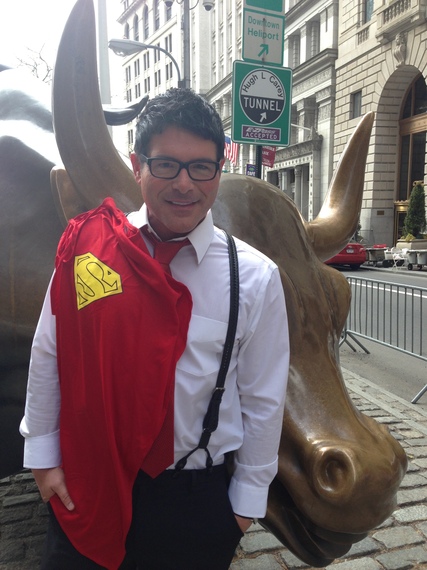 I recently had the chance to sit down with a multi-million dollar stock trader who is known by many as the Super Man of Wall Street. Stock trader and financial educator Paul Scolardi is the CEO of Super Trades. His record speaks for itself-- Paul has over 18 years of experience in the financial markets and and has earned over a million dollars this year from trading. But not only is he a skilled trader; he is also a successful entrepreneur who has built a fast-growing company by serving others who are trying to enter the stock market.
This isn't how Paul's life always was. A former CPA in the corporate finance world, he left his job in corporate America and took the plunge into entrepreneurship. Along the way of building a million dollar company, he picked up a lot of lessons about becoming successful in business and in life and that's what I sat down with him to learn about.
What are the daily habits that have allowed you to become as successful as you are?
PS: I am up early during the weekdays, anywhere from 3-5am. I am constantly reading and researching business trends and stocks to be ahead of the curve. Additionally, I am actually in the trenches trading pre-market, during market, and after market hours.
You previously worked as a CPA and you decided to take the leap, quit your job and become an entrepreneur and trader. What motivated you to make that change?

PS: Even though I had a successful career in corporate finance, I was using my talents to make other people successful. Sometimes that is appreciated and compensated for and sometimes it is not. I knew I had a real unique talent in the stock market so once I structured my strategy based on 18 years of trading experience, I believed there was a big market for those wanting to learn from me. Additionally, I would be able to focus much more time on actually trading.
What do you think separates you from other traders out there? How did you become more successful?
PS: My strategy has been successful for those that work full time as well as those that are full time traders. I am known best for "finding momentum before it happens". Finding stocks that will move before they actually move or the rest of the market finds them. My ability to research undervalued stocks with potential momentum is extremely strong and fast, given my background in finance. Also, I believe my strategy is comprehensive yet very structured as far as knowing how to research and when to buy and sell.
How important is goal setting in what you do and how do you set and achieve your goals?
PS: Goal setting is extremely important to me but the time frame needs to be in line with the activity. Many traders fail because they have a daily or weekly goal as far as how much they want to make. I judge my performance over each year and use monthly and quarterly checks to make adjustments in how I am trading. As far as my goals for teaching, I am constantly challenging myself to make my product the best one that is out there.
Trading is obviously a very tough and high stakes job, how do you stay focused and keep your eye on the ball at all times?
PS: The key is emotional and technical discipline and that is what I teach with my strategy and rules. Trading is just as much psychological or controlling your emotions as it is the technical or financial aspect. I have guiding principles that I teach to stay focused and keep the right attitude as a trader.
How do you manage the stresses of being a trader and entrepreneur?
PS: I work out everyday and then make sure to get out on the weekend and do something fun. I am so entrenched in teaching and trading Monday through Friday that I need that to refresh.
How important is learning to staying on top of your game?
PS: It is crucial to stay on top of my game to both successfully trade, as well as provide amazing research and be an example to my students. I am very passionate about wanting others to achieve financial independence and those stories motivate me the most. I am always researching so that I will find momentum before it happens.
Do you strive for balance in your life and if so, how do you do it?
PS: Yes as stated, I work out 4-6 times per week and take the weekend to do something fun. I need that to refresh because I can constantly be thinking about and researching stocks because it is my passion to teach and trade.
What is the achievement you are most proud of?
PS: I have three students that have all made and verified over $250,000 in their first year of trading with my strategy. I have countless others with all account sizes that have made nice percentage gains as well. My personal trading profits of $1 million in 2014 are rewarding but not as much as seeing others learn and replicate my strategy. My goal is to help as many people become financially independent as possible.
What is the biggest business setback you have endured and how did you overcome it?
PS: During the period where there were many Chinese small cap companies listing in the US, I was too naïve to believe the level of fraud that would be reported in some of these names. I had some substantial losses. However, this made me structure my strategy that I now teach which is based on 18 years of my successes and failures. I had many failures in stock trading when I was learning the hard way and that is what forced me into my disciplined, rule based strategy that I now teach. Students can bypass years of mistakes as I have made them all and now I teach how to avoid them.
What advice do you have for aspiring traders and entrepreneurs?
PS: Spend and invest in LEARNING at first. New traders are too eager to trade. It is better to study, learn, and paper trade (trading using virtual money for practice) than it is to jump right in if you are new. The market will always have trading opportunities but and you are better learning and making mistakes without using real money at first. Learning a strategy like what I teach should be looked upon the same way one goes to school to get educated in a trade.
You already have so much success, but what's next for Paul Scolardi?
PS: I am about to launch a new trader challenge where I will work with selected applicants in order that they can learn my strategy as closely as possible. I also have a DVD launching with this trading challenge. It will be launched in early October.
Related
Popular in the Community