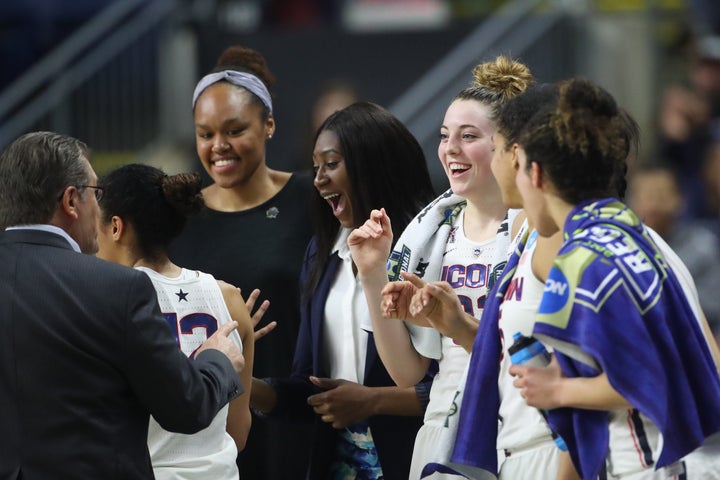 Wouldn't you love to lead in business the way the UCONN Huskie women's basketball team leads on the court?
You don't have to be a basketball fan to love March Madness!
One of the many reasons I love sports is because they are such a great analogy for life. You win some, you lose some and you don't always get the call(s)!
For example, Saturday night my beloved Wisconsin Badgers men's team lost to the Florida Gators in an exhilarating buzzer beater (#On Wisconsin).
While on Tuesday evening my state's team - the women's reigning basketball champion UCONN HUSKIES continued their domination with another not-even-close victory over Oregon.
You win some, you lose some!
Of course nothing in sports (or life) is a sure slam dunk, but it looks as if Geno Auriemma's Huskies are well on their way to winning their 5th consecutive national championship.
The word unprecedented is often overused; however, the UCONN Women Huskies basketball program continues to achieve unprecedented greatness with the most consecutive NCAA wins.
UCONN Huskies Secret to Success
You know you have transcended your sport when not only other coaches, but also leaders in every industry are in awe of what a program has accomplished. And they seek to emulate it.
Coaches and players from all sports and geographical locations pilgrimage to Storrs, CT, home of the Huskies, in search of this powerhouse programs' winning formula.
Here is what they have discovered.
First and foremost. There is no secret success formula! There is no unique coaching skill set that Geno or his legendary assistant Chris Daly transmits to the Huskies that result in their greatness.
Rather, the UCONN Huskies success is based upon a tried and true formula operationalized throughout the ages – in sports, business and life.
What makes this program so successful?
High expectations, an unrelenting attention to detail rooted in the fundamentals along with an uncompromising work ethic based on persistence and consistency. These are the Huskies guiding principles that Geno and his staff utilize to catapult the UCONN Huskies to greatness, year after year after year.
If you want to achieve success in your career and/or your life, allow these three principles to guide your actions.
1. High EXPECTATIONS. Expect to do your best – and give your all – 100% of the time. Not only when you feel like it, but perhaps more importantly, when you don't feel like it.
For the Huskies, nothing less than their absolute best is acceptable - not just during game day – but during every practice, every single drill, during every single moment they set foot on the court.
High expectations define the UCONN Huskies mindset – anything less is unacceptable.
Parents, you should take note of these principles and consider them to be your "best practices" for parenting. Your kid's teachers, coaches, peers and community will thank you! And you might actually be able to stop financially supporting your kids once they enter adulthood – which begins, more or less at 21 years old, not 30 years old.
2. Unrelenting attention to detail rooted in the fundamentals of the game.
If you want to learn or teach anyone the fundamentals of basketball, watch the Huskies at play. Every single time the Huskies are on the court, they put on a passing, shooting and running clinic - with an emphasis on doing it the right way.
The fundamentals of basketball are rooted in a team effort – it is truly about "we" and not about "me".
Countless times you've watched Geno upset after the Huskies scored a basket or earned another "W"? Why? Because the results were secondary to the way the Huskies played. If they played sloppy or ignored the fundamentals – the basket or win was irrelevant. The emphasis is on the game being played correctly.
Geno states: "It's about doing it in a way that it can't be done any better. That is the goal every day."
Which leads me to the Huskies third guiding principle for success.
3. Work Ethic comprised of persistence & consistency.
Practice doesn't make perfect. Perfect practice makes perfect.
In "So Good They Can't Ignore You," author Cal Newport states that incredible success comes from expert practicing. "… they can push themselves to the exact limit of their skillset and thus expand their abilities day after day. If you're not expanding yourself in such a fashion – called deliberate practice – in the org psych lit – you'll never be ridiculously successful."
This concept goes beyond Malcolm Gladwell's belief that ten thousand hours is the magic number needed to achieve greatness. Is it not just about the time put in, rather it is about the way the time is put in.
Perfect practice makes perfect – as Geno's above quote emphasized!
Watching the UCONN Huskies play basketball is like watching poetry in motion.
When this happens, we are tempted to think the team and its program are comprised of superhuman geniuses. They aren't. The Huskies are just like you and me.
It is this one exception that differentiates good teams from great teams, good companies from great companies, and good leader from great leaders.
And this exception is the norm for the UConn Huskies Women's basketball program: high expectations, an unrelenting attention to details and an incomparable work ethic.
Anything less is unacceptable.
Oh – and one more thing #playlikeagirl.
To learn more about Dr. Patty Ann visit:
REAL LIFE. REAL NEWS. REAL VOICES.
Help us tell more of the stories that matter from voices that too often remain unheard.
BEFORE YOU GO