I recently hosted a Small Biz Camp in Austin, Texas and while planning the agenda, asked my friends at the local SCORE Chapter to recommend one of their clients to be featured on stage with a one-on-one interview. I wanted to include an inspirational success story in the day's events. They suggested Eva Schone, a German-born entrepreneur living in Texas and growing her business with a unique and inspiring story to share.
The day of the event, I welcomed Eva to the stage and together we unraveled the story of her growing business. Eva is an architect by trade but has applied her experience, skill and her love of design to an often overlooked industry - trophies and awards.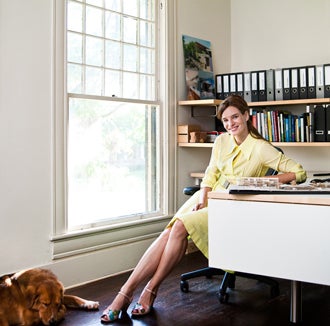 LET'S BE HONEST, MOST TROPHIES AND AWARDS ARE BORING.
So often, we don't even think about it – our kids get the standard metallic figures in sports. At work, we might get an etched glass item or a marble plaque. And they are appreciated but rarely, so rarely, are they truly worthy of display based on their design.
When Eva Schone was an architecture student, the American Institute of Architects in Tampa, Florida held a contest to design a new award honoring architects for design excellence. Eva was excited about the contest and says it was the first time she really thought about what getting a trophy or an award really means and how important design is in communicating the values for which someone is being honored.
Eva says, "I always loved the materials with which we build as architects and thought that many of them had such inherent beauty and poetry. I was thrilled to think about how they could be applied in product design, especially to honor architects." She ended up designing an award made from concrete. Eva built a form/mold and poured concrete to make her prototype. "I loved doing it," she says. "Even though my design wasn't chosen, the project left a lasting impression on me."
And here we come to one of the big lessons from my time spent with Eva and most other entrepreneurs I meet with any real success under their belts. Failure brings a lesson, not loss.
THE JOURNEY BECOMES THE DESTINATION
Eva grew up in East Germany where she says it's fair to say being an entrepreneur isn't exactly an encouraged path. The Berlin Wall fell just at the right time for her to grow into a new system and explore an entirely new world. She took the opportunity to live and work in a lot of different places in Europe before moving to the United States in 1998.
Once in the US, she started to study architecture and worked very hard for 10 years to become a licensed architect. "That was my life." She says. "It's one of those professions that's all encompassing and I thought this was going to be the rest of my life."
But after having worked for several years in architecture firms, she realized that her creativity level wasn't at its best, that working on a computer for hours on end wasn't her ideal situation, and that she needed more hands-on work to be and stay her most creative self. She wanted a change.
She shares, "My mom taught me many crafts when I grew up and I really missed using my hands and working directly with materials. I was longing to make things again. Designing a building and seeing it come to life is a very special experience that I treasure, but I also really enjoy working on a smaller scale where I can be much more involved in the process of making - there's a different immediacy. I love collaborating with artisans and fabricators." All of that came together in 2010. She was in her mid-30 and says she felt like "Now or never."

TURNS OUT, USA IS STILL A GREAT PLACE TO START A BUSINESS
"The entrepreneurial spirit of people here is remarkable," she says. "I love that people support each other and cheer each other on with sincerity. There's a generosity that's just wonderful and I think pretty unique. If for any reason it doesn't quite work out the way it was planned, people understand and encourage you to start over or pursue something else. The fact that many successful entrepreneurs have multiple start up failures under their belt speaks to this spirit. Allowing for learning and the possibility to try again is critical for long-term success."
Eva also got help from her local SCORE office with free mentoring and low cost business classes. She tells me about working with her primary mentor, Carlton Smith. "Carlton has been such a wonderful supporter over the years. He was a high-level executive and the recipient of many professional recognition during his career - he gave me valuable feedback from the perspective of an honoree. He also understood the culture of high-end and luxury goods and shared his expertise when I was establishing pricing. His experience of living and working abroad for several years was an extra bonus and connected us on that level."
She also mentions SCORE mentor Celia Bell, saying she has been an inspiration as a successful business woman. "She has generously shared her encouragement with me and has made several fruitful business introductions," says Eva. She adds, "When I needed contractual help, I was assisted by SCORE mentor Barry Lewis who shared his expertise with me in this regard."
WHEN RUNNING A CREATIVE BUSINESS, ONE MUST STAY INSPIRED
I asked Eva how she comes up with new designs. I can only imagine that it is easy to run out of ideas. She tells me about travel and sketching and the freedom of expression that keeps her creativity fresh and in motion.
She says, "My first award collection was designed while travelling in Europe. I remember sketching one of our now best-selling awards while sitting in a very cool bar in Prague. There may or may not have been a cocktail involved.
Eva says travel helps and that she carries a small moleskin sketchbook at all times, in case the muse strikes. She does her best to stay "in tune" and to give herself time to be inspired. She also says there are days when a deadline is looming and that the pressure in the studio can be enormous. But eventually an idea will come, she begins, walks away, starts again and that the design will find her somewhere in that dance.

WHAT WE ALL WANT, REALLY, IS TO LIVE IN OUR PURPOSE.
Over the years Eva was often recognized for her work. She shared, "I was always proud of and grateful for the recognition, but never felt inspired by the objects that came along with it. I kept wondering: Why honor a job well done with a trophy that's not?"
She tells me that people work so hard and give so much of themselves to their work, they deserve something meaningful and valuable when they are being honored for their dedication and excellence.
"I think that part of my life's purpose is to help people feel loved, valued, and appreciated. Creating a business where I could apply my skills and talents in a meaningful way and live in my purpose felt like a natural fit and a solid basis for happiness and success."
Because of her unconventional ideas, Eva knew early on that that she would have to go out on her own to realize them. One of her favorite quotes is "Life shrinks or expands in proportion to one's courage." by Anais Nin.
She tells me she has a vision for her life and is working to bring it to life.
MORE OF MY Q&A WITH EVA SCHONE
Q: Other than deciding to work for yourself, what was the single most important decision you made that contributed to your success?
A: To never, ever compromise on quality. I believe that consistently delivering a high quality product is a direct avenue to success.
Q: How did you make your first sale?
A: I was so honored to be recognized with the Emerging Professional Award by the Austin chapter of the American Institute of Architects in 2010. A year later, I approached AIA Austin with my first award prototypes and the framed certificate I received the previous year. I asked them how they would feel about presenting new awards, like the ones I brought and they said: 'How do we order?' That year, Trophyology created 16 awards for AIA Austin and the first sale was on the books.
Q: How do you conquer those moments of doubt that so often stifle or trip or stop so many entrepreneurs with great ideas...what pushes you through?
A: Ultimately, I listen to my gut feeling. I observe whether things fall into place to help me take the next step. They do, mostly, and truthfully, a few times just in the nick of time. As long as this happens, I'm inclined to keep going.
Q: What stories from other successful entrepreneurs have had an impact on you along the way?
A: Listening to the stories of other entrepreneurs has given me so much inspiration and motivation. Knowing that Apple and Dell were started in garages was helpful for me when I started my business in my spare bedroom.
I will never forget the aha-moment and relief when I heard an interview with Spanx founder Sara Blakely in which she said that in the beginning her shipping department was underneath her couch. I've thought about this simple statement many times, whenever I wished I had more resources to do one thing or another. If she could start a billion dollar company from her living room, then that was also a possibility for me.
Those stories motivated me to think about how I could maximize the resources I had available until I could afford the next step. And to do so without feeling shame – that became really important. I wanted to stand and work in my power and with pride, because this is the place where we do our best work and where we can grow into a successful future.
I built a high-end brand and business and I want to share the rather humble beginnings of my company, because it may provide inspiration and encouragement to another aspiring entrepreneur with a great idea and limited resources in moments of doubt and fear.
Q: What is the best advice you received from your SCORE Mentor, and that you still follow?
A: Know your worth. Don't sell yourself short.
For additional information about Eva and her company Trophyology, visit tropyology.com. To learn more about free mentoring from SCORE, visit score.org
#YouCanDoThis #EarnYourLuck
Popular in the Community