This is a guest post by Liz McNeil, Managing Director of Last Mile.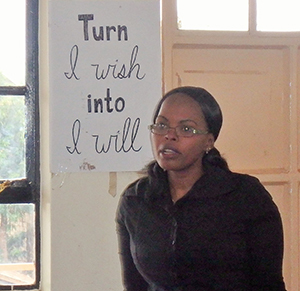 Walking into the Kawangware branch of iSmart on the first morning of my visit really set the tone for the entire trip to Kenya. A group of young sales agents was being led by one of their peers in a morning exercise to get energized before starting their team meeting. A poster on the wall at the front of the room read "Turn I wish into I will." This branch is led by Lilian, who started as an iSmart sales agent herself.
Recently, I was lucky enough to be connected to Livelyhoods through Segal Family Foundation's Active Partnership Learning Visit program. Livelyhoods is the organization behind the iSmart brand, which has been growing across slum communities in Nairobi since 2011 and has recently expanded into Mombasa. As its name suggests, this organization creates livelihoods by training and equipping youth to sell "life-improving goods," such as clean-burning cook stoves, while earning a commission on sales.
As the entrepreneur behind Tanzania's Last Mile, a Kilimanjaro-region start-up social enterprise with a similar model and objectives, visiting Livelyhoods was the clear choice for this learning visit. I set out from Moshi to Nairobi with the hope that I could bring some knowledge, inspiration, and renewed energy back to Last Mile.
During my visit, I was able to spend time with people from all levels of the organization. While interviewing members of the executive team brought a great amount of insight, it was the time spent in the branch offices and with sales agents that led to the most influential learning moments. Participating in the morning team meetings, selling with sales agents in the market, and shadowing an interview and orientation session for new recruits was when I really saw the Livelyhoods vision come to life.
I learned very quickly that most of the branch managers, trainers, and even regional operations managers had started themselves as sales agents. They truly engaged with these young agents because they started in their exact position; they had experienced firsthand how this organization can change lives because it had changed theirs. They could coach and support agents through challenging times and celebrate successes meaningfully because they have been through it all themselves. They could inspire the belief of success because they themselves were proof that you can succeed.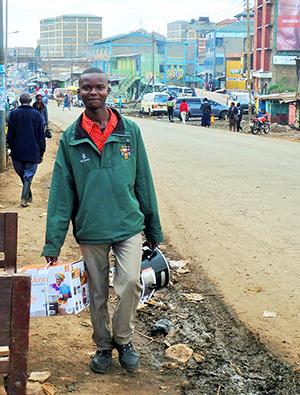 What Livelyhoods is really exceeding at--and what I hope to emulate in the development of my own organization--is identifying and nurturing talent internally. By investing in their people, Livelyhoods has created a culture of aspiration. The operations of the organization are led by people who have experienced the transformation that can happen when someone believes in you and you are motivated each day to create that same chance for others.
While my start-up environment is different from this established organization, the lesson still stands: you can be successful if and when you truly believe that success is possible. Believing that your goals can be achieved, whether that goal is to be promoted to branch manager or to create a sustainable social enterprise, gives you no other option than to keep moving forward even on the most difficult days. And the best way to keep that belief alive is to surround yourself with people who share in that belief and determination. As they would say in Swahili, "Songa mbele" (move forward).
This visit gave me a glimpse into what is possible if you surround yourself with the right energy, core values, and, most importantly, the right people. It will take a while for a new organization to develop this kind of team, yet finding the right people with whom to start the journey is a good first step. As Last Mile undergoes its own changes and transformations, the timing for this realization could not have been more perfect. It also led to ongoing talks with Livelyhoods about opportunities for collaboration down the road--looking ahead has never felt more exciting!
Related
Popular in the Community