I want to share with you a story about a wonderful woman. Dorothy Edwards is a homelessness advocate; one reason she's so effective is because just a few years ago, she lived with her dog, Gunner, under a freeway overpass in Los Angeles.
She was heavily addicted to drugs and couldn't find a way to get off the streets. "I craved a place of my own," she said. "I watched people who, day after day, helped me out and handed me money. I thought, I know they're leaving and they're going home. I was hurting and needed a home too."
What helped Dorothy get back on her feet was an innovative approach to ending homelessness called "supportive housing," which combines providing permanent housing with "wrap-around" services to support an individual and help him or her stay off the streets in the long-term. Dorothy was identified by an agency, Housing Works, during an outreach campaign as one of the most vulnerable individuals experiencing homelessness in her community.
I was able to learn about Dorothy and these great efforts at The Successes of Philanthropy series from Washington Monthly; it's a new effort to provide a single place where citizens and public officials can go to read about the unique and important role philanthropies play in supporting innovative policy experiments that, when successful, often become the basis of future government actions.
Over time, the site aims to become a full, one-stop-shop of stories about successful philanthropic investments and innovations, as told by the foundations and nonprofits themselves. New stories will be added weekly.
The pieces will highlight individual success stories as well as collaborative projects in the philanthropic sector in such cutting edge policy areas as impact investing and asset building.
The Successes of Philanthropy series is nonpartisan. Whether supported by a conservative-leaning or liberal-leaning philanthropy, if a project is innovative and successful, we think the public ought to know about it.
They were targeted through a community-based approach that included schools, nonprofit organizations, and primary care providers. Trained and supervised lay-person care coordinators built trust with local residents; provided individualized asthma education and removed asthma triggers and allergens in families' homes; and coordinated care plans with primary care providers and schools.
The impacts of these interventions were unmistakable.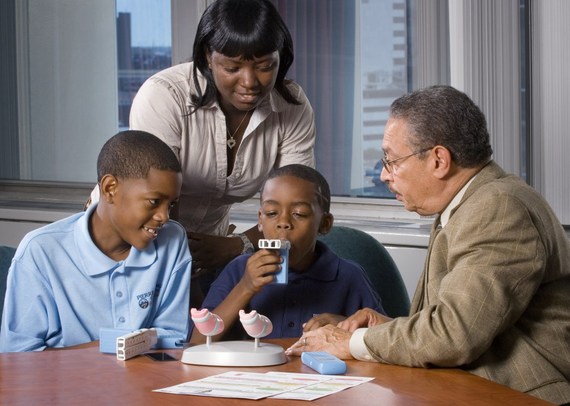 MCAN Executive Director Dr. Floyd Malveaux teaches Rhonda, Jermid and Jabeaux Brown of New Orleans to use a peak flow meter.
The 805 children enrolled in the second-phase care coordination programs sponsored by MCAN missed an average of 11 days of school in the year prior to the program and reported limited activities due to asthma on about six days in the month prior to enrollment. A year into the program, children reported missing an average of four days of school over the last year and had limited activities on fewer than two days in the previous month. Emergency room visits among children at MCAN-funded sites also dropped by 30 percent. These numbers suggest major implications in addressing not only America's childhood asthma problem, but also improving educational outcomes and contributing to the economic stability of impacted families.
I'm proud to know our country has nonprofit leaders who are offering up not only great ideas, but also solutions that work. Dorothy, childhood asthma patients, and millions of others are benefiting in ways we can't even imagine.
Calling all HuffPost superfans!
Sign up for membership to become a founding member and help shape HuffPost's next chapter