The pressure for CIOs to drive organizational change is at its peak. CEOs, line-of-business senior management and business partners demand value creation that is measurable, sustainable, and scale-able, driving business results. Most importantly, customers are demanding business agility, proactive responsiveness, greater degree of personalization and intimacy, and use of technology aimed solely at improving their user experience. The opportunity for CIOs and IT leaders to champion change, and gain significant strategic relevance, is greater than ever.

For CIOs working in higher education with its deep-rooted cultures and traditions, the often risk-averse nature of their organizations can make the notion of change a particularly challenging proposition. In fact for some "change" is a four letter word. And yet the CIO mandate must be to innovate and drive change if organizations are to survive and thrive in an ever-changing world.

According to some, the defining factor for creating successful change is not resources but resourcefulness. And if ever there was a market sector that is in need of resourceful CIOs and senior IT leaders, it is higher education.

Take Paul Stokes, CIO at the University of Victoria on beautiful Vancouver Island in British Columbia, Canada. In 2014, Stokes was named one of the most social higher education CIOs in the world. For Stokes, being resourceful means mastering the inner workings of his organization. Knowing the people, processes, politics and strategy helps frame his thinking and decision-making. "At the core of every change are people. Developing positive relationships opens up dialogue. This creates not only the opportunity to influence but also to gain further insight and adjust the change process on-the-fly to improve our chance of success", says Stokes.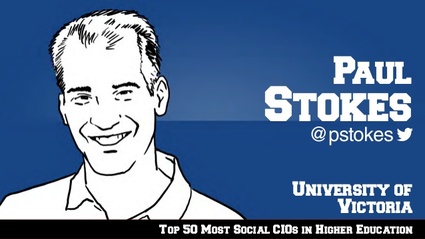 Paul Stokes, CIO of University of Victoria

People are at the heart of the organizational eco-system but there is more to it than that according to Stokes:
Beyond people, learning the processes, policies and structures enables you to understand how the organization operates; what's allowed and what's not. This clarity helps identify opportunities that others likely have not seen or understood. It's then easier to make better decisions and determine the right path to accelerate change.
A short ferry ride back to the mainland and Stokes' thoughts are echoed by his colleagues in other higher education establishments. Stephen Lamb, CIO of the British Columbia Institute of Technology located in Vancouver has similar views. In 2015, Lamb was named as one of the most social CIOs in the world. "As CIOs we are continually faced with the challenge of upping our game to meet the ever-changing demands of our students and faculty, and to create business efficiency gains to improve service and address the realities of the bottom-line." Lamb goes on to say "But all of this is in an environment that has traditionally been slow to alter course; making changes in higher education can sometimes feel like trying to turn an oil tanker around." There is progress but not without sustained effort and a more supportive approach. Lamb sees the CIO role increasingly focused on brokering understanding across business units and schools.
In any organization the CIO has a unique vantage point that shouldn't be squandered. Deep down, change is about problem-solving and sometimes all it takes is to help others see the problem more clearly and guide them to finding their own way to solve it. The CIO can help pull all the pieces together if they have grasped the dynamics of the organization and the people.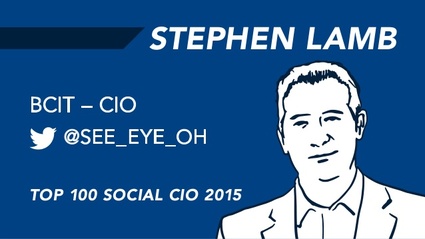 Stephen Lamb, CIO of British Columbia Institute of Technology

Of course affecting change can occur at all levels and isn't confined to the C-Suite. In fact many successful change initiatives often happen much closer to the front line and can have an accumulative effect. According to Sandeep Sidhu, IT Service Delivery Manager at neighboring Capilano University, paying attention to the details is critical in bringing about positive change. A focus on small, iterative improvements and empowering staff helps to develop the right attitude.
We really try to leverage the experience of our front line staff in any change initiative. We want to support them to be advocates for the change. They are our eyes and ears, and will often feel the full force of a change initiative, so they need to be fully engaged and ready to deal with it.
Sidu notes that if the front line staff aren't onboard, then the change strategy is likely destined to fail. "One of the worst things you could hear is your staff telling customers they are confused as to what is going on and why. When the dreaded words of 'They told me I have to do it' are uttered then you know that something has gone awry." Having front line staff on the ground floor of any change initiative is key to buy-in but it goes beyond that. "We need to ensure that their credible feedback is able to ascend through the different levels of leadership to help make inevitable course corrections."
In summary, you can have all the great ideas, the right resources and funding, and even the best vetted plans, but if you can't pull it all together as CIO, then the change you want to bring about just isn't going to happen. Being a resourceful CIO is about seeing things differently and bringing all the elements together to engage, influence and make the necessary changes to drive the organization forward.
This post was co-authored by Stephen Lamb (Twitter: @SEE_EYE_OH), Paul Stokes (Twitter: @pstokes) and Sandeep Sidhu.
REAL LIFE. REAL NEWS. REAL VOICES.
Help us tell more of the stories that matter from voices that too often remain unheard.