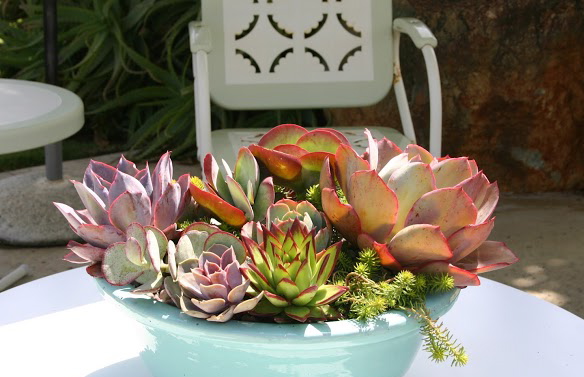 Photos: courtesy Debra Lee Baldwin
Are your needy, thirst-driven, water-demanding garden plants wilting beneath the sun's relentless rays like last night's limp, leftover linguini? Have you been daydreaming about pouring concrete over your entire front lawn and shouting out, "I'm mad as hell and I'm not going to take it anymore!" Hang in there, pilgrim. There's a better solution and one that doesn't involve cement mixers.
Rather, let me introduce to you Flapjack and Paddle. Yup, sweet names and even sweeter plants. Not the hoity-toity, "I gotta have a drink, where are my people?" kind of plants. But rather those 'bring it on!" heat defying sassy succulents. That's right -- you heard me right. Succulents. If you're not familiar you're gonna shamelessly fall madly in love with them, like we all did for Brad Pitt in Thelma and Louise. These no-nonsense, tough-as-nail plants just want you to sit and relax in your garden this summer and stop worrying about watering so much. They've got your back.
"Succulents drink responsibly," says garden author and succulent expert, Debra Lee Baldwin. " They store water in their leaves and stems. They won't wilt if you forget to water them, nor will they miss you when you're away. They need one-to two-thirds less water than a traditional lawn-and-flowerbed landscape."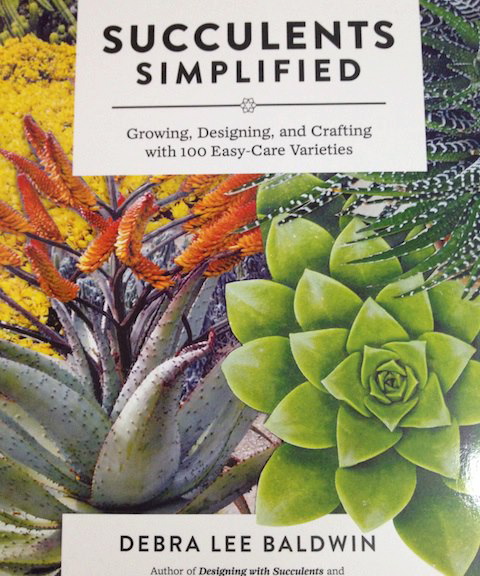 In her new book, Succulents Simplified:Growing, Designing, and Crafting with 100 Easy-Care Varieties, Baldwin even tells of a Jade plant that has lasted for more than two decades in her garden with various stages of neglect! Besides needing low-water, most succulents need minimal maintenance. We are so done with whiners and prima donnas! (Sorry, Roses.)
In the fall and winter, you protect succulents a bit from frost or excess rain, and in the spring and summer, they require about four hours of sun and watering weekly or bi-weekly. If you're going to take cuttings, spring is the best time to do this; creating more succulents.
When we think of succulents we all think old-school and see a dry pointy, dull cactus, but Baldwin asks us to open our minds to the variety of blazing flowers and textured leaves of today's succulents. "Cacti, those spiny plants that you swore you'd never have in your garden produce satiny flowers so lovely they'll make your heart sing," claims Baldwin. "Ice plant, when in bloom hums with bees, and yellow flowers." Succulent leaves comes in light blue, orange, every shade of green as well as varying intensities of yellow, gold, red, crimson, purple and cream. Who knew?
In Succulents Simplified, Baldwin has highlighted 100 easy-care succulents. For you crafty types, she even shows you how to create a succulent topiary, a special occasion succulent bouquet and living vertical garden. Below I've highlighted three succulents that I've had great success with either in the ground or in pots on my deck or at the two California high school organic gardens I coordinate. (Yes, even teenagers can keep succulents alive, in the summer, when school is closed. Top that! I dare you.)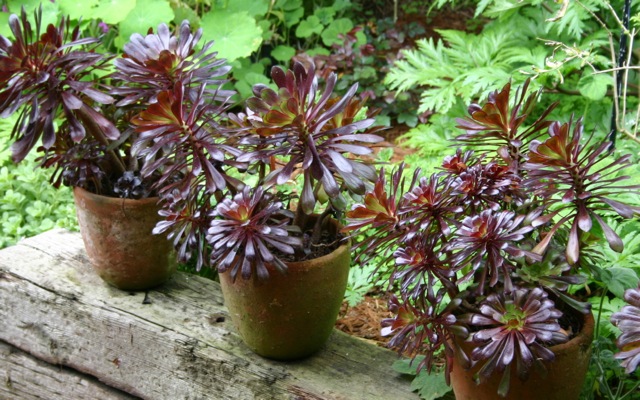 Aeoniums are rosette shaped plants that add a pinwheel pattern to garden beds, terraces and containers. They do well with dappled sun or bright shade and like slightly more moisture than other succulents. Also unlike most succulents, they are summer-dormant winter growers that do best where winters are rainy and summers are dry.
Try Black Aeonium (Aeonium arboretum "Zwartkop") for some fabulous contrast in your garden. Or, Sunburst Aeonium (Aeonium 'Sunburst') which has a light yellow or pink leaf with a thick green stripe down the middle.
(Garden Tip: When trying to swipe an Aeonium leaf rosette from your local park or your neighbor's front yard, to propagate free plants, be gentle with the leaves as they break easily. How do I know this? I just know.)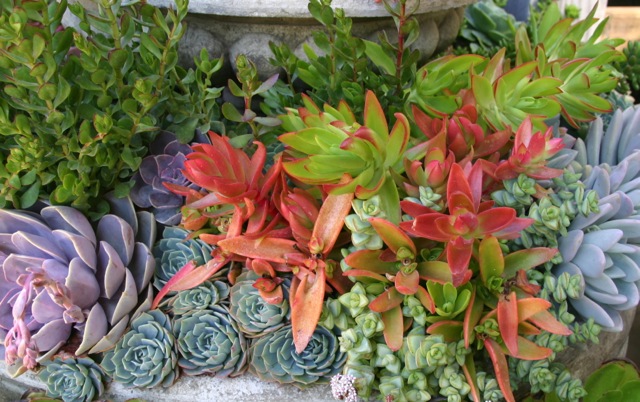 These gorgeous elongated, threaded-like stems do great in hanging baskets or standing upright in containers. Tiny white flowers appear in early spring. Crassulas often prune themselves. Limbs soften and fall off, creating a new plant wherever it falls. How great is that? They do all the work.
A must-have is Crassula capitella or 'Campfire' which turns from green to a scorching red-orange color when environmentally stressed. Trust me. It's the most beautiful stressed-out plant you'll ever have.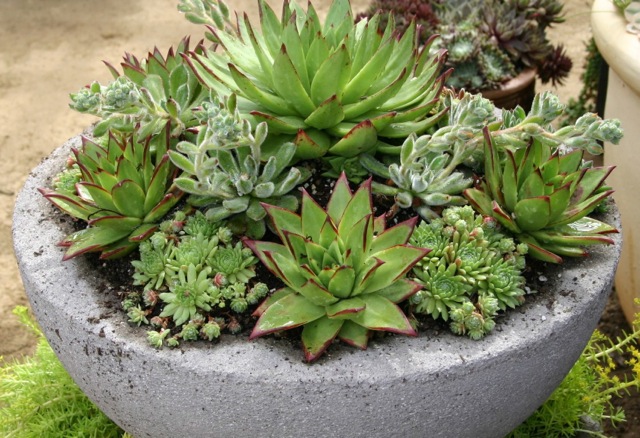 Why do the ladies all heart Echeveria? Because they remind us of roses. They look like plump-petaled roses in shades of pink, rose, lavender and green combinations. Try Lipstick Echeveria (Eceheveria agavoides 'Lipstick'). It's a show stealer with its pointy edges, glossy green leaves and crimson colored tips.
Another plus? Echeverias are simple to propagate. You can remove the baby rosette from the mother plant, without it falling apart and whaaa-whaaa-ing, like most Aeoniums do when picked. Plant the pup somewhere else in your yard. More succulents. That's what I'm talking about!
Where to get your hands on some succulents:
Check with your local plant nursery first. Balwin says nurseries
are stocking more varieties of succulents all the time. An online source is www.simplysucculents.com. If you're in California, where the author lives and you're up for a road trip, visit Succulent Gardens in Castroville, south of Santa Cruz: www.sgplants.com
In the San Diego Area try:
Rancho Soledad Nursery, Rancho Santa Fe, www.ranchosoledad.com. Twenty-five acres of succulents and tropicals for gardens and landscapes.
Looking for a specific succulent that you can't find locally? Ask the expert. Contact Debra Lee Baldwin at:www.debraleebaldwin.com
Visit Annie at www.dirtdiva.com