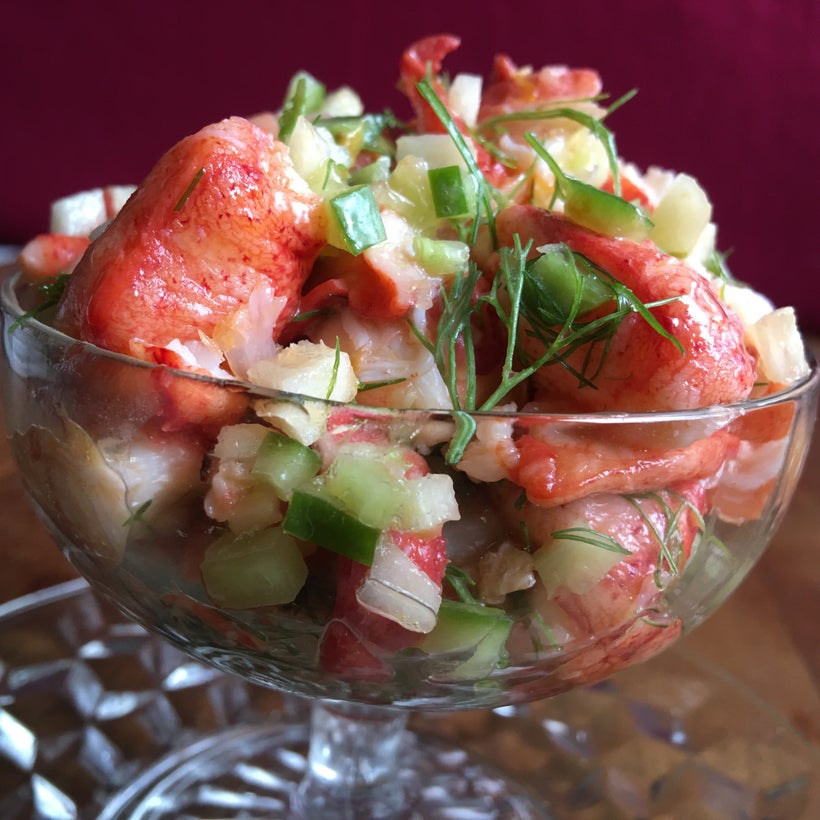 Starting with the best and freshest ingredients available makes all the difference between a wonderfully sumptuous sensual experience and a dish of food. I make it my business to know where I can find the best. Fortunately, through years of my work with food, I have discovered a great market that is both convenient and carries foods of many kinds.
The seafood department of my local Fairway Market has fabulous choices of freshly caught local varieties of seafood. They have a live lobster tank and steam them to order. They also sell ½ pint (½ pound) containers of lobster claw meat steamed daily to perfection. They know not to over cook the meat so that it remains beautifully tender, juicy and succulent. Over cooking any seafood renders it rubbery and depleted of it's natural flavor.
Their produce department sports a diversity of fruits and vegetables, both organic, local and not. I have always loved English cucumbers for their delightful crunch, seedless nature, and thin delicate skins devoid of the usual coating of wax. No need for peeling or seeding, unlike traditional salad cucumbers. Over the last few years, Persian cucumbers, often marketed as mini cucumbers, have become available in American markets. With the provenance of Persia, my first experience of these gems was in Japan and China. They are very similar to the English variety, having teeny tiny undeveloped seeds and delicate skins. Because these cucs are so small they are perfect for many recipes due to the ratio of their smooth green skins to the crunchy aromatic inner white flesh. I like to eat them as snacks. I simply slice them length wise with a pinch of sea salt and munch them down in no time. They are incredibly satisfying and packed with healthful properties. http://www.specialtyproduce.com/produce/Persian_Cucumbers_9121.php
Fairway always seems to carry organic fennel with their perky fronds intact. Their diverse apple selection allows the choice of deliciously crisp, sweet yet pleasantly tart varieties such as Gala, Braeburn, Fuji and Honey crisp. I prefer these types for this recipe to the very tart Granny Smith, the somewhat mealy Macintosh and the ubiquitous thick-skinned Delicious apple. https://www.theatlantic.com/health/archive/2014/09/the-evil-reign-of-the-red-delicious/379892/
Out of what I had gathered of my favorite ingredients from my shopping excursion for my personal week of potential meals, I put together this impromptu recipe for my Lobster Claw Cocktail
½ Lb. of fresh lobster claw meat – steamed to perfection, cut to bite size pieces
¼ cup Persian (mini) or English cucumber - finely diced
¼ cup red crisp, sweet-tart apple - finely diced
2 Tbs. fennel fronds - coarsely chopped
1/8 tsp celery seeds
Zest of ½ lemon
Juice of ½ medium size lemon
2 Tbs. Extra Virgin Olive Oil
1 Tbs. clarified butter, melted
1 tsp. Red Hot Sauce - with out garlic, which overwhelms the sweet delicate flavor of the star of the show, the lobster! Hint: Sriracha is full of garlic.
Mix together salad ingredients
Whisk together dressing ingredients until homogenous
Toss together the salad and dressing, lightly, at the last minute before serving
Tips: Serve at room temperature to preserve the optimum consistency. Individual glass bowls add elegance to the table. For informal settings, serve on plated leaves of lovely lettuces such as Bibb, Butter, Boston or Belgian endive.
REAL LIFE. REAL NEWS. REAL VOICES.
Help us tell more of the stories that matter from voices that too often remain unheard.
This post was published on the now-closed HuffPost Contributor platform. Contributors control their own work and posted freely to our site. If you need to flag this entry as abusive,
send us an email
.