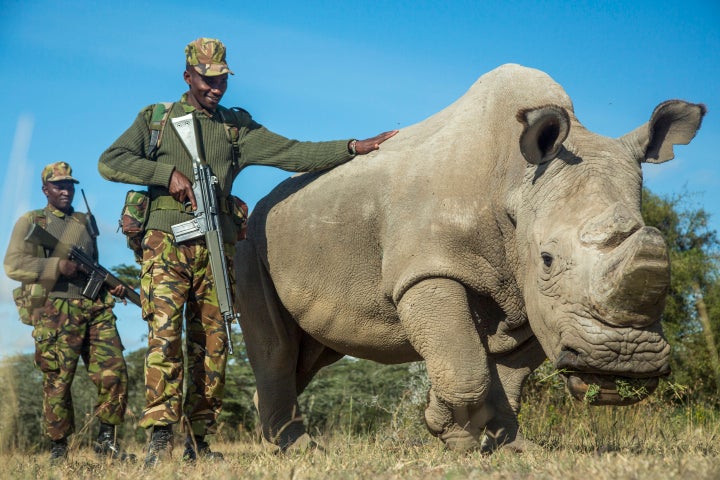 In his Tinder profile, Sudan is described as "one of a kind" — and that's not a baseless boast.
On Tuesday, Kenya's Ol Pejeta Conservancy and dating app Tinder announced a joint campaign to raise awareness about Sudan's plight, and to raise funds to support efforts to save the northern white rhino from extinction.
"We partnered with [the conservancy] to give the most eligible bachelor in the world a chance to meet his match," Matt David, Tinder's head of communications, said in a statement.
"I perform well under pressure. I like to eat grass and chill in the mud," reads Sudan's Tinder profile. "6 ft tall and 5,000lbs if it matters."
Starting Tuesday, Tinder users in 140 countries could stumble upon Sudan's profile as they swipe through potential matches. Users will have the option to swipe right on Sudan; if they do, they'll see a message that features a link where they can donate.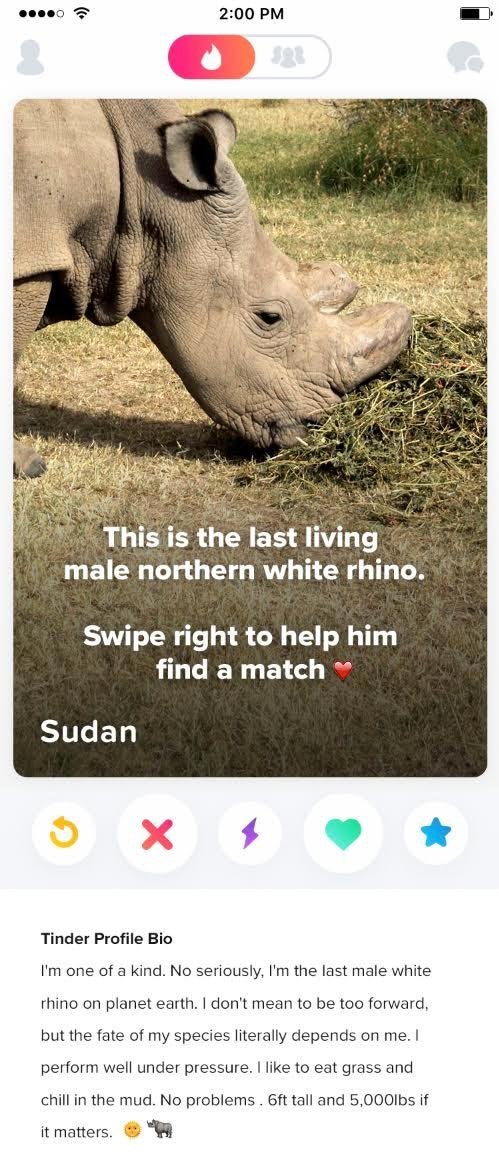 In a last-ditch effort to save the northern white rhino, scientists have turned to in vitro fertilization. IVF is a challenging, costly and controversial solution, but it's the "last option" left to save the subspecies, the conservancy's CEO Richard Vigne said in a statement this week.
Researchers in the United States, Germany and Japan are currently testing ways to use IVF on Najin and Fatu, as well as female southern white rhinos, with Sudan's stored sperm, said the conservancy.
Southern white rhinos number about 17,000 in the wild but are a distinct subspecies. Still, crossing the two subspecies would be better than extinction, conservationists say.
The research consortium says it hopes to establish a herd of 10 northern white rhinos after five years of using IVF. If it works, it'll be the first time artificial reproduction will successfully be carried out in a rhino species.
But according to Leibniz Institute for Zoo and Wildlife Research, which is involved in the IVF effort, "financial support remains the biggest challenge to this project."
"To win this run against time it is very crucial to find major funds as quickly as possible," a spokesperson for the German institute said this week.
Tinder said its campaign aims to help raise the $9 million needed for research into the "assisted reproductive techniques" that scientists hope could save the animal.
"As a platform that makes millions of meaningful connections every day, raising awareness about Sudan the rhino and the importance of finding his match seemed like something we could support in a really impactful way," a Tinder spokesperson told Mashable. "We've heard countless stories about Tinder babies, but this would be the first match to save a species."
"The plight that currently faces the northern white rhinos is a signal to the impact that humankind is having on many thousands of other species across the planet," Vigne said.
Tinder and the Ol Pejeta Conservancy have both expressed hope that this campaign could mark a positive turning point for the critically endangered subspecies.
"I would not be surprised if Mr. Sudan turned out to be one of our most Right Swiped users," Tinder's David said on Tuesday.
Dominique Mosbergen is a reporter at HuffPost covering climate change, extreme weather and extinction. Send tips or feedback to dominique.mosbergen@huffingtonpost.com or follow her on Twitter.
Popular in the Community