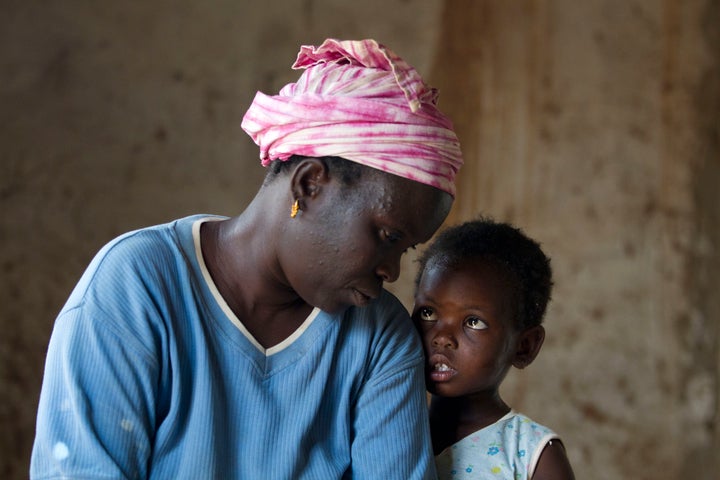 Since September 2011, Sudanese government forces have bombed indiscriminately across Blue Nile State, spreading palpable fear among civilians who live there. Government bombardments and ground attacks have killed, maimed and injured scores of civilians, destroyed property including markets, homes and schools, and displaced tens of thousands of women, men and children.
Sudan's abusive tactics against civilians in an area it considers allied with rebels are reminiscent of those used in Darfur and during the long civil war, including blockading humanitarian assistance. These actions have had a particularly negative impact on women and girls. Women have been forced from their villages into the bush, where they no longer have access to hospitals or health care providers -- even for childbirth. Women and girls who are able to flee the country have had to walk for days and weeks carrying their children and property, while under threat of attack from government forces and militias. Sometimes the women are separated from their husbands, who fled earlier or joined the rebels.
Once the women and girls reach the refugee camps in South Sudan, their struggle continues. With limited means to support themselves, women and girls are at risk of sexual violence from soldiers and other men in host communities and when collecting firewood outside the camps to cook food.
Since September, 2012, witnesses have reported seeing more frequent use of planes flying at high altitude and dropping bombs in rapid and multiple succession. The intensification of Sudanese government forces attacks across various Blue Nile localities perhaps indicates an effort to displace the civilian population from rebel-controlled areas. Despite the attacks, the international response to this crisis remains muted.
As of November, 110,000 refugees from Blue Nile had registered in four refugee camps in South Sudan and 30,000 had sought shelter in Ethiopia. Female-headed households make up a significant proportion of many of the communities in the camps -- as many as 50 percent in some communities. Their need to rely on others, particularly male community members, and the lack of livelihood options for women who head households also makes women more vulnerable to sexual exploitation and abuse.
Human Rights Watch has conducted research in Blue Nile state during the bombing campaign, despite Sudan's blockade on the civilian population, which has severely restricted access to the area for news organizations and humanitarian agencies. Human Rights Watch interviewed women and girls in refugee camps in both Blue Nile state and South Sudan and in displaced communities and villages. The following photographs were taken by Samer Muscati in late October.
All photos by Samer Muscati/Human Rights Watch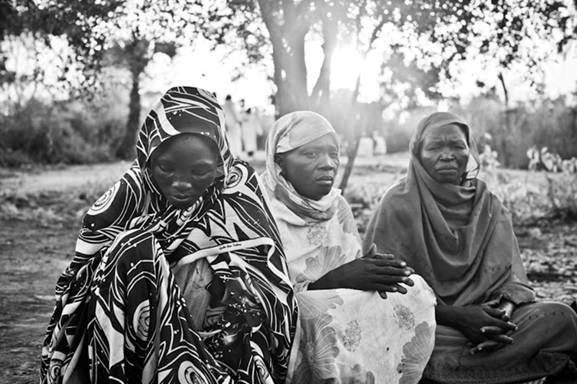 In late 2011, Fatima Al Ghomous, Zainab Atoum and Amna Adam al-Dhaib fled the government bombardments -- as many as three attacks a day -- near their homes in Surkum. As a consequence of the relentless attacks, these women and others decided to flee the area and walk toward South Sudan. One day, while they rested and prepared food along the way from Surkum to Wadega, in Kormuk locality, their group was hit by what they described as a barrel bomb. The bomb killed three people, including two girls.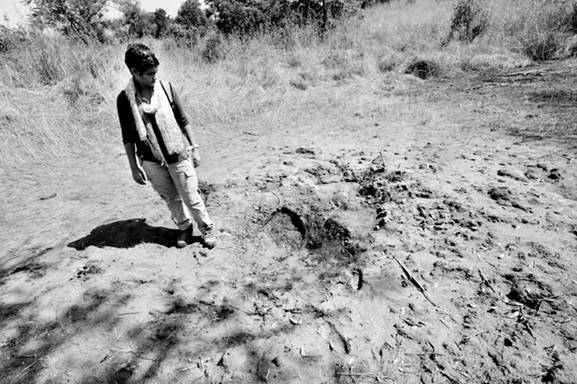 A Human Rights Watch researcher examines the crater left by a barrel bomb in late October 2012, in Yabus, Blue Nile. Improvised barrel bombs and other unguided munitions are often rolled out manually from Antonov cargo planes flying at high altitude and therefore are not delivered accurately. Use of weapons in a civilian area that cannot accurately be targeted at a military objective makes such strikes inherently indiscriminate, in violation of international humanitarian law.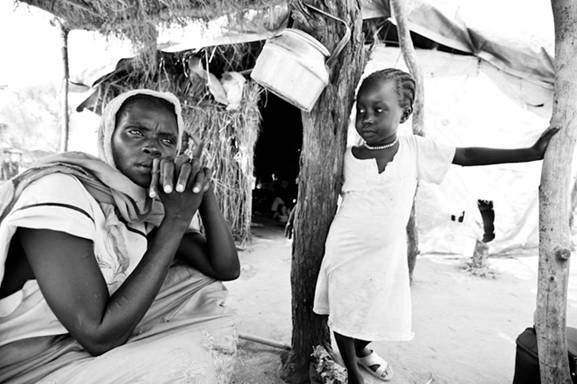 Kareema Nasr, 35, fled her home in Yabus Yabara, Blue Nile state, because of the aerial bombardments and now lives in a makeshift settlement further away from town with this girl and others. Earlier in 2012, Nasr's baby daughter died shortly after she was born in the bush. Nasr believes the death was related to her malnourishment, her illness during the pregnancy and the fact that she did not have a midwife to assist her at delivery. To support her five children while her husband is at a refugee camp, she now pans for gold fragments, which she sells to merchants in Ethiopia to buy food.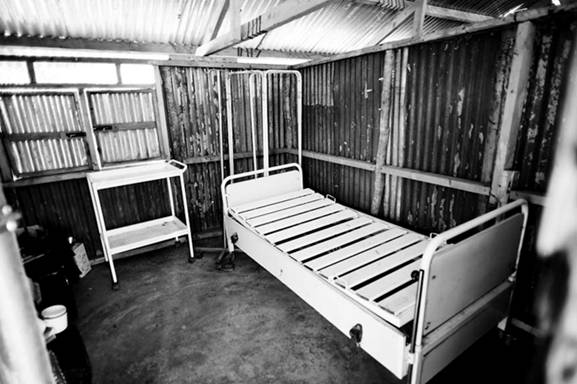 An abandoned hospital in Yabus, Kormuk locality. The hospital, the only one in the area, is no longer operational after the government's bombing campaign caused civilians and hospital staff to flee.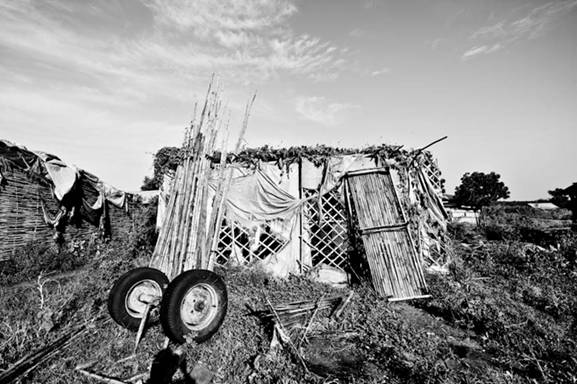 A run-down shop in Yabus's abandoned market. Civilians fled the town and its once-thriving market because of repeated bombings by Sudanese government forces.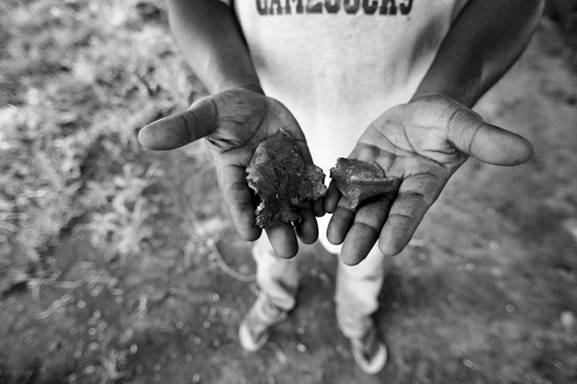 Shrapnel from a barrel bomb found near Yabus, Blue Nile. Sudanese military aircraft flying at high altitude drop the crude devices, which are filled with nails and other jagged pieces of metal that become deadly projectiles upon impact.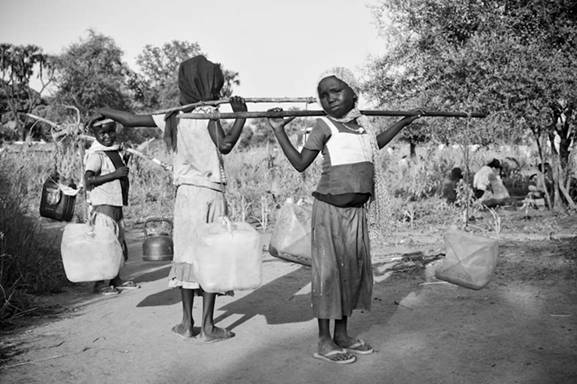 Girls carrying water at the Doro refugee camp in Maban, Upper Nile state in South Sudan. Female refugees and humanitarian agencies say that the risk of physical and sexual assault while collecting water or firewood is one of the gravest safety ad security concerns faced by female refugees. According to the UNHCR, the United Nations refugee agency, girls (under 18) are 32 percent of the entire Blue Nile refugee population registered in the four camps in Upper Nile state, South Sudan.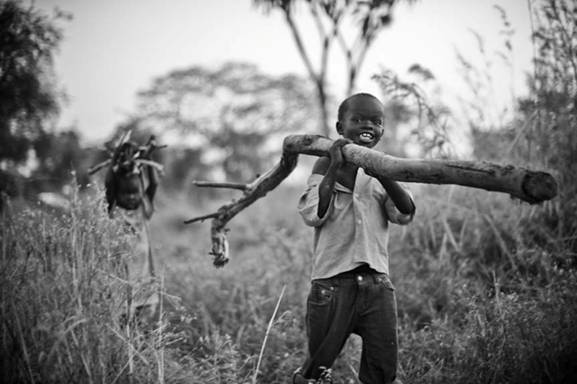 Young children collect firewood at Doro refugee camp. Women and girls regularly walk long distances, sometimes alone, at least once a day to collect firewood for cooking and to sell. The threat of physical harm or rape from soldiers and other men in host communities while collecting firewood outside the camps is one of their top concerns.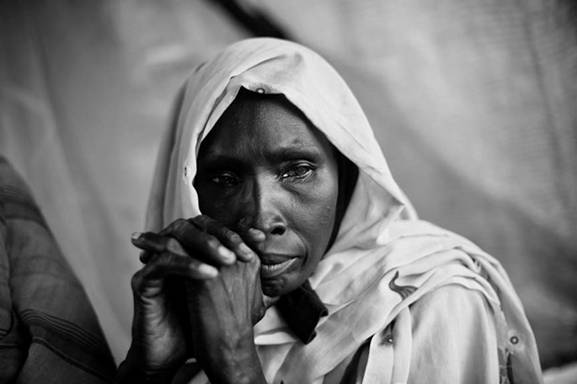 Kassar Al Naem, 50, originally from a village around Gebanit, Blue Nile, arrived at the Yusif Batil refugee camp in late October 2012. In June, militia attacked her village, shot at her fellow villagers while they were harvesting, and kidnapped three people, including two women. She and other villagers had wanted to flee before October but they fell captive because militia had blocked the only road out of the mountain.

Mecca Aljak , 21; Hinda Abdullah, 20; Hawa Jareet, 26; and Radina Babakar, 29; walked for days from a village near Surkum, Blue Nile, with their children, with little water and no food, until they crossed the South Sudan border in late 2011. They live in Doro refugee camp without their husbands. Female-headed households are one of the groups most vulnerable to exploitation at the camp and are in need of more protection and resources. "It's very difficult for women to carry their rations after food distributions," said Aljak. "Sometimes they get help, and sometimes the men ask for money to help. If the women can't find a way, they have to give away a portion of their rations for the help."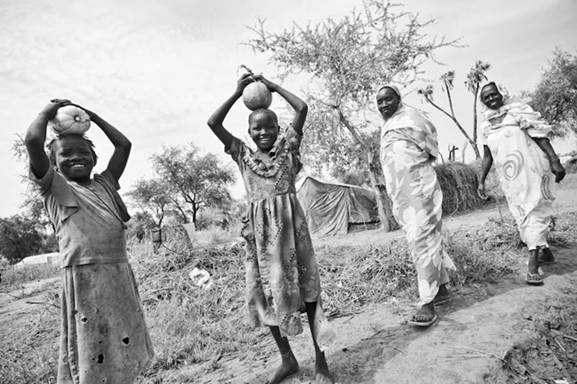 Women and girls share a lighter moment at the Doro refugee camp in Maban, Upper Nile state in South Sudan.
Related
Popular in the Community