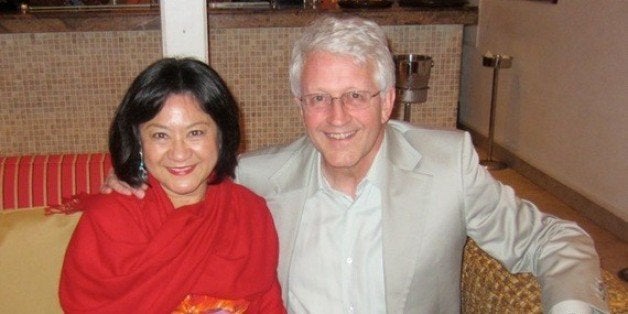 About 10,000 Baby Boomers will retire this year, and this average will continue for the next 19 years. My husband just crossed that threshold. For years, David's work schedule had him out of the house at sunrise, returning way past sundown. Now he's home with me 24/7, and as a couple, we have much to relearn about each other in that sudden togetherness. Apparently, I talk out loud to myself... a lot.
I work at home and write at a dining table large enough to seat 12, with notes and folders fanning into a semi-circle from my laptop. Occasionally, I will mutter, "Now this doesn't make any sense," or "Whoa! When did that happen?" or "Stop! Stop, you dreaded rainbow wheel!"
Apparently, it's not as rare as I thought. According to my new desk mate, it's constant. David says, "Suze, can you keep it down? I don't need the running commentary."
This is shocking to learn.
For years, I've worked alone in silence (or not if such foreign reports are to be believed). Now, I gaze at my beloved husband of 17 years, who now shares my same table space. We are getting reacquainted during daylight hours.
David looks incredulous. "I do not hum all the time."
"You're right, Sheriff Taylor. Sometimes you whistle. It's like 'The Andy Griffith Show' around here." David is British-born and doesn't get it. (Seriously, who doesn't know about Mayberry R.F.D... but that's another story.)
So, in the beginning, one of us would warn the other, "You're doing it again."
This all-day togetherness was uncharted territory. At first, I was a bit leery and I bristled the first time David asked, "So, what are we doing about lunch?"
But I never could have predicted how much fun it is to have him home. Like a pebble tossed into the water, his helpfulness radiates. David's penchant for orderliness had cans, boxes and bottles standing at attention within the foxhole of the kitchen pantry. No more randy squirrels invading the attic. What artful pruning of those trees and bushes!
Now, we can work in companionable quiet, and our conversations have reverted to those things that brought us together in the first place -- laughing at the quirkiness of life, travel plans and the daily delight of family.
Here's the deal. I need somebody to say "Wow" with as well as someone to tell me, "You're doing it again." This is turning out way better than I could have expected.
Email Suzette Standring: suzmar@comcast.net or visit www.readsuzette.com She is syndicated with GateHouse Media and the author of The Art of Opinion Writing: Insider Secrets from Top Op-Ed Columnists, and the book, The Art of Column Writing. She teaches writing workshops nationally.
Related
Popular in the Community