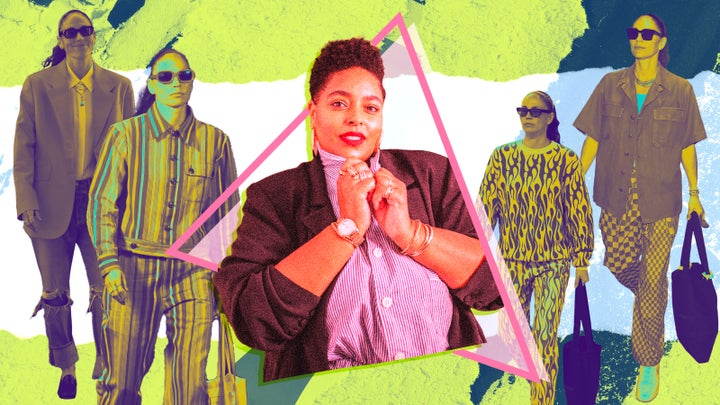 The glitz and glamour of entertainment is nothing without the people who dress today's biggest stars. For "Who's Behind the Clothes," HuffPost spotlights stylists and costume designers who have delivered some of our favorite celebrities' or characters' most memorable looks.
Fashion has never been a spectator sport for celebrity stylist Courtney Mays. Hailing from Cleveland, Ohio, Mays is the daughter of a former NFL athlete. Mays' father subconsciously instilled in her the value of showing up as your best self, and today, she dons his signature Omega watch, pinky ring and tie bar. While football was king in her household, she gravitated toward basketball, foreshadowing her 16-year styling career.
"I'm six feet tall, so lengths and widths of pants and not being able to have cool things that are quality fabric is something I've struggled with my whole life," said Mays, who specializes largely in menswear. "I hope that there's a space where I can become the go-to person who can say, 'Yes, come to me, for the guys that are not sample size. And we're gonna figure this out.'"
Mays' clientele consists primarily of athletes, from Chris Paul, Kevin Love, Breanna Stewart and, namely, former Seattle Storm point guard Sue Bird. Bird, the now-retired WNBA legend and all-time assists leader, made a name for her good looks off the court during her final season with the help of Mays. Bird's androgynous tunnel style — tinted shades, various patterns and prints and structured blazers — would land her on numerous best-dressed lists.
"I played basketball in high school, so I love that right now, my career is very much driven by the convergence of sports and style. Working with Sue was such an amazing project," said Mays. "I'm a huge supporter of women in sports and have been a huge fan of Sue for a long time."
Before Mays, 39, was a stylist to the stars, she attended the University of Michigan, where she studied African American studies and art history. Following undergrad, she moved to New York, interning for womenswear designer Tracy Reese for two years. One of Mays' colleagues interned under Rachel Johnson, who famously styles LeBron James. Mays was intrigued.
"I submitted my resume a couple days later, after talking to [to her]," said Mays, "And the next day, I started interning. It's so funny because there are some other stylists that are in the athlete world — Calyann Barnett, Khalila Williams-Webb — who also worked under Rachel Johnson and I was interning for them because they were her assistants at the time."
Soon after, she made a name for herself, as a queer, plus-size Black woman in the menswear space. For "Who's Behind the Clothes," Mays talked to HuffPost about her journey through fashion and her experience styling today's biggest — and tallest — stars.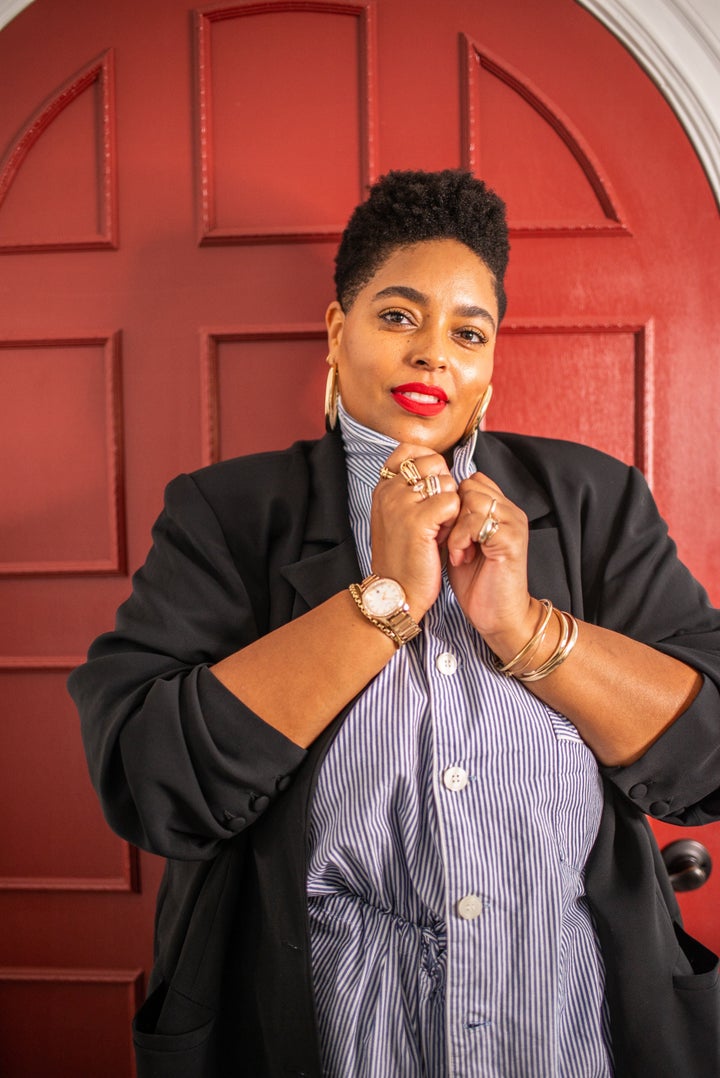 What did it mean to you to have Sue Bird as a client, and what was it like working with her?
Sue is, by far, probably one of my favorite clients I've ever worked with. I played basketball in high school, and I personally love and will always be a basketball fan. Sue is a visionary, and I was honored to be a part of her final chapter in the W. It's crazy when you're a part of these sweeping historical moments and don't even realize it.
It was so refreshing to work with someone that was very open to trying things. We spend so much time, as stylists, encouraging people to think outside the box, to do something different than they're used to doing. This world is not only about getting people dressed and making them look great, but we're having to lean into people's insecurities and being conscious of the 70 other people in the room that have an agenda, whether it's an agent or a publicist. But Sue was just so genuine. She and I had a long conversation, before I even sent her a piece of clothing, about the things that she liked and didn't like. I knew right off the bat that she wanted to lean into that androgyny she was interested in.
What was that conversation like?
Sue wanted to lean into the masculine, and a more menswear-driven style. I think in the past, she's been kind of just playing with things that she likes, but not really knowing. But I loved being able to really lean into the things that she loved, whether it was color, print or tailoring and using menswear brands and putting it on a woman. I thought that was so interesting because it wasn't necessarily whether this was feminine or masculine. It was like, "This is just cool and this is what she's into!" I also am a huge accessories person; you will probably see me in sweatpants and a T-shirt, but I'll have on a Mr. T level of jewelry. I think she really leaned into that, whether it was through her eyewear or her layered necklaces. Maybe you don't necessarily see it right away, but it was an armor that she put on before she even put her clothes on.
I think we were both learning together what worked best. So often, people think hiring a stylist means an instant perfect look, but the beauty of that collaboration is the process. Also, unfortunately, I think people make the assumption that as queer women, we are supposed to assign some sort of gender to the way we dress. Just like the most stylish people don't concern themselves with the label or the size on the tag, we don't concern ourselves with the intended gender of the garment. If it's cool, we wear it! Sue mastered that beautifully. As a business person and as an athlete, she is so inspiring.
Tell me about your foray into menswear, specifically. What was the catalyst for that, and what do you love about it? What do you think distinguishes it from other styles?
It's interesting. When I first started out and I was interning and assisting, I was told that menswear is not my strong suit. I was always given either the wife or the female talent to work on most projects. I realized that even in my own personal style, I gravitated towards menswear. I always loved the classic suit. I always loved the tailoring aspect of making the outfit feel finished. I'm very much inspired by what my parents did, but also old movies: seeing how our community always shows up, the women and the men going to church or all the James Van Der Zee photos of the guys from the Harlem Renaissance. I always found myself looking at the tie bars, the color, the way the color was structured, the tailoring of the suits, and how those styles have sort of become cyclical. You can go back to a certain time where the baggy suit was in, or you go back to a certain time where it was a little bit more fitted. I like to draw from those sort of past times to see what we're doing now. Because sports is such a big part of my history, I was always like, "How can I make a pair of sweatpants look cool? How can I make something that's athletic or athleisure feel a little bit more elevated?" For my own personal style, I always found that menswear suited me more in the things that I like — and I guess that kind of translated into the clients that I worked with. Even now, some of the guys are like, "Oh, can you help me with my wife?"
How would you describe your personal style? What are the brands or labels that you typically gravitate toward?
I'm a tomboy. I definitely lean into menswear. I've been making a lot of things for myself now. I found a lot of pants that I love, and I've basically gone to all the fabric stores and recreated them in all the fabrics possible. I'm good for a wide-legged trouser, a T-shirt and a pair of sneakers. As a plus-size woman, I really haven't had a ton of options in the past. I think fast fashion has sort of leaned into the size inclusivity faster than luxury brands, so I'm good on that Asos order for sure. But I also love brands like Loewe, Marnie and Balenciaga that have made things that are so oversized that for their consumer, they're supposed to look like they're swimming in it, but it's something that actually fits me. Some of those brands — I don't know if it's intentional; this oversized is obviously something that's on brand right now — but I don't know if they realize they're attracting a few plus-size clients because those are the fits that work for them.
I saw on your Instagram that you've also sported a top hat here and there.
Yeah, so that was from Kevin Love's wedding. He married his longtime girlfriend Kate Bock. They got married in New York this summer and they had a very Great Gatsby-themed celebration. I dressed Kevin for the wedding; my partner, who's an interior designer, and I have worked for Kevin for a long time. So, that was in an effort to go a little overboard in the Gatsby theme. We wore top hats and I wore a proper tuxedo.
What was your impetus for entering the fashion industry? Was there a particular designer, stylist or a family matriarch that kind of instilled this love for fashion?
I think it's a mix of things. My mom was an international flight attendant for almost 40 years, and my dad has always been into his suiting and tailoring. Watching them, as a young kid, get dressed for work, go out on a date, go to a meeting or whatever it is influenced me. As a child, you don't realize it's being indoctrinated into you, but showing up as your best self and paying attention to those details has always been something that I think my parents have taught me, whether consciously or not. I never came into this industry thinking, "I'm a plus size girl in this industry." That's a new awakening for me, realizing that I don't look like the rest of the industry. When I started, I just loved fashion so much. I moved to New York with the intention of getting my master's in art history, and I fell in love with the fashion world, not even knowing what styling or costume design was. I originally worked for Tracy Reese when I moved; I think being able to see a Black woman have her own business and see the mechanics behind putting a fashion show together or selling wholesale was very inspiring to me.
Has being a plus-size, queer female stylist particularly influenced your trajectory? If so, how?
Initially, it did not even occur to me how my experience as a plus-size woman in the fashion community would be different from my thinner counterparts. What the fashion world thinks of plus-size people is quite clear, by the options — or lack thereof — available to us and the representation of diverse bodies and sizes in retail spaces. Sometimes, I think the two plus-size women in an ad campaign or walking the runway are annoyingly similar to the one token Black girl. Is it some sort of faux allyship? In fact, it wasn't until recently that I realized that my size was not something that would prevent me from being stylish and that I would no longer be the shrinking violet.
I sort of always made myself shrink, and I didn't realize I was doing that until recently. I was like, 'You know, it's really important for me to have the guys that don't have the access to the designer gifting and to the sample sizes to make sure that they look just as cool," like Anthony Anderson, Winston Duke, even Chris Sullivan from "This Is Us." That was so important to me. On a personal note, I've figured that I don't want to shrink anymore. I want to shine in that role, step in and say, "Yes, I'm a plus-size woman, but I still know a lot about fashion. I still can school you on menswear." Most importantly, I could help other "big and tall" men and tall women find their style voice.
How did you get connected to Winston Duke earlier this year, ahead of "Black Panther: Wakanda Forever?" Did you have to pivot your process in dressing an actor as opposed to an athlete?
Absolutely. A lot of it has to do with budget. The way that you dress an entertainer is different from the way you dress an athlete; for an athlete, I'm curating an entire wardrobe. I'm putting things in their closet and being really conscious about what they're wearing off the court, even if it's to go to dinner or to go to a meeting. It's really about creating an image that lasts year-round, 24/7. For an entertainer, a lot of times, at least the way that it's set up, it's like you're curating an image for a specific moment — and hopefully, that transcends past that moment. We can tell a story through an entire press junket, or we can tell a story through an entire awards season.
Designers are still not understanding size, so I'm just really learning to be creative in a space where I couldn't necessarily spend thousands of dollars to make something. But I'm really fighting and advocating for the client to these brands and also just saying, "Hey, it's really important to me that he looks great, she feels great and that we're telling the story that we want to tell about who they are through image." I've had to really think about ways in which I speak to brands about the importance of having sizes that are available, having the showrooms not only have what is "sample size," but having a range. I do think that Winston's team reached out to my agency because they have been seeing I've been working with some of "larger guys" in the industry, and I think that's really cool. I hope that there's a space where I can become the go-to person who can say, "Yes, come to me, for the guys that are not sample size. And we're gonna figure this out."
Popular in the Community