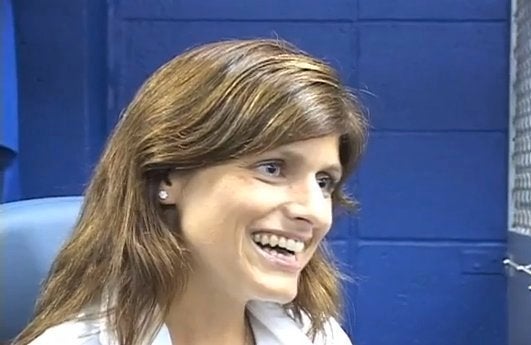 Current gig: All eyes are on Sue Falsone, who joined the Dodgers as a physical therapist in 2008 and attracted media attention for being the first female to hold the title in Major League Baseball history.
Now she has been named Head Athletic Trainer for the Dodgers, and it's a whole new ballgame. Falsone is the only female head athletic trainer in all of major professional sports. End of story. The Huffington Post had a chance to speak to her and learn a little bit about her relationship with the Dodgers, what feels like home in LA and why Andre Ethier loves her so much.
Neighborhood: I haven't figured that out yet. I lived in Pasadena when I was with the team from 2008-2010 and was also in Santa Monica for several years. I am looking at West Hollywood as a place new for me to be this year.
LA transplant or native Angeleno? LA transplant. Buffalo, NY native.
You are officially the first female head athletic trainer in the history of professional sports. That means NFL, NBA, NHL and MLB. Are there any disadvantages, big or small, to being a female around all the male athletes every day? Not having my own personal bathroom! I usually have to find a family room or a security area. In older ballparks, like Wrigley, I have to leave the clubhouse and go into the concourse and stand in line with the fans to use the restroom.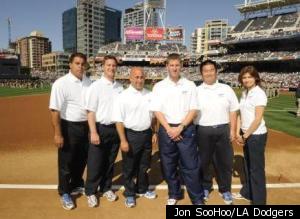 The Dodgers' Training Staff on Opening Day 2009
What is the most surprising part of your job? I think people would be surprised to know the amount of education it takes to become a physical therapist and an athletic trainer. The requirements have changed over the years, but it is now about seven years of schooling (including PT school) and thousands of hours of continuing education throughout an individual's career.
Athletic training and physical therapy are both unbelievable independent, individual careers and synergistic careers at the same time. To be great at both takes a lifetime of dedication and passion. I am constantly studying and reading, trying to become a better clinician so I can better help the athletes I work with. There is no "top" to this profession. It is a constant attempt to better yourself as a person and professional.
If not with the Dodgers, where might one find you? Relaxing at the beach, shopping the boutiques, or in a wine bar reading.
Who is the smelliest Dodger? They are very respectful and usually shower before they come in for treatment.
Which Dodger gives the best hugs? They all do! Any time you can get a hug from one of your teammates, it is a good hug.
What is one thing you try to do every single day? Work out in some way. Whether it's a jog, walk, yoga, or strength training, I try to be active every day. Even incorporating some foam roll or regeneration into my day is helpful. The days are long and there is obviously a lot of traveling, so simple things to keep my mind and body fresh go a long way.
What's your go-to pregame meal? Post-game LA restaurant? Favorite pre-game meal depends on the day. I try to get in a ton of fruits and veggies to snack on and my go-to is peanut butter and banana on whole wheat toast if I am in a rush prior to the game. My favorite LA restaurant is La Grande Orange. The one in Pasadena makes me feel like I am home.
Freeways or side streets to Dodger Stadium? Freeways, but I need to learn the side streets!
You have been with the Dodgers since 2007, but now given your new promotion and all... has there been any hazing? Not yet. The first year I was with them I had to dress up for Rookie Dress Up Night. The guys dressed me like a cat. It was great to have me dress as something that was not too embarrassing.
What is your healing mantra or philosophy? Find not only the source of pain, but also the cause of pain.
Best home remedy? Greens, probiotics, glutamine, whey protein shake every day.
Do you have a song that reminds you of LA? "Don't Stop Believing" by Journey.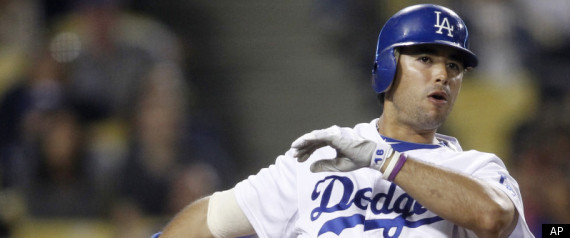 We've read that Andre Ethier trusts you so much that he didn't want to start his knee rehab until you were back in the country. How do you bond with the players? I listen to them. I really try to listen to what they are saying, ask a lot of questions about what they are feeling, spend the time evaluating them, then give them honest answers about what we are going to do about it.
Trust is a huge factor when you are a health care professional of any type. It's about being honest, being open, and respecting them and where they are at mentally, physically and emotionally. I try to do that with every athlete I work with.
Favorite LA movie? That is so hard! There are so many great movies that are based in LA or about LA. If I have to pick one, I guess I'll go for a classic... "Pulp Fiction."
What is the most magical part of baseball? Opening Day. It is such a tradition in baseball and it is humbling to be on the field during the National Anthem, with the flag in the outfield, and the planes flying overhead. It is hard to describe the excitement, the honor, and the anticipation I have felt in the past and am sure to experience again on Opening Day at Dodger Stadium next season -- April 10, 2012!
What's your take on LA fans? Or Dodger fans specifically? They are very loyal. LA fans have a lot of energy and passion. They have always treated me like part of the team.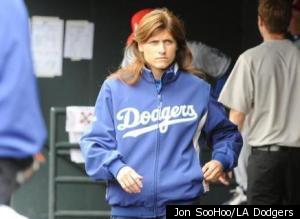 Sue Falsone in the dugout during a game in 2008
Stan Conte of the Dodgers has said, "Injuries in baseball are going up, not down." Do you agree? Completely. The numbers don't lie. If you look at the number of DL days and injuries that MLB has experienced over the last decade, the injuries are definitely trending upward. There is no denying it. That is why we are looking at the entire system in an innovative, holistic way to reduce and manage the injuries we deal with.
What is the craziest thing you've seen in LA, on or off the field? I think it would be when we played the Boston Red Sox at the LA Coliseum in the Spring of 2008. To have over 100,000 fans at a baseball game was just amazing.
Why do you love Los Angeles? I love that there is something for everyone. You can relax at the beach, enjoy downtown, experience Hollywood, etc. All of the different towns that make up LA are so different and have such a different vibe, you can always find something, no matter what mood you are in.
Why do you hate Los Angeles? The same reason everyone hates LA... the traffic!
Why LA? The LA Dodgers have a history of being the "first" for a lot of different things. They are an open-minded organization, with their eye set on success. It is a true honor to be part of such a storied ball club.
Calling all HuffPost superfans!
Sign up for membership to become a founding member and help shape HuffPost's next chapter