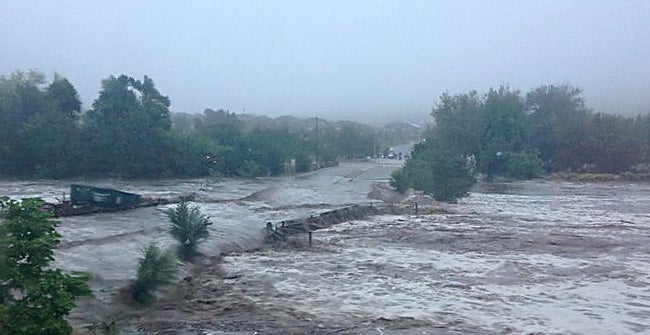 When flood waters rose in Houston and Hurricane Harvey spread eastward to already battered regions of the Gulf coast, the urgent priority was preservation of life, evacuation of those threatened and long-term care of the displaced. The unfolding tragedy that is Harvey has already killed dozens, with more to come. Cost estimates rose from $30 billion before the storm, to $75 billion, as the severity became obvious, to over $100 billion. Harvey will certainly exceed Katrina, the previous record holder, costing up to one percent of U.S. GDP.
As usual, Americans reached deep to lend sympathy, understanding and practical assistance. As always, groups like the Red Cross stepped up, offering Text HARVEY to 90999 to donate $10
But is anyone responsible for Harvey?
When the Deep Horizon well blew out, no one questioned that the parties who killed eleven people and spewed oil across the Gulf of Mexico would be held to account. The only question was how much. BP's costs for taking a $500,000 short cut was in the neighborhood of $62 billion, although they offset many of the fines against taxes.
Damage from storms has routinely been considered an "Act of God." Legal dictionaries define this as, "An event that directly and exclusively results from occurrence of natural causes that could not have been prevented by the exercise of foresight or caution; an inevitable accident."
But is that true of Harvey?
The ultra warm waters of the Gulf and the tendency of storms now to move very slowly—the warming arctic is unable to maintain the jet stream that previously blew such storm away from the hot Gulf that fuels them—clearly contributed to the billions in damage. These, we now know, are results of global warming.
Marin and San Mateo Counties, and the city of Imperial Beach carried the argument further. Using the work of my colleague Richard Heede who showed that just 90 companies are responsible for two thirds of human caused global warming, they decided if you can name the creators of the harm, you ought to be able to sue them.
The governments argued, "37 coal, oil, and gas companies including Chevron, ExxonMobil, BP, Shell, ConocoPhillips, and Peabody Energy, knew about the harm their products posed to the planet and continued to undermine and obfuscate the dangers of climate change."
The suit faces challenges. Peabody, once the world's largest coal company, promptly claimed its recent bankruptcy shields it from such liability. Interestingly, it did not deny that it might have been liable, only that its early recognition of the unviability of its business model now enabled it to duck any ongoing responsibility. Mighty neighborly….
For arcane legal reasons (preemption by the Federal government limits people's ability to sue) previous efforts to hold companies liable have failed. When the Inuit village being eaten by rising sea levels sought federal damages, they were told that only the legislative and executive branches could deliver relief.
But what if Congress and the Child-in-Chief are bought and paid for advocates for the fossil industry? Maybe suing is the only way to bring accountability to our system. Yes, apportioning blame will be tricky. And yes, every one of us is to blame every time we fire up a car or board an airplane. But we'll already be paying the costs through our tax dollars. Isn't it time that those who have made billions keeping us all addicted to oil pay their share?
Framing their case to mimic the successful public nuisance suits that forced tobacco companies to settle and pay damages for the public costs imposed on taxpayers to treat smokers, and filing in state court, may enable California plaintiffs to overcome the hurdles that derail federal law suits. Still, they must prove that any particular defendant is responsible for their specific harm, especially when the damage they allege is only anticipated.
"In all of U.S. history," he stated, "There's never been a storm like Hurricane Harvey…. Houston, as it was before Harvey, will never be the same again."
Futurist Alex Steffen calls our tendency to deny threats like climate change "predatory delay"—it adds inevitable risk to the system. Legal liability is supposed to impose a measure of responsibility on parties with the capacity do damage. But if no one can be held liable, what will stop the catastrophe?
Holthaus warns, "It's up to the rest of us to identify this behavior and make it morally repugnant….The symbolism of the worst flooding disaster in U.S. history hitting the sprawled-out capital city of America's oil industry is likely not lost on many. Institutionalized climate denial in our political system and climate denial by inaction by the rest of us have real consequences. They look like Houston."
Popular in the Community