Anyone who knows me on a semi-personal level knows that one of my biggest passions in this life is singing. From the colorful clef note tattoo that covers half of my left arm to my song-writing, guitar-toting daughter, music has always been a huge part of my life.
If you do a YouTube search you will find several videos posted between myself and my kids of us singing and harmonizing. If you search a little deeper, you may even find some old videos out there of me singing with local bands and the occasional night out of karaoke. Singing was my release long before I figured out I actually had a talent of writing, and to this day it is something that always leaves me smiling. A good majority of my friends are musicians, and several family members... music is just something that is in me. I have put in my time singing covers and tributes. I have harmonized with original musicians, I have been surrounded by musicians my entire adult life and never once have I heard of a story like the one I am about to share.
Collette McLafferty. It's a name you may or may not remember. To some this story may seem to be just "old news" as her situation was originally reported in 2014. Ms. McLafferty is the woman who was sued for being "too old" and "too unattractive" to sing in a P!NK tribute band in the New York area. Yes, you read that correctly. She was sued in a 112-page complaint because she sang one time, one night, earning only $75 in a P!NK tribute band. This lawsuit is not a copyright issue in the way a normal person would assume. Instead, Ms. McLafferty is being sued by a man she has never met who claims he came up with the idea of the tribute band first.
Ten million dollars is the claimed total amount in the lawsuit alleging everything from fraud to copyright issues, deceptive trade practices, the list goes on and on in the 112 pages, 37 cause of actions, rambling complaint. Yes, I personally took the time to read all 112 pages and I am in complete and utter shock at the misuse of the justice system by the plaintiff who happens to also be an attorney. He, of course, gets the benefit of only being out his own time which clearly this lawsuit is something he is passionate about.
However, what about Ms. McLafferty? She has already spent an estimated $12,000 in legal fees and she hasn't even been in front of a judge yet. All for singing one night in a tribute band.
The part of her story that hasn't been shared yet is two-pronged. First being, she has started a crowdfunding campaign to help her raise the remaining approximately $3000 she needs to complete the case. You can view her video plea for help and her campaign on Funded Justice here.
Ms. McLafferty has made great advances. She has also become an advocate, speaker and educator whose mission is to help with law reform. With the help of the Lawsuit Reform Alliance of New York, a bill named "Collette's Law" would help to define "frivolous lawsuit" as well as impose penalties for those who engage in such lawsuits of frivolous nature.
Ms. McLafferty is one to watch. Her strength though this entire situation is admirable. In one of her tweets she notes that if you google the terms "bad, ugly singer" she takes up a third of the front page.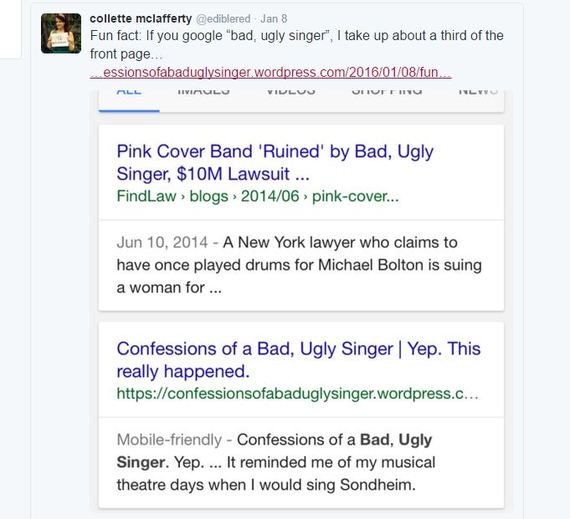 I sang Aerosmith's "Cryin'" at a radio-sponsored singing competition when I was 262lbs (keep in mind that I am 5'1"). If someone were to say to me, "You are too fat to sing that song," I don't know if I would be able to recover. If someone were to actually sue me in legal documents stating in black and white that same issue... I honestly cannot even think about what I would do.
I know only a few other women who would be able to look at those headlines and not break down. She has started her own blog titled Confessions of A Bad Ugly Singer where she talks about the case and the importance of kindness, as well as the importance of speaking your own truth. I highly recommend reading her work.
Sued based on the way she looks and dragged through a two-year court battle over singing one night in a tribute band. Let me emphasize one point before I wrap up. P!NK is not the person suing Ms. McLafferty. A third party who claims the "idea" of a P!NK tribute band is suing her because he claims she "stole" the idea among other things.
Her situation has caused me to look back and really think about how low people will go to get what they want and how there are no laws preventing such. I hope she can inspire the change that needs to happen.
Ms. Mclafferty in closing, I will speak directly to you. Change the damn world because clearly change needs to happen. I look forward to seeing "Collette's Law" being officially passed and put into place not only in New York but nationwide. Thank you for not giving up on your passion, and thank you for not letting this insane lawsuit stop you. Keep on rockin'!
Calling all HuffPost superfans!
Sign up for membership to become a founding member and help shape HuffPost's next chapter