eIn March, Senior Airman Nicole Dawson called me and pleaded for help.
Dawson had served three years with the Air Force and won multiple commendations for her service as a medic at Scott Air Force Base in Illinois. Her success was cut short when she sought out medical care herself, requesting some counseling following a family tragedy. Soon she was diagnosed with "personality disorder," declared unfit to serve, and discharged from the military.
Since 2006, I have been reporting on these "personality disorder" discharges, which the military is using to terminate the careers of service members seriously wounded in Iraq and Afghanistan, or those who report being raped during their service, or those like Dawson who simply seek out care from the base's medical facility.
Because personality disorder is a pre-existing condition, the military can deny these service members a lifetime's worth of disability and medical benefits. Since 2001, the Armed Forces has discharged over 31,000 service members with personality disorder, at a savings to the military of over $17.2 billion in disability and medical benefits.
Dawson had read my articles and watched my TED talk about the scandal. She asked me, "Would you tell my story?" Instead, I connected her with Disposable Warriors, a nonprofit organization that assists soldiers discharged with personality disorder. And I offered her this: the opportunity to tell her own story, here, in HuffPost.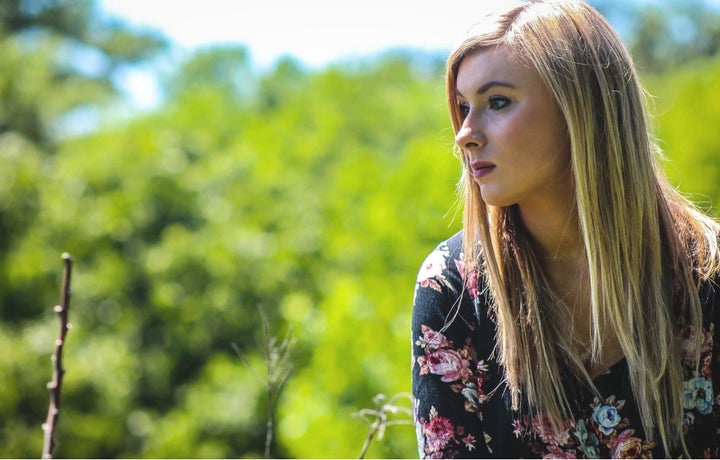 Senior Airman Nicole Dawson:
I joined the military for two reasons. First, I was looking for some stability in my life. My father was an abusive drug addict who left home in 2011, leaving my mom with financial difficulties and four children to raise. Soon after, I left home too. I've been on my own, self-sustaining, since I was 14 years old. To me, the Air Force meant an end to that isolation. It offered structure, security and community.
As a Christian, I also felt it was my duty to give back to the community. For a year I had served on the volunteer fire department in Crescent, Iowa, and had worked as a nurse's assistant. Joining the Air Force seemed like an opportunity to do more, a heightened way to serve.
On March 11, 2014, I departed for basic training and then attended tech school at Fort Sam Houston in San Antonio, Texas. I made it my mission to excel, to hone my medical skills. I was determined to become the top of my class and put into action that Air Force motto "Excellence in All We Do." I focused in, devoted hours and hours to my studies, and made the Dean's List.
In 2015 I was sent to Scott Air Force Base in Illinois. I served the Air Force on base, working in the 375th Medical Group at the obstetrics and gynecology clinic, and off-base, volunteering at the local youth center, mentoring students and serving food to low-income children. For my service, I was awarded a certificate of achievement as my squadron's Volunteer of the Quarter. My military career was moving in the right direction.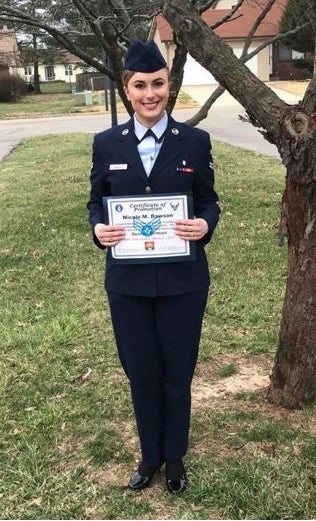 That all changed in March 2016. By that point, my cousin had committed suicide and all four of my grandparents had died, including my maternal grandfather. I was his only granddaughter, and he was the only father figure that I had ever known. Our relationship was beyond special. I remember how, when I was young, he would grasp me in his rugged hands, sit me on his lap, smile, and bounce me on his knees, his beloved "little cowgirl." When I became a young woman, he was reliable and supportive. He taught me to never be afraid to speak up and urged me to make something of my life.
His death was devastating. I needed someone to talk to, but I was terrified of going to the mental health department because of the stigma involved. Classmates and coworkers told me, "If you go to mental health, that will be the end of your career." I hesitated. But eventually I made an appointment with a psychologist in the department. When I shared my professional concerns, she was quick to reassure me: Speaking with a counselor would not affect my military career. So I opened up to her. I spoke about the challenges I've faced, the stress I was under, and the devastating loss of my grandfather. I was thinking of the peace and calm of being with the Lord when I said, "I would rather be in heaven than have to deal with any of these Earthly circumstances going on in my life."
After I said it, I made clear right away that I was not talking about suicide. I had never thought about hurting myself and had no plans to do so whatsoever. I made clear that I was just making a religious statement, reflecting on how peaceful it is to be with God. But the psychologist was unconvinced. Soon reports of my comment had made their way to my commander and other superiors in my unit.
In October I agreed to go on the antidepressant Zoloft. The medication came with a range of awful side effects: headaches, nausea, vomiting, loss of appetite, drowsiness, dramatic mood changes, and vivid nightmares. These were the problems that set the stage for my discharge for personality disorder. The fact that they were all side effects of the medication that the medical staff put me on was never taken into consideration.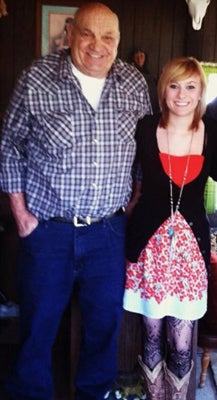 By that time, I knew that my command was working with the mental health unit to get me diagnosed and discharged with personality disorder. I requested multiple times to be seen by another mental health provider, a doctor off base who could provide an unbiased opinion, without pressure from command to diagnose how they wanted. All of my requests were turned down.
I was pleading to anyone who would listen, struggling to find anyone who could possibly help. I wasn't the only one. A co-worker of mine had been raped, and when she reported it, she was reprimanded. Our command was now calling her a liar and demoted her two ranks, from staff sergeant to an E-3.
To get help, I knew I had to turn to resources outside of Scott Air Force Base. That's when I turned to YouTube and found a TED talk about the military's misuse of personality disorder discharges. I contacted the speaker, journalist Joshua Kors, who put me in touch with Sergeant Chuck Luther, who was wounded in combat, then discharged with personality disorder, and Amy Quinn, who was discharged with personality disorder after she reported being sexually assaulted. On the web, I found Luther's nonprofit organization, Disposable Warriors, which assists soldiers wrongfully discharged with personality disorder. I also found the GI Rights Hotline, which provides service members with free, confidential information about U.S. military regulations. And I found Civilian Medical Resources Network (CMRN), a nonprofit medical organization unconnected to the military that offers independent medical evaluations to active-duty service members.
I took a few seconds to breathe. Finding these resources after months of despair, it was like seeing a beacon of hope.
Eventually I received an independent medical evaluation from CMRN. Their conclusion: "Client Dawson provides pretty strong evidence that her [personality disorder] diagnosis could be faulty due to a hasty rush of judgement. It may prove true that her command has done little to assist Client Dawson to properly deal with the deaths of family members and only exacerbated the problem. Therefore, it is strongly recommended that this diagnosis be removed from her record, as she is able to serve out the remainder of her enlistment."
Sadly, to my command, CMRN's medical evaluation had no value at all. On March 24 the Air Force discharged me under code JFX: Discharge due to Personality Disorder.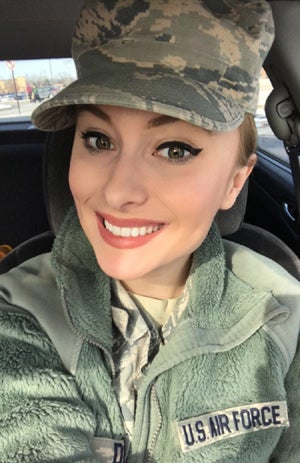 Today I work at a local elementary school. I have also started a nonprofit photography organization that provides free portraits to military, law enforcement, paramedics and fire fighters. I love giving back to our heroes in this way. But it hurts to think that at 25, my military service career is already over. I'm not receiving any medical benefits. And when I apply for a civilian job, I feel like I have to hide the stated reason for my discharge, since I don't want employers to think that I actually have a mental health problem.
I wanted to share my story because I want readers to know what's happening in our military medical system. Military doctors are under a Hippocratic oath to protect and serve patients. But they are also under a military oath to obey their command. That's where the conflict of interest comes in, when the command is telling doctors and nurses to get rid of service members who are not wanted. These medical providers are caught in a no-win situation: Disregard their Hippocratic oath and obey their command, or obey their oath, do what's right for their patients, and risk losing their careers.
As a nation, we need to step up and create a broader awareness of the way personality disorder discharges are being used to dispose of unwanted service members. These service members' voices need to be heard, and these wrongful discharges need to stop.
Popular in the Community