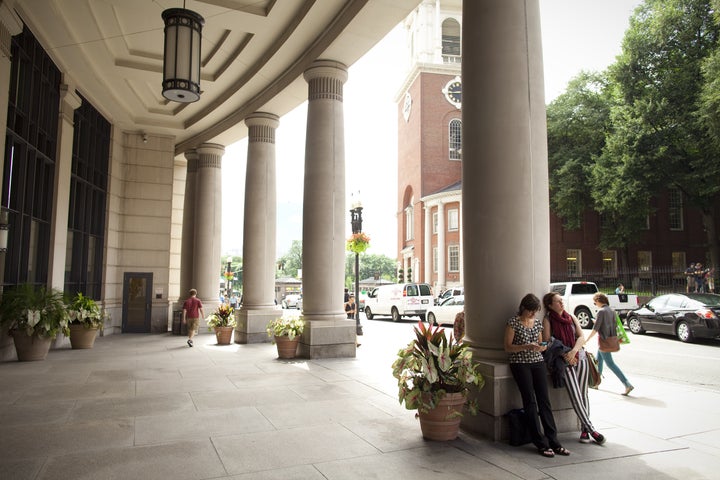 Over the last two years, Evgenia Cherkasova, an associate professor of philosophy at Boston's Suffolk University, has taught the university's first course focused entirely on exploring the meaning of life.
Funded by a grant from the National Endowment for the Humanities as part of a $3.2 million effort to get colleges to explore "enduring questions," the class has become one of the most popular ones that Cherkasova has led over her decade-long career at the university.
Through readings and discussions on philosophy, religion, art, fiction, autobiography and psychology, the first-year students in the class -- mostly 18 and 19-year-olds -- are asked to "explore different paths to meaning, learn about crises of meaning and their causes, and clarify our own perspective on what it means to live a meaningful, fulfilling life," according to the syllabus.
That includes diving into stoicism via the writings of Epictetus and Marcus Aurelius, existentialism through Jean-Paul Sartre and the Tao Te Ching through Lao Tzu, among other big-name thinkers throughout history.
Cherkasova spoke with HuffPost about the unique course and the importance of asking the big questions.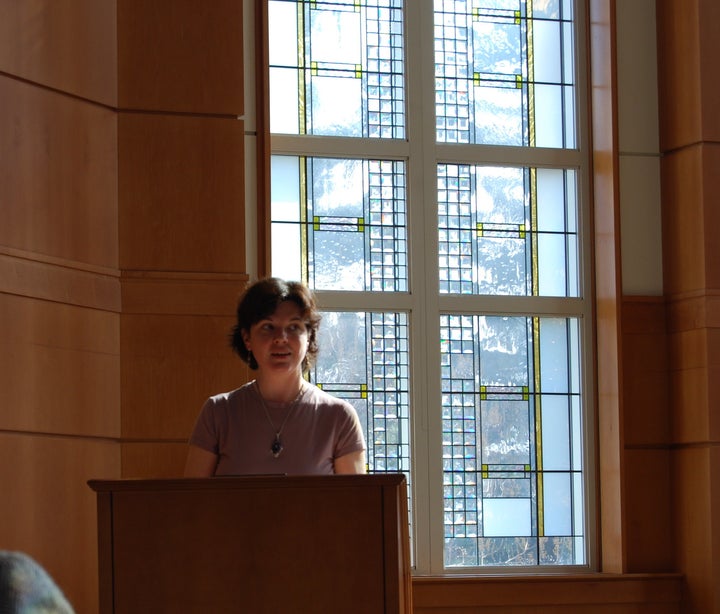 Usually, if at all, courses that tackle these philosophical questions of life and dive into competing philosophies of being come later in college. Why should freshmen study this?
I first offered the class as an upper-level course for mostly seniors. But then we reshaped it as a freshmen seminar. Some people told me, "You are going to introduce them to all kinds of things they may not even understand because they are so young. You are going to talk to them about these deep issues and many students may have never even heard about philosophy in this way, as it's not a discipline in most U.S. high schools." But it has turned out to be incredibly rewarding.
"College is not just preparation for life; college is part of your life. It is four years of their young life right there."
When students go to college, they have some specific goals but they may have very vague ideas about what life they want to lead. They also have fears and anxieties and insecurities and all kinds of issues come up in their social life, with friends and how they are being perceived by friends, their peers, professors. Their professional training and work in whatever major they choose often requires strategies that have to do with how you handle all these fears and insecurities.
They don't really realize that, though, oftentimes. They think, "I just have to get this assignment out of the way, I have to finish this course and I have to get this grade." The idea here, in this class and for me, college is not just preparation for life, college is part of your life. It is four years of their young life right there. Social issues, their personal issues, their mental issues. So when they take a course like this and they think of different ways of living, very often it's eye-opening.
How do they handle that kind of self-reflection when contrasted with the pressure to pick a major and decide on a career?
We have a unit on Chinese philosophy and we read Taoist classics. Students often are just kind of puzzled, they say, "Well, this book says I am supposed to let go, I am supposed to not try so much and focus on empty space as opposed to actually collecting things and doing more. This book asks me to do less, how could that be?"
So we get to talk about the importance of patience, the mental qualities that allow you to accomplish a lot. Last night we talked about how in a Taoist master accomplishes without even trying, and they said, "Oh we are students, we are supposed to try and strive and climb up. Otherwise you are never going to get it, you are supposed to work hard and be productive."
We got to this really interesting conversation about what it means to be productive. Why do you want to be productive? What are you doing when you are so busy? Is it that important? What does it mean to achieve something without effort? We have to redefine achievement. In some cases, achievement could be your mental equilibrium, your life balance -- not just another line on your CV.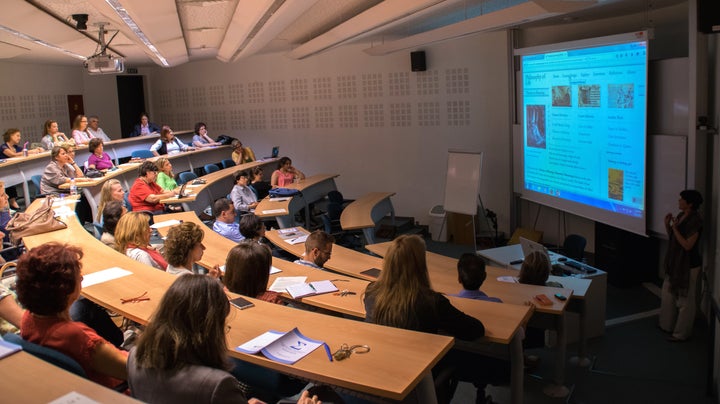 It's not my job to say, "this is Aristotle, learn from him how you are supposed to be virtuous, generous." No, we read Aristotle and we try to appreciate all this great insight that we get from him about what it means to be a truly excelled human being. How great it is when you can actually accomplish something and be good at what you do. Then you read another classic like Tao Te Ching. You focus on other aspects of reality that are not so shiny, so to speak, or in your face, but they are just as important.
How's the coursework differ from the typical class?
I decided to create assignments that were self-reflective. Not just reading books and writing essays but to do something more engaged to make students think about how a book or philosophy speaks to them, what's interesting about it, what's strange about it.
So, in one assignment, students create their "meaning of life profile." How do they define happiness? What does a fulfilling life look like to them? Are people responsible for where they end up in life? We've created a website featuring the best student work from over the two years, including "crisis of meaning" interviews conducted by students. We've also created a computer game about philosophy called Vixi: A Master's Way ["vixi" is Latin for "I have lived"] to allow the public to explore these questions on their own.
"The questions that we face in this class are the ones that I face in some form, my students face in another form. We are certainly in different stages of our lives, but the explorations are timeless."
Do you end up learning from your students?
Absolutely. Always. The questions that we face in this class are the ones that I face in some form, my students face in another form. We are certainly in different stages of our lives, but the explorations are timeless.
This is what drew me into philosophy and literature to begin with: the way it speaks to human experience in general. I teach existentialism regularly -- it is about existence and living your life. The courses I myself took as a graduate student, the ones that made the most important impact on me, were the ones where I could have this meaningful internal conversation with the author about things that mattered the most.
This interview has been edited for clarity and length.
Related
Popular in the Community