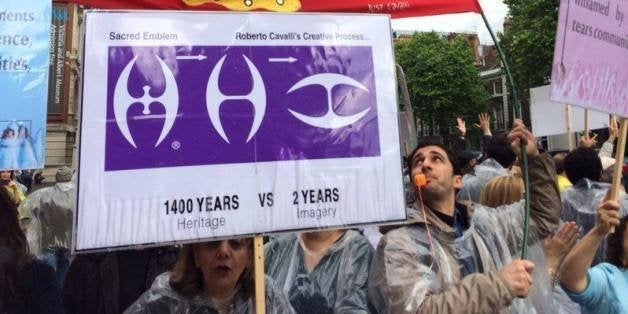 (RNS) A group devoted to the mystical Sufi tradition of Islam is taking to the streets and social media as it fights for the removal of the faith's religious symbol on designer Roberto Cavalli's "Just Cavalli" clothing and fragrance line.
Cavalli is an Italian fashion designer known for exotic prints and a sandblasted look for jeans. He created the "Just Cavalli" line in 2013. The line includes clothes, fragrances and accessories.
The "Just Cavalli" logo is said to be a snakebite, but members of the M.T.O. Shahmaghsoudi centers say it's actually their religious emblem.
M.T.O. Shahmaghsoudi is a school of Sufism, the mystical branch of Islam, best known for its ecstatic use of chanting, singing, dancing and whirling. With more than 500,000 followers, it has centers in Dallas and Los Angeles as well as Europe and Australia.
The symbol has been trademarked for the past 27 years but has been used by Sufis for 150 years. In the symbol, the words "Allah" and "Ali" are spelled out, making it sacred to Sufi students.
In Cavalli's symbol, the image is rotated 90 degrees and is superimposed with a snakeskin pattern. Students say the "Just Cavalli" symbol is associated with lust and sex and is causing confusion among family and friends.
"I don't want it to be associated with 'Oh, is that the Just Cavalli logo? And it's a snakebite and that means seduction and that means lust.' Whereas for 150 years it's been protected and it's sacred," said Saloumeh Bozorgzadeh, an M.T.O. follower in Chicago.
Sufi followers around the world are protesting, Bozorgzadeh said, with at least one protest every week, including a Wednesday (July 16) rally in Alicante, Spain, and one scheduled for Canada on July 26.
They've reached out to Cavalli and his team and have received letters back informing them that the logos don't look anything alike.
The company declined to comment on this issue to a reporter.
They also started a social media campaign with the slogan #TakeOffJustLogo. The campaign is on multiple platforms, including Facebook, Twitter, Instagram, YouTube and a blog.
The blog includes a petition with over 3,300 signatures, and organizers hope to get about 5,000 altogether.
"He is stealing a logo that means everything to me!" said Niyaz Sharifizad.
Nasim Bahadorani, another M.T.O. follower helping with the campaign, said non-Sufis are getting into the campaign too, understanding that Cavalli could change the meaning to any religious symbol.
"Who knows who's next on his list?" Bahadorani said. "They believe in this mission because they are thinking 'Am I next?'"
This is not the first time Cavalli has used a religious symbol on his products. In 2004, he put Hindu gods on a line of underwear and swimsuits. Stores saw a backlash and began removing the line from their floors. Cavalli later apologized and stopped producing the items.
Bozorgzadeh said seeing Cavalli's response to the complaints in 2004 gives her hope for the current campaign.
"It does matter what the public thinks and it does matter just because we are perhaps a smaller group of students, it does matter what he's doing," Bozorgzadeh said. "It's not really about us, it's about what is happening to this logo, what is happening on a larger scale."
Support HuffPost
The Stakes Have Never Been Higher
Related
Before You Go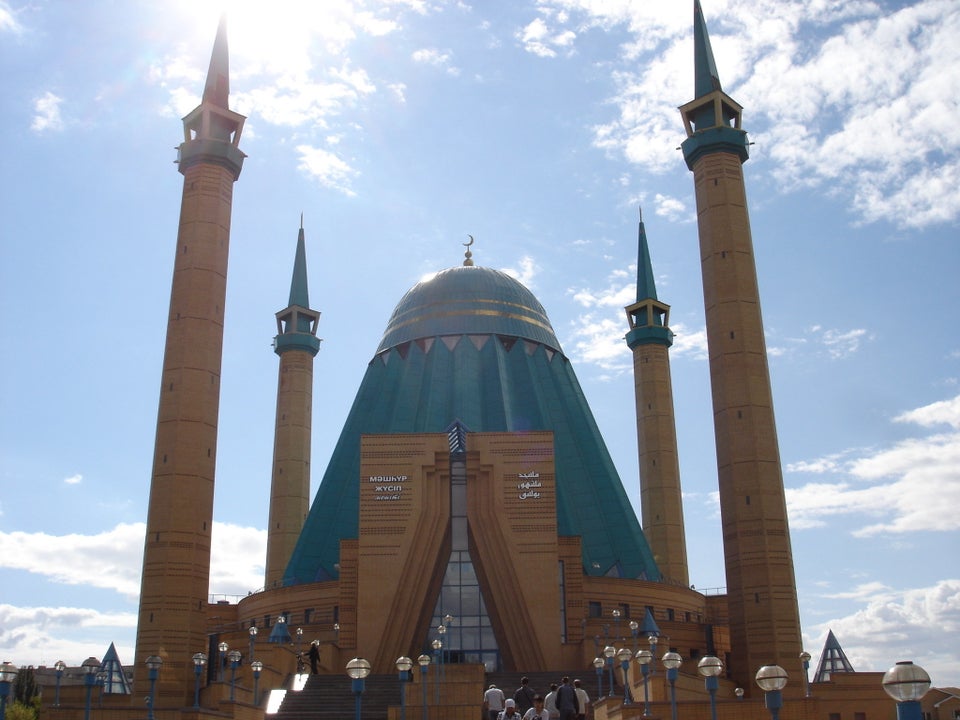 Amazing Mosques
Popular in the Community