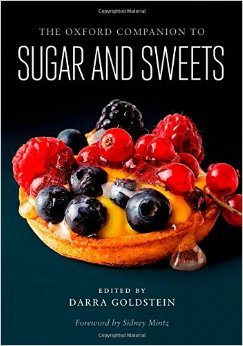 In my formative years as a budding chef and food writer, I did an unusual thing and read the mammoth Larousse Gastronomique, all 1,168 pages with its thousands of entries, cover to cover - or shall I say, from abaisse (a term used in French cookery for a sheet of rolled-out pastry) to zuppa inglese (a Neapolitan pudding). The first English edition appeared in 1971, when I was 17 and already a bartender mixing Negronis in Queens, New York. (For those who might remember, it was the Olde London Fishery on Union Turnpike.)
This memory was triggered when a voluminous book, The Oxford Companion to Sugar and Sweets (Oxford University Press, 2015) about the size of a three-pound box of Godiva chocolates, appeared on my desk last week. With more than 850 pages and 600 articles about the arresting history of sugar and sweets, I have decided to repeat my own history and take this encyclopedic work to bed with a cup of tea or a pony of alkermes. Poignantly, this book, too, ends with an entry about zuppa inglese (written by author Clifford A. Wright) with an interesting debate over the dessert's true origin (is it from Naples as friend and food writer Arthur Schwartz insists, or Lazio, or Tuscany, as others suggest?)
The book begins, not with abaisse but with another nod to the French, a la mode - followed by a three-page entry about sugar addiction, contributed by Ashley Gearhardt. Such is the width and breadth of this alluring new tome. Under the brilliant baton of food writer and historian Darra Goldstein, 265 experts in the culinary world have weighed in with well-researched commentaries about an irresistible subject. A la mode, by the way, translates to "in the current fashion." According to contributor Carolin Young, "In France a la mode refers to a traditional recipe for braised beef, which at one time was considered a new fashion," whereas in America the phrase refers to a scoop of vanilla ice cream served with a slice of pie.
Evocatively, the first line of the book's foreword begins: "I can remember easily the first time I stood deep in a field of sugarcane in full bloom, a field already marked for harvesting. It was spring of 1948, and I had just begun fieldwork in Puerto Rico." Written by Sidney Mintz (who is 92 and considered "the godfather of food studies"), this triggered another profound memory. The year was 1962 and I was standing deep in a field of sugarcane when I was eight years old. The location was Belle Glade, Florida, where my cousins ran a plantation and owned the local movie theater. I will never forget the sickeningly sweet smell of extracted molasses wafting through the wet heat of the day from the factory nearby. It made me woozy. Which, of course, is what sugar does, and accounts for, in part, why we love it and sometimes loathe it.
The history of sugar is not all sweet. There is much suffering in the quest for this cherished foodstuff. Our hunger for sugar fed the institution of slavery, led to ugly legacies of racism, to the invasion of weaker nations by stronger ones to manipulate sugar prices, and to the exploitation of children and minorities who worked the fields. Bravo to the book's editors for not sugar-coating the more painful aspects of its past.
Whereas this is an encyclopedia, meant to be dipped in and out of at leisure, it is unlike any other I've seen. There are hundreds of illustrations including mouthwatering paintings by Wayne Thiebaud (a personal favorite), Andy Warhol, and Will Cotton, a handful of historical recipes, and more than 600 erudite essays by pastry chefs, neuroscientists, food historians, and chemists, about what has become a grand metaphor for human pleasure. Equally satisfying are the book's comprehensive appendices - anthologies of films, songs, outstanding pastry shops, and museums around the world, dedicated to our universal, and historical, predilection for sugar and sweets, first evidenced by Eve and an apple.
I'm not sure if I'm more excited learning about wasanbon (the most famous sugar used in traditional Japanese confectionery), or sitophilia (which describes sexual arousal involving food), but lurking between the candy-coated endpapers of The Oxford Companion to Sugar and Sweets, is something gratifying for everyone.
Rozanne Gold is a four-time James Beard award-winning chef and author of Eat Fresh Food: Awesome Recipes for Teen Chefs, Healthy 1-2-3, and Radically Simple: Brilliant Flavors with Breathtaking Ease.
Related