A dating website that sets up women with sugar daddies has taken down a controversial billboard targeting undocumented immigrants.
It featured a photo of a somber-looking woman with the message: "UNDOCUMENTED IMMIGRANT? Before You Get Deported, Get a SUGAR DADDY."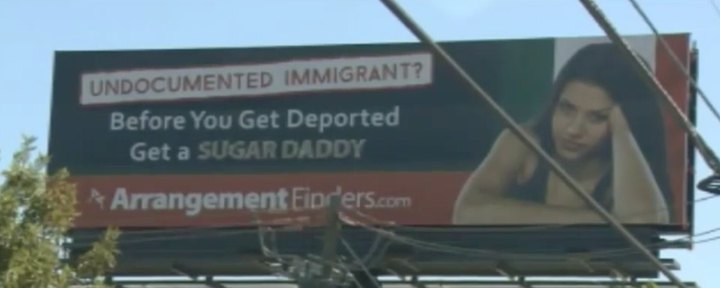 Ruby Life, the Toronto-based company that runs ArrangementFinders.com, blamed the tasteless billboard on a third-party marketing firm.
"The billboard was created independently by a third-party affiliate marketer," company spokeswoman Debra Quinn told Fusion. "It's completely unacceptable and does not reflect the views or vision of our company."
Previously, the website seemed to be begging for the controversy. 
About one-third of the women signing up for the site are Hispanic, he said, and the billboard was an attempt to reach that demographic.
Immigration specialist Thomas Esparza Jr. sees it differently. He said the billboard was encouraging women to break the law.
"On a billboard they're encouraging people to commit a federal felony. It's rare that you see a billboard that says, 'Commit a felony,'" he told the station.
"They could've just said, 'Commit marriage fraud, call us,'" he added.
Officers with the Austin Police Department's Human Trafficking and Vice Unit also had problems with the billboard, which seems to minimize the challenges facing undocumented immigrants and the lives of immigrants involved with sex work.
"They may not realize what they're getting into, they get on that site, get hooked up with somebody," an undercover sergeant with Austin police told KXAN.com. "They could put them into sex trafficking, they could become verbally and physically abusive towards the ladies and they're going to get into something they can't get out of because that's just not acceptable." 
Quinn, the Ruby Life spokeswoman, said the company is now reviewing its third-party affiliate marketing processes to prevent other billboards like this.
REAL LIFE. REAL NEWS. REAL VOICES.
Help us tell more of the stories that matter from voices that too often remain unheard.
BEFORE YOU GO
PHOTO GALLERY
How Donald Trump Talks About Undocumented Immigrants