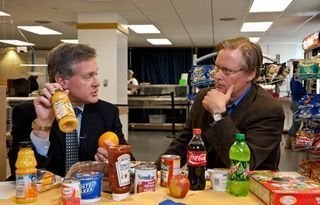 Sugar and its dangers are in the news again, thanks to ABC's popular show, Nightline, which, last week, aired a compelling story spotlighting sugar's role in the obesity crisis.
In this Nightline segment -- which you can watch below -- Donovan calls Dr. Lustig "a man at war with sugar," because he argues that too much fructose and not enough fiber are to blame for our obesity crisis and metabolic syndrome.
"Fructose is the cause of the current epidemic," insists Dr. Lustig, director of UCSF's Weight Assessment for Teen and Child Health (WATCH) Clinic and UCSF Professor of Pediatrics in the Division of Endocrinology.
Nightline correspondent Donovan also includes quotes from the pediatric endocrinologist about how fructose confuses people's brains into thinking they're hungry and how low-fat foods such as SnackWells cookies and fruit-flavored yogurt are filled with sugar. Dr. Lustig even posits the controversial idea that teens should be carded when buying soda.
Understandably, correspondent John Donovan seems to be like millions of Americans, who have a sweet tooth. In fact, the reporter readily admits that strolling with Dr. Lustig at San Francisco's Pier 30 (a hot spot filled with sugary foods such as waffle cones) can be "at times, well, a bit of of a downer. Because," Donovan remarks, "we love sugar, don't we, most of us?"
Donovan is absolutely correct in his assessment. Most Americans -- and people around the world -- are so keen on sugar that they imbibe it to their detriment. Unfortunately, the Nightline reporter did not mention that obesity is only part of the sugar story.
The average American's sugar consumption -- about 170 pounds per year per person -- not only has been linked with obesity, but it has been connected to heart disease, cancer, severe PMS, memory loss, depression, fatigue, headaches, infertility, low libido, polycystic ovary syndrome and more than 100 other ailments.
What's more, regretfully, the Nightline piece did not point out that Dr. Lustig is in good company. His anti-sugar views are shared by many of us concerned health advocates. For instance, esteemed pediatric endocrinologist Dr. David Ludwig -- who was previously interviewed along with me for a "CBS News Sunday Morning" segment, "Is America Too Sweet on Sugar" -- is among those frightened by the massive consumption of sugar, particularly high fructose corn syrup, in this country and around the world.
Others sounding the sugar alarm include:
Now, I invite you to watch the eye-opening Nightline segment below.
I also encourage you to watch Dr. Lustig's YouTube video, in which he argues that the current obesity epidemic is due to the marked increase in people's consumption of fructose over the last 30 years. He also points out that fructose is toxic in large quantities, because it is metabolized in the liver in the same way as alcohol, which drives fat storage and makes the brain think it is hungry.
Finally, I invite you to watch this 3 Minute Ad Age segment, in which I reveal that if you're eating processed foods, it's virtually impossible to take in high fructose corn syrup in moderation, as the Corn Refiners Association ads assert.
Support HuffPost
A No-B.S. Guide To Life
Related
Popular in the Community