 What Is It Anyway? is a series that examines the histories behind peculiar and obscure foods. Today, we're explaining sugar plums.
Clement Clark Moore's "A Visit from St. Nicholas," or, as you probably know the famous, charming poem, "'Twas the Night Before Christmas," paints an idyllic picture of Christmas Eve: new-fallen snow, bowlfuls of jelly, and... sugar plums? You've probably wondered why the children in Moore's poem dream of tart fruits instead of candy canes, cookies or pastries.
So, what are they, anyway?
In the dessert's heyday, "sugar plum" was a term commonly used to describe a comfit. Comfits are small items, such as seeds, nuts and spices, used as a base around which a sugary candy is made. Today, almonds are the most popular bases used for comfits. In the 17th and 18th centuries, sugar plums are often referred to as "large comfits." The Encyclopaedia of Practical Cookery, published in 1890, references French Sugar Plums, or comfits that are started with a piece of cinnamon.
History
Sugar plums are first mentioned in 1608 in Thomas Decker's Lanthorne and Candlelight, but not in the way that you might think. This mention was not referencing a food, but instead the following definition, according to the Oxford English Dictionary (OED): "Something very pleasing or agreeable; esp. when given as a sop or bribe." The candies were first described about a half century later, in 1668. OED has since declared the term "sugar plum" obsolete.
Etymology
Why were candies that involved sugar, seeds and almonds, but no fruit, and certainly no plums, called sugar plums? There are a number of possible explanations. According to Etymonline, "plumb" was first used as a verb in the 14th century. At that time, the word meant "to immerse," and could explain why a candy that involved immersing a base in sugar would have such a name. Also, "plum" was recorded in 1780 as meaning "something desirable."
In popular culture
Aside from Clement Clark Moore's "A Visit from St. Nicholas," you've probably heard of sugar plums from Pyotr Ilyich Tchaikovsky's "The Nutcracker," in which the Sugar Plum Fairy rules the Land of the Sweets while awaiting her prince's return.
Also on HuffPost Taste: Chocolate Gifts For The Holidays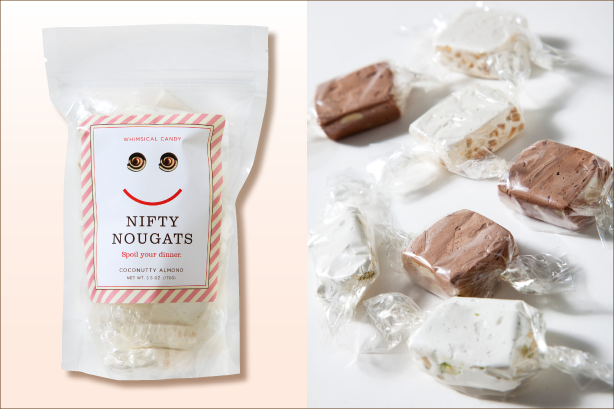 Sweet Gifts