Apparently, just regular old "deer crossing" highway signs weren't getting the message across.
People of the Internet are fawning over a sign in rural Ford County, Illinois, that warns of "suicidal deer" on the highway.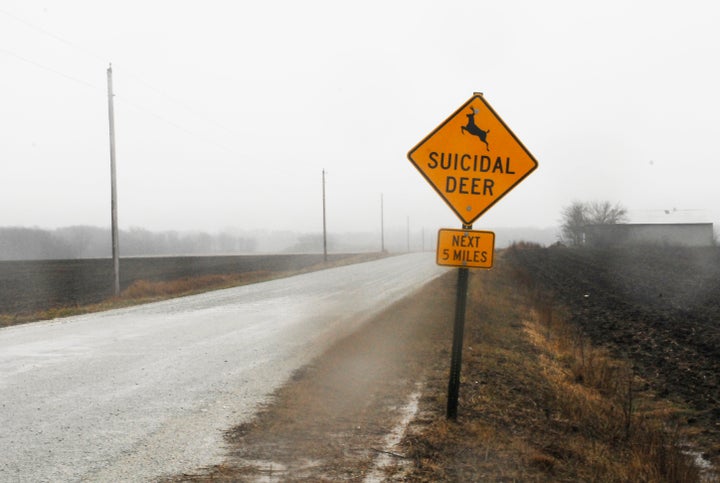 But Ford County officials aren't the first to come up with the idea. Ron Hilligoss, a local highway commissioner, told the Ford County Record that his nephew sent him a photo of a similar sign in Colorado around six months ago.
"He texted it to me, and I thought it was really a good thing because it gets your attention," Hilligoss said. "So we had a Ford County Highway Department meeting and I said, 'Can you get me these signs?'"
The Ford County Highway Department ended up buying four signs, and the first one went up about six weeks ago. They're hoping it makes drivers pay attention, since last year there were 33 vehicle-deer collisions in the county,
Deer collisions aren't just horrible news for the deer -- they're also dangerous for humans. About 150 people die and more than 10,000 are injured from deer-related crashes each year, Al Cambronne, the author of Deerland: America's Hunt for Ecological Balance and the Essence of Wildness, wrote last year for Slate.
However, Cambronne notes that swerving to avoid hitting a deer can be even more dangerous, as doing so can make a driver lose control of the car, roll into a ditch or crash into a tree or oncoming traffic. In other words, stop if you can, but don't swerve and risk your life even further.
And always wear your seat belt.
"In most cases the fatal crashes [with animals] could have been prevented had the motorists taken the basic precaution of putting on a seat belt," Insurance Institute for Highway Safety spokesman Russ Rader told NPR.
Calling all HuffPost superfans!
Sign up for membership to become a founding member and help shape HuffPost's next chapter