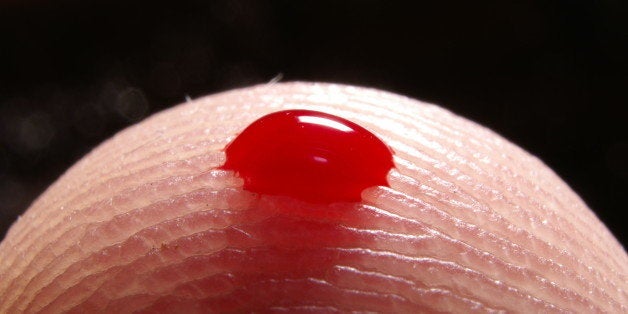 A new study could be the key to creating a blood test that can screen people for suicide risk. Such a test, experts say, could improve treatment in hospitals, clinics or even help military leaders assess which active-duty members and veterans are most at risk of suicide.
The military is battling a suicide problem; at least 22 veterans commit suicide every day, according to a 2014 study conducted by the Department of Veteran Affairs, while male vets under 30 are three times more likely to commit suicide than their age group in the general population.
"What we envision, potentially, is using this test in psychiatric emergency rooms. For example, it could dictate closeness of monitoring and treatment options, and drive potentially more fast acting treatment in someone who is really high risk," said lead author Zachary Kaminsky, Ph.D. of Johns Hopkins Medicine in a phone interview with The Huffington Post. "In the military, if you were able to identify vulnerable individuals [with a blood test], you may, for example, ask them to turn in firearms when they come back from active duty, or limit access to lethal means."
The new research reveals a genetic mutation that may be able to predict suicide risk with a minimum of 80 percent accuracy. The study, published July 30 on the website of The American Journal of Psychiatry, found that alterations to the gene SKA2 -- which helps regulate the brain's response to stress hormones -- was more common in people who had committed suicide.
But often, medical professionals don't have access to that kind of information, which is why the need for a blood test is so urgent, said Dr. Alexander Niculescu, III, an associate professor of psychiatry and medical neuroscience at the Indiana University School of Medicine, who was not involved in the study.
"People don't always tell others when they are suicidal, especially if they do not want to be hospitalized," said Niculescu.
In the first part of his study, Kaminsky examined the brain tissue of different groups of people who had died from suicide. He found that in some groups, lower levels of SKA2 were associated with people who had committed suicide. In others, a mutation that changed the way the SKA2 gene worked was also associated with people who had killed themselves.
Both findings are significant, because if the SKA2 gene isn't functioning properly, the body isn't able to suppress the release of cortisol, a stress hormone, throughout the brain.
Kaminsky then confirmed the results with blood samples from three different, ongoing studies. He designed a test to see if he could predict which of the participants had had either suicidal thoughts or attempts in the past. The test was able to predict participants' history of suicide attempts or suicidal thoughts with at least 80 percent accuracy.
Among those with the most severe risk of suicide, Kaminsky was able to predict attempts or suicidal thoughts with 90 percent accuracy. Among the youngest participants, Kaminsky was able to predict past suicidal attempts with 96 percent accuracy.
"We have found a gene that we think could be really important for consistently identifying a range of behaviors from suicidal thoughts to attempts to completions," Kaminsky said in a press release. "We need to study this in a larger sample but we believe that we might be able to monitor the blood to identify those at risk of suicide."
The study discloses that Kaminsky, along with co-author Holly Wilcox, Ph.D. holds a patent to "evaluate risk of suicidal behavior" using the SKA2 gene. Another researcher on the study, Dr. Jennifer Payne, received legal consulting fees from Pfizer, AstraZeneca, and Johnson and Johnson, as well as research support from Corcept Therapeutics.
Niculescu has also been on the hunt to find biomarkers linked with suicide risk, and he called Kaminsky's study a "great" corroboration of what Niculescu and other research groups have discovered in the field. Such corroboration across different research departments, said Niculescu, is key to eventually developing a blood test for suicide risk.
"I am glad to see that their top finding, SKA2, was shown in their study to interact with our top finding from last year, SAT1," wrote Niculescu in an email to HuffPost. "We have taken a look at SKA2 in our datasets, and see that indeed it is decreased in expression in the blood of suicide victims, consistent with what Dr. Kaminsky and colleagues are reporting."
"I think that in the future, like in other areas of medicine, a combination of clinical data and blood tests will ensure sensitivity and specificity in predicting who is at risk, and avoiding this preventable tragedy that is suicide," said Niculescu.
Related