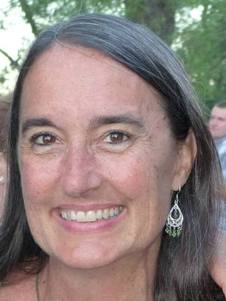 (Photo credit: Angel Brandner)
Earlier this month, I gave a presentation on Suicide Awareness in Grand Junction, Colorado at Colorado Mesa University (CMU).
Actually, I facilitated an empowering conversation among a room full of college students whose lives had been touched by suicide.
They want to talk about it!
And not from the old paradigm of talking about it.
I got that they're tired of the judgment, the shame, and the immediate reactions to it, variations being:

"Oh, no!"
"I've got to save/fix you!"
"There's something wrong with you!"
Who wants to open themselves up to scrutiny, fear and judgment? Who wants to be labeled as suicidal? That one carries a lot of weight onto itself.
No wonder there's so much silence around suicide.
And in the silence there is shame and outdated beliefs marinating.
So, how do we bust through the silence of suicide?
How do we inspire empowering conversations about it?
I do it through my speaking engagements.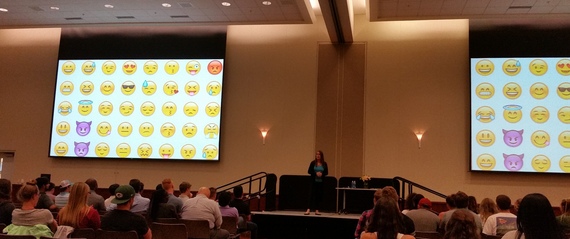 (Photo credit: Mel DiMinno)
I break it down by discussing what suicide actually is and shining the light on everything else that we, collectively, put on it that keeps us stuck -- our triggers (knee jerk reactions), our own unresolved emotional content, judgment, beliefs, and so on.
By shining the light on "everything else" and examining it from within, we can then collectively dissolve the emotional density and realign with our authentic selves.
No fixing or saving required (old paradigm).
Just witnessing their magnificence (new paradigm).
"When one feels seen and appreciated in their own essence, one is instantly empowered." -- Wes Angelozzi
And that's what I experienced among the room full of courageous, willing college students who showed up on a Tuesday night and participated in a conversation that hadn't before been had. With me as their facilitator, we took the scary and shame out of suicide and addressed what was truly important: claiming our authentic power and how to do it.
My heart was moved by their magnificence.
The more I facilitate empowering conversations on suicide awareness, the more I realize that the one major block for people after having experienced truama in their lives is this:
Fear of feeling the deep pockets of sadness.
They will avoid it at all costs, even when that means their well-being, and even their lives.
Feeling sadness is one of the most vulnerable places to be. For me, it made me feel weak, out of control, and that if I went "down that rabbit hole," I'd never recover. That, and it just feels really bad, as I interpret.
I learned that I had a relationship with sadness even before having an actual relationship with it! I related to it like it would land me in a depression and keep me there. I related to it like it would kill me.
And then I had an actual relationship with sadness and discovered that it truly is just energy that wants to be free of me as much as I want it to be free.
I learned that it's not the allowing of feeling sadness fully that would take me out, but rather the resisting of it.
And then I discovered what was on the other side of feeling the sadness; clarity, lightness, and insight. In other words, alignment with my authentic self.
And this is some of what I covered at CMU that night among the participants.
I was honored to break the silence and inspire an open conversation among everyone in that room, and I was especially moved by their emerging authentic power.