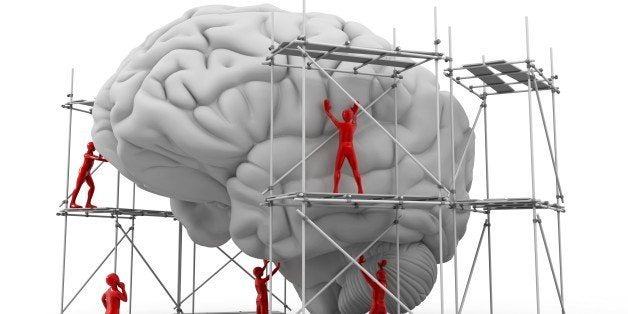 August 14, 2014 marks the 12th anniversary of one of my best friend's death -- a tragic suicide of a young, vibrant, intelligent, charismatic and funny 27 year old who was less than a month from his 28th birthday.
Christopher Arthur taught me to smoke my first cigarette and made me appreciate Morrissey. He was a talented, thoughtful soul that had suffered for many years before he finally chose to let his life go. He had been on and off various medications for most of his adult life. Here we are nearly 20 years ago at a Cardiff University Ball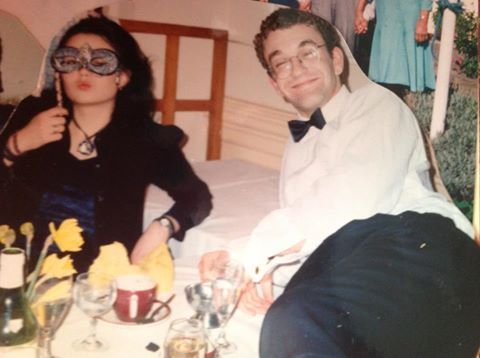 He left me a letter, one of four suicide notes. In it he absolved me of any guilt I may have felt for his decision to end his life. He explained that due to a recent suspected bipolar diagnosis that he couldn't face being medicated every day and not feeling or being himself.
He drove from my house in Cardiff, Wales, U.K., on a Sunday evening to the beautiful Elan Valley and drank a bottle of whiskey, wrote his letters, removed his coat, wallet and glasses and walked into a reservoir and drowned himself. The Elan Valley is a place of outstanding beauty and a huge tourist spot. I hated it for years, but I'm glad of its beauty these days.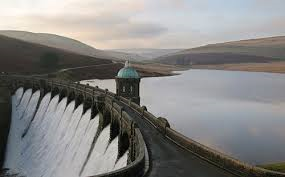 It was shocking. The aftermath he left behind was of complete devastation. We loved Chris, he was a beautiful, gentle soul who loved tea made in a teapot and waited for toast to go cold before he would butter it!
I was angry for a long time. While I respected Chris's choice and his ownership over both his life and death, I refused to accept that he had been in a place of total and utter hopeless despair that led him to 'actually do it.'
He was too young to die and a small part of all of us left behind died when our friend did.
When depression and anxiety get so bad that one loses perspective over the value of his or her life, it can be the tiniest thought that becomes the biggest in either bringing him or her back from the brink or tipping over the edge. From bitter personal experience for a brief time in 2005, it was the thought that my then young son would grow up motherless that kept me going.
The recent tragedy of the wonderful Robin Williams has brought to light depression and anxiety in the most severe way and of course for those of us who have experienced losing someone to suicide it's a sharp reminder at how invisible mental illness really is.
Suicide is personal -- and the way in which the U.K. press has treated Robin Williams' death has also highlighted for me just how personal suicide is. Families and loved ones left behind regardless of if that someone was famous, do not and in my opinion should not be subjected to the pound sign circus that surrounds their passing which in fact fuels the stigma of mental health and addiction issues.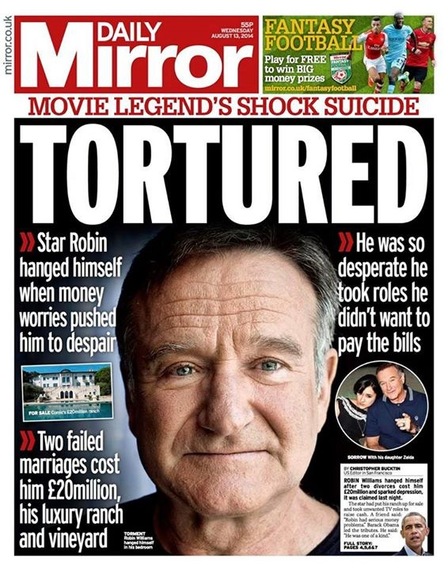 Zelda Williams, Robin's daughter wrote a profound public response to her father's death on social media which blew me away. I am saddened and outraged that she has now had to delete her twitter account due to trolling because of this post. I shared her words on Facebook.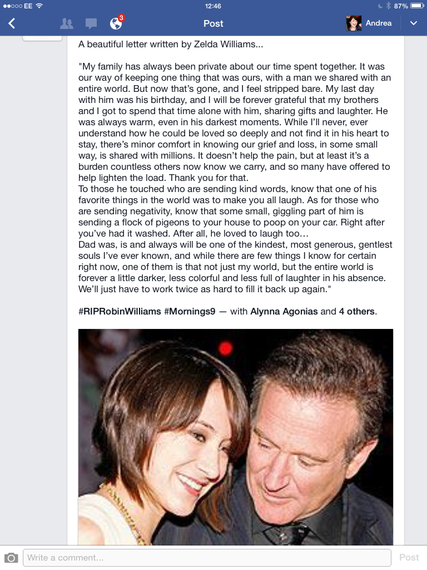 We all die at some point -- it is part of life, we know this, but when someone dies prematurely especially by their own hand their passing is infinitely more tragic.
The year after he died I wrote a song about Chris. I'll be re working it with vocoders and harmonies for my album but for now here it is in its raw acapella form.
I still miss you Chris -- we all do. I never thought I'd admit to time being a healer but of course it is. Nonetheless, without fail, the same time every year brings a little energetic cloud with an emotional memory that I share intimately with a few of my friends. It's not as painful for me as it used to be, but the residue is definitely there.
I hope that current new awareness of mental and emotional pain and illness will encourage more grace and understanding in our communities. Many of us raise money and awareness for various charities that are close to our hearts because we have lived and loved through suicide.
If you know someone these organizations may help, please share them and gently point them out to the people you might be worried about.
The Samaritans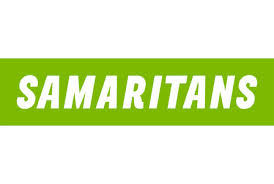 Mind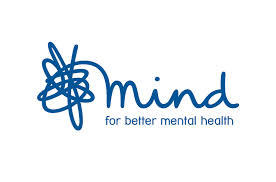 RIP lovely Mr Arthur. You would have been 40 next month when apparently your 'life would have begun' instead you will always be vibrant and young to us.
Thank you Robin Williams, that even in death you are shining and helping humanity to understand more of themselves.
Related