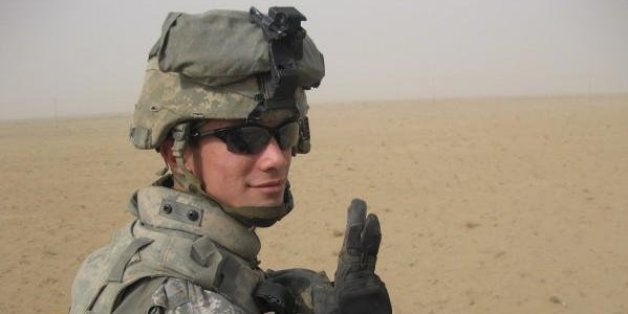 This article is part of a special Huffington Post series, "Invisible Casualties," in which we shine a spotlight on suicide-prevention efforts within the military. As part of the series, The Huffington Post contacted military service members and veterans who have considered suicide to learn what saved them from that irrevocable step.
Out on a mission one day in northern Iraq in 2009, a convoy of gun trucks grinds through rising dust. In the turret of the lead truck, Spc. Andrew O'Brien, 21, crouches behind his .50-caliber machine gun. His job: to watch for IEDs, improvised explosive devices. He swivels anxiously to watch the passing landscape for the deadly bombs hidden in trash bags, squashed cartons, dog carcasses, maybe that discarded truck tire.
From up ahead, another convoy approaches: U.S. military police in heavily armored vehicles known as MRAPS, supposedly invulnerable to bomb blasts. As they squeeze past, O'Brien and the gunner in the lead MRAP rotate their guns away from each other. Anonymous under their helmets, goggles and dust scarves, they nod to each other in a silent salute.
Not long after, they hear a ka-rump and there goes the slow-rising column of black smoke. O'Brien knows that other convoy got hit.
Back at Forward Operating Base Summerall that evening, O'Brien and his crew are lined up for formation. They cast sideways glances at a wrecked MRAP, the one whose gunner had nodded to O'Brien. A bomb dangling from a tree had detonated into the gunner's hatch. What's left of the MRAP is partially covered with a tarpaulin, and the sergeant is telling O'Brien and his guys not to look under that tarp; it's off-limits.
He couldn't help himself. Until then, the war had seemed almost distant. He wanted to know the worst. That could have been his truck, his guys. He thought seeing the worst would make him hyper-aware, help him spot IEDs and keep his own crew safe. After formation, he snuck around and lifted the tarp and peered inside. The wreckage hadn't yet been cleaned of human remains.
O'Brien, now 25, is a lean, good-looking young man; his chiseled features and quick grin give little hint of the torment that moment created, of the nightmares that crushed his spirit and drove him toward suicide. "It was the worst thing I'd ever seen in my life," he told me.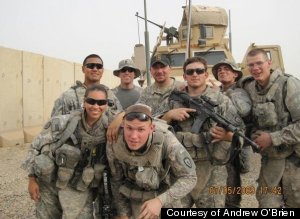 Andrew O'Brien, second from right, seen here with his fellow soldiers in Iraq.
His outfit, the 3rd Brigade Combat Team, 25th Infantry Division, went home to Schofield Barracks in Hawaii that spring and the nightmares that had begun in Iraq followed him. Inside the wrecked MRAP he would see the bodies of his crew, guys he'd grown as close to as brothers. "It was like the worst thing you experienced in your whole life, happening over and over again, every night," he said. "It became exhausting."
Guilt, shame and anger boiled inside him. He felt guilty for disobeying his sergeant's order not to look at the wrecked MRAP, ashamed that he had damaged himself and ended up diagnosed with post-traumatic stress disorder. "I hated civilians because they didn't know what I'd been through and ... you just come back angry at the whole world," he said.
Back then, he felt he couldn't talk to anyone about what was going on, not even to an Army psychiatrist. "I felt I was alone," he said. "I thought everybody else was fine and I was just the weak guy who couldn't handle it."
So in November 2010, just over a year after returning from Iraq, he went home, scooped up four bottles of prescription pills and washed them all down with a few beers. Then he went around punching holes in the walls with his fists. "All of a sudden I felt the pills kicking in and felt myself dying and quickly realized I had made a mistake," he wrote later in a post online. His consciousness fading, he shakily dialed 911.
When he woke up in intensive care, his older brother, a soldier who'd served in Afghanistan for 15 months, was on the phone. "He told me how much he loved me. He said, 'Why didn't you tell me?' I said, 'You've seen much worse, I don't have a right to feel this way.'"
His brother's answer, O'Brien said, "changed my whole life. I was hearing it from another veteran. He said that the worst thing you saw was the worst thing you saw, you don't need to compare that to anybody else. You should be proud of what you did."
After he was released, O'Brien felt he had an entirely new perspective on PTSD, suicide and how to handle emotional turmoil. He asked the base chaplain if he could brief soldiers, in order to pass on what he'd learned. "The suicide briefings we had were a joke -- guys would just be laughing," he explained. "I wanted to show them like it really was." But the answer was no.
O'Brien soon left the Army when his contract ran out on Feb. 13, 2011, and for two years he bounced around, working at this and that, unsure of what he wanted to do with his life. Then he happened to see the latest statistics on military suicides, and his idea of briefings hardened into resolve, and then a plan.
Unofficially, on his own, he began arranging to speak with groups of soldiers, parents, veterans -- anybody -- about PTSD and suicide, telling them what he'd learned about navigating the tricky and sometimes dangerous transition from the battlefield to civilian America. These talks turned into a national campaign to spread his message: If you are suffering from war trauma, you are not alone. And it's not a sign of weakness to get help.
In his brother's words, the worst thing you saw was the worst thing you saw.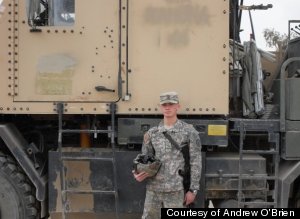 "I am a suicide survivor from PTSD and I am not embarrassed by it," O'Brien says in a video posted on his website. Suicide "is hard to talk about. But it needs to be talked about. By me not being embarrassed by it and sharing my suicide attempt, I am helping other servicemen and women understand that it's okay to be affected by the war. It is war and it comes with being in war."
He backs up to explain. "Soldiers go through three transformations: The first is becoming a soldier, which is easy -- they break you down and build you back up. The second is coming back from war and trying to become the person you were before." That's where people can get stuck, he said, short of the third transformation: "Realizing that's not gonna happen and you have to be the person you are now."
Everywhere he speaks with troops -- most recently in August at Hawaii's Schofield Barracks, where he attempted suicide almost three years ago -- he says he meets people who admit that they, too, have gotten stuck and considered or even attempted suicide but were reluctant to get help.
"This stigma, this thought that if you have PTSD you are weak, the thought if you have issues you are weak," O'Brien says, "that is what is killing our troops."
To see all the articles, blog posts, audio and video in this series, click here. If you would like to share your story, send an email to impactblogs@huffingtonpost.com.
If you or someone you know needs help, call the national crisis line for the military and veterans at 1-800-273-8255, or send a text to 838255.
Related
Before You Go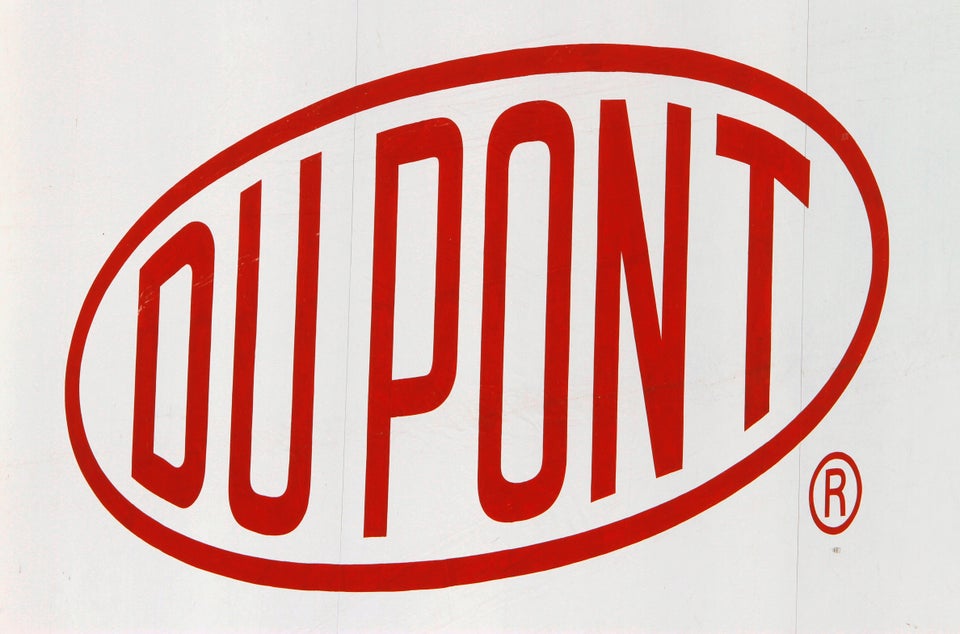 Companies That Work To Hire Veterans
Popular in the Community